Live updates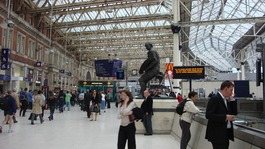 Eight of the country's top ten busiest train stations are located within London and they are getting busier each year.
Read the full story
London railway stations are country's busiest
"These statistics show more and more people are using the train to get to work.

The Government needs to support this with affordable fares and better infrastructure.

That means not just updating our busiest stations, but connecting communities who currently lose out because they are not on the network.

We also need to devolve more investment decisions away from Whitehall to make the railways more responsive to local needs."
– Martin Abrams, Campaign for Better Transport
Advertisement
London railway stations are country's busiest
"Not just in London but across the country, more people are using the railway, which is helping to generate record levels of revenue to fund better services and improved stations for passengers."
– Rail Delivery Group
London railway stations are country's busiest
"Our railways are a success story, carrying more people than at any time since the Second World War.

We want to make sure our railways continue to meet the challenge of passenger demand.

That is why more than £38 billion is being spent over the next five years to transform the network.

That means better stations and more trains and services, allowing more people to travel quickly and comfortably."
– Department for Transport spokesman
London railway stations are country's busiest
London's train stations are continuing to dominate the country's rail network - with the eight of the country's top ten busiest stations located within the Capital.
All of the top 10 reported an increase in passengers in the last financial year, according to Office of Rail Regulation figures.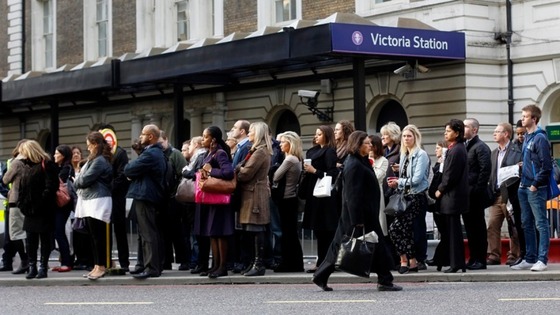 Based on the estimated number of exits and entrances to a station during 2012/13, Waterloo was the busiest station, with numbers, compared with 2011/12, rising 1.9% to almost 96 million.
Second was Victoria in London, with numbers rising 1.6% to 77.34 million, with another big London terminus, Liverpool Street, third with a 2.4% rise to just under 58.45 million.
The largest rise among the top 10 last year was Euston in London where the number of exits and entrances rose 4.9% to almost 38.3 million.
Clapham Junction is the station with the most passengers changing trains, with 21.6m a year using it as an interchange, up five per cent on the previous year.
The expansion of the London Overground network and other route alterations means more passengers are changing trains in the station's capital.
Crackdown on rail trespassing
Too many people think they would hear a train in time to move clear - tragically we know this isn't the case.

The sound of a train approaching is much quieter than you would imagine with the wheels pushing noise out sidewards rather than forwards and distorting what you hear.

Trespass is just not a risk worth taking and so we hope that Wretch and George can help get across this message and reduce the number of incidents we see each year.
– Dave Ward, Network Rail
Advertisement
Crackdown on rail trespassing
A survey reveals that despite most agreeing it's dangerous to trespass on the tracks:
A third of people (32%) think they would hear a train in time to move out of the way
This increases to more than half (51%) of 16-24-year-old males
Source: Test Tracks survey
Crackdown on rail trespassing
London is Britain's busiest railway region
Around 9,000 trains run every day
27 people have lost their lives trespassing over the last five years
Source: Network Rail
Crackdown on rail trespassing
I've got 97% hearing, so should have a good idea of where sound is coming from.

As soon as I stepped into the Track Test simulator and the normal sounds you'd expect to hear when you're on the tracks, like traffic noise, are added, I didn't make it across in time.

No matter how much confidence you've got in your hearing and speed, when you're in the dark and a train is coming towards you at 80mph, confidence is not enough to get you across safely.
– Wretch 32, rapper
Crackdown on rail trespassing
London rapper Wretch 32 has put his hearing to the test in a unique experiment as part of a new Network Rail safety campaign aimed at young men.
The video shows Wretch 32 and spoken word performer George the Poet battle to make a split second decision, relying only on their hearing to work out which direction a train is coming from as it travels towards them at 80mph in the dark.
Find out what happened here.
Load more updates
Back to top