A new report released today reveals that child hunger and poverty in London are dramatically affecting children's ability to learn.
More than 80 percent of teachers in London say that children are eating the wrong foods in the morning, and most say they can tell just by watching their behaviour at school.
The report, by charity Magic Breakfast, is part of the 'Feed Their Future' campaign, which aims to raise awareness of the impact of child hunger on education.
Over a quarter of London teachers do not believe parents can identify what a nutritious breakfast is
Nearly 60% of children also do not know what a nutritious breakfast is
23% of parents living in the city say that food is getting so expensive they have had to cut down on breakfasts
Up to 60% of parents let their children eat anything in the morning, just so they eat something
The Archbishop of Canterbury will be in Lewisham today to launch measures to tackle homophobic bullying in Church of England schools. Justin Welby recognises what he terms 'particular challenges in this area' and insists pupils must be protected.
The Archbishop explained that the guidance was about "challenging schools to strive towards a deeply accepting environment for all their pupils".
Advertisement
A programme, organised by the Naz Legacy Foundation, will be launched at the National Portrait Gallery today offering children from deprived and minority communities the chance to visit a gallery or museum for the first time.
The Naz Legacy Foundation was set up three years ago after Mr Bokhari died.
Children as young as eight have been referred for specialist drug and alcohol treatment in Waltham Forest.
Charities are calling for improved drugs education in schools following an investigation by the Press Association that revealed the details.
Treatment experts said the most common reason for children to come into contact with drugs and alcohol is through their parents and preventative work is key to heading off misuse among youngsters.
More than 1,500 striking teachers marched in central London today in protest at Government changes to the education system. Demonstrators from the National Union of Teachers held banners reading "Gove Out" and wore T-shirts with the slogan "Stand Up for Education".
Morag Carmichael retired from full-time teaching four years ago but joined today's demonstration:
"We're here because we don't like what the Government is doing. The profession has got worse in a number of ways over my 24 years. The paperwork, workload, and hours are all issues now."
Get involved in the debate about whether you think teachers are right to go on strike over pensions and pay. Tweet us @itvlondon or go to our Facebook page
Toni Mfc Holmes Everyone suffers when teachers strike, children don't learn, the parents have to take a day off affecting their employers and business. They don't do anyone any favours striking. Striking should be against the law.
Helen Ellis So it's ok for them to strike and have teachers training day the day after the strike but dare a parent request a child have a day off then the parents are given a fine.
Advertisement
Jackie Pennant's two sons, Rohan, aged nine and seven-year-old Kiyan, were unable to go to their school in Catford.
Read the full story ›
Some parents were forced to book a day's holiday from work, some relied on the trusted fallback of grandparents of a childminder.
Read the full story ›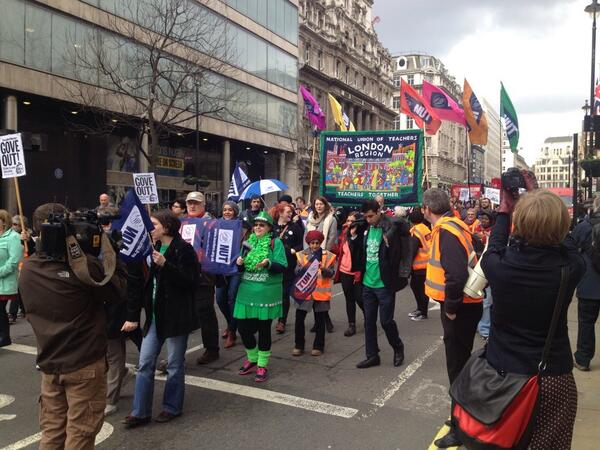 Traffic ground to a halt as thousands of members of the NUT set off along Regent Street.
Read the full story ›
Load more updates