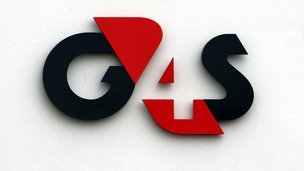 The security firm G4S has apologised and admitted it underestimated the job of recruiting Olympic staff.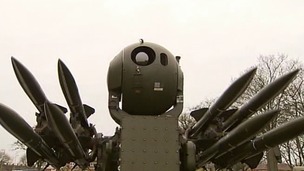 A video posted online apparently shows military equipment, being used as part of Olympics security, left unguarded outside London flats.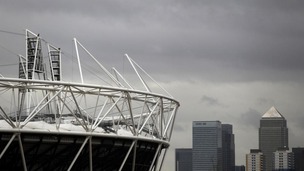 Fears over security at London 2012 grow.
Live updates
£70m Olympic loss for G4S
G4S chief admits they caused a "huge problem"
Nick Buckles, the chief executive of G4S, admitted they had caused a "huge problem" after the company failed to recruit enough security guards for the Olympics.
£70m Olympic loss for G4S
G4S chief "deeply regrets" Olympic fiasco
The chief executive of security firm G4S told the BBC Radio 4 Today programme that they "deeply regret" failing to supply enough staff for the Olympics. Nick Buckles said the firm underestimated the task and will have to pay the Ministry of Defence to bring in troops to cover the gap.
He said many of the candidates that applied were students or had come from other jobs so the training period was left until the last few weeks. Mr Buckles added that they only realised in the last 8 or 9 days that G4S would not meet their target.
Advertisement
£70m Olympic loss for G4S
The army to provide extra troops for Olympic security
The Home Office is expected to reveal more details today about reports that around three and a half thousand extra soldiers are being drafted in to help provide security for the Olympics.
GS4, the private contractor tasked with supplying security for the Games which start in a fortnight, has said it has 'encountered some issues in relation to workforce supply and scheduling'.
"This has been an unprecedented and very complex security recruitment, training and deployment exercise which has been carried out to a tight timescale.

"We have encountered some issues in relation to workforce supply and scheduling over the last couple of weeks, but are resolving these every day and remain committed to providing a security workforce for the start of the London 2012 Games."
"Our planning with Locog and other security agencies allows for a variety of contingencies which have been reviewed in the build-up to the Games. We accept that the Government has decided to overlay additional resources. We remain committed to keep London 2012 safe and secure."
– G4S spokesperson
"We have agreed to offer help to G4S by revising the level of military support.

The Government are committing £553 million for venue security and we remain confident that we will deliver within budget."

"The focus of the Government and everyone involved is on delivering a safe and secure Games. G4S are Locog's lead contractor for venue security and are being supported by the military.

"Our approach is intelligence-led and risk-based, and we retain the ability to be flexible in our response."
– Home Office spokesperson

Fo rmore details and analysis visit the National ITV News website.
Fears Over Olympic Security
Yvette Cooper on Olympic security
Shadow Home Secretary Yvette Cooper talks about her concerns for Olympic security after a known terror suspect entered the Olympic Park five times in a single day.
The British-born jihadist was arrested after breaching an order banning him from the area.
Questions are now being raised over security just days before the Games begin.
London 2012 Olympics
Anti Olympic missile protest in East London
Hundreds of East Londoners will hit the streets later today in protest at government plans to site missiles on local estates as part of security measures for the Olympic games.
The demonstration is calling for the ground to air missile plans to be scrapped.
Protesters will be addressed by councillors, trade union officials and local religious leaders before marching to Bow Quarter - one of the proposed missile sites - from 1pm.
Olympic Park now Off Limits
Olympic Park gets ready for the Games
The Olympic Park in Stratford has closed to visitors as the site is prepared for the start of the Games in a few weeks.
Watch Simon Harris' report here:
Advertisement
London 2012 Olympics
Met announce 52 police forces will join Olympic security operation
The Metropolitan Police Service has set out its plan for a 105-day Olympics security operation. which will see around 12,500 officers on duty nationally on peak days, including 9,500 in London alone.
52 forces will contribute resources to the operation, including specialists in over 70 areas, including dog units, firearms officers, mounted section and marine officers.
"Chief Constables and forces have worked together to meet the incredible demand of the Games... Every force is playing its part in delivering a fantastic summer of celebration, yet our planning has also ensured that our core policing continues, keeping our communities safe... The summer of 2012 will be a busy and challenging time for the British police service, but with confidence and pride I can say that we have the officers we need to keep the Games and our wider communities safe and secure."
– National Olympic Security Coordinator AC Chris Allison
London 2012 Olympics
Lord Coe says Olympic test events are a great opportunity to test security
With just seven test events to go before the Olympics, London 2012 Chairman Lord Coe has visited the Olympic Park where the British Universities and Colleges Sport championships are being held this Bank Holiday weekend.
The event is doubling as a test event for London's Olympics. Lord Coe says the trial events will provide the perfect opportunity to test issues such as security and crowd flow.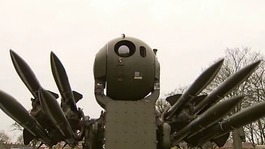 A video posted online apparently shows military equipment, being used as part of Olympics security, left unguarded outside London flats.
Read the full story
Olympic Missile Defences
Six sites being considered for missile launchers during Olympics
The Ministry of Defence is considering six sites across London for the deployment of surface to air missle launchers during the Olympics.
The Lexington Building in Tower Hamlets and the Fred Wigg Tower in Waltham Forest have been identified as potential sites.
Also Blackheath Common and Oxleas Wood in South London, William Girling Reservoir in Enfield and Barn Hill in Epping Forest. Talks have already taken place with housing associations and residents. Organisers say it's to ensure a safe and secure Olympics.
Load more updates
Back to top