The actor reprimanded a member of the audience who left their mobile phone on during the opening night of his one-man show in London.
Read the full story ›
Advertisement
Berwick Street in Soho will be transformed into a mini music festival today for Record Store Day.
Artists such as 80's punk pop star Adam Ant will play live performances for the public from midday.
The Museum of Soho on 26 Berwick Street will also be projecting 1967 performances from "live from the Marquee Club", including The Smoke, Jimi Hendrix and The Who.
Music industry heavyweights gathered in central London today as one street's contribution to music was celebrated.
Read the full story ›
Two cyclists have been seriously injured after being knocked off their bikes in two separate crashes. A man in his 60s was taken to hospital in a critical condition after colliding with a car in Regent Street on Tuesday evening.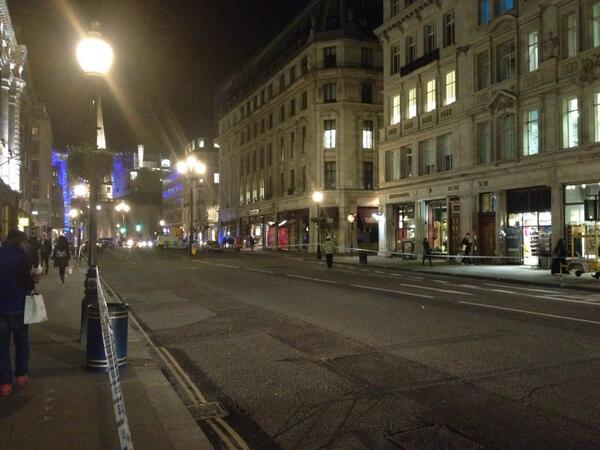 Just hours earlier, a cyclist in his 20s was hit by a bus in Battersea. Speaking to the Evening Standard, eyewitness Franco Romeo said:
"He was on the stretcher. They kept him there for a long time. I felt very bad because he was not moving at all. He looked in very bad shape. It was very serious."
Police say the drivers in both incidents stopped at the scene, and no one has been arrested.
Advertisement
Andrew Jones found himself chased around Soho by "a posse of some of the most well-known and distinguished police officers".
Read the full story ›
A street in Soho is Britain's parking blackspot. In 10 months last year 5,143 tickets were issued, raising more than £400,000.
Read the full story ›
From Covent Garden to Soho and Battersea Power Station, some of London's most historic buildings were once threatened with demolition.
Read the full story ›
The Hippodrome Casino in Leicester Square is hiring dwarfs to work as bouncers. An advert appeared in today's Metro newspaper to create "a team of Britain's smallest bouncers" for its new entrance. The Hippodrome Casino says it is looking for applicants under 4ft 10 inches.
Load more updates