A furious biker appeared to berate a pedestrian after knocking him off his feet at a set of traffic lights in South London. CCTV footage shows the man crossing Malden Road in Sutton. He's then suddenly hit by a bike travelling at speed.
The rider, who was knocked off his bike during the collision, is then seen to get up and angrily berate the stricken pedestrian before getting back on his motorcycle and driving off down Cheam Common Road.

As he makes off, a car which was waiting at traffic lights at Malden Road pursues the motorcycle down Cheam Common Road. Officers are also appealing to the occupants of that car to get in contact with officers as they may be able to assist the investigation.

The pedestrian, aged 53, was taken to a south London hospital for treatment to his injuries - has has since been discharged.
– Met Police
Anyone with information can contact Sutton Police on 101.
A double-decker bus was hit by falling scaffolding in Peckham High Street today. The scaffolding struck the number 345 shortly after 11am. No one was injured.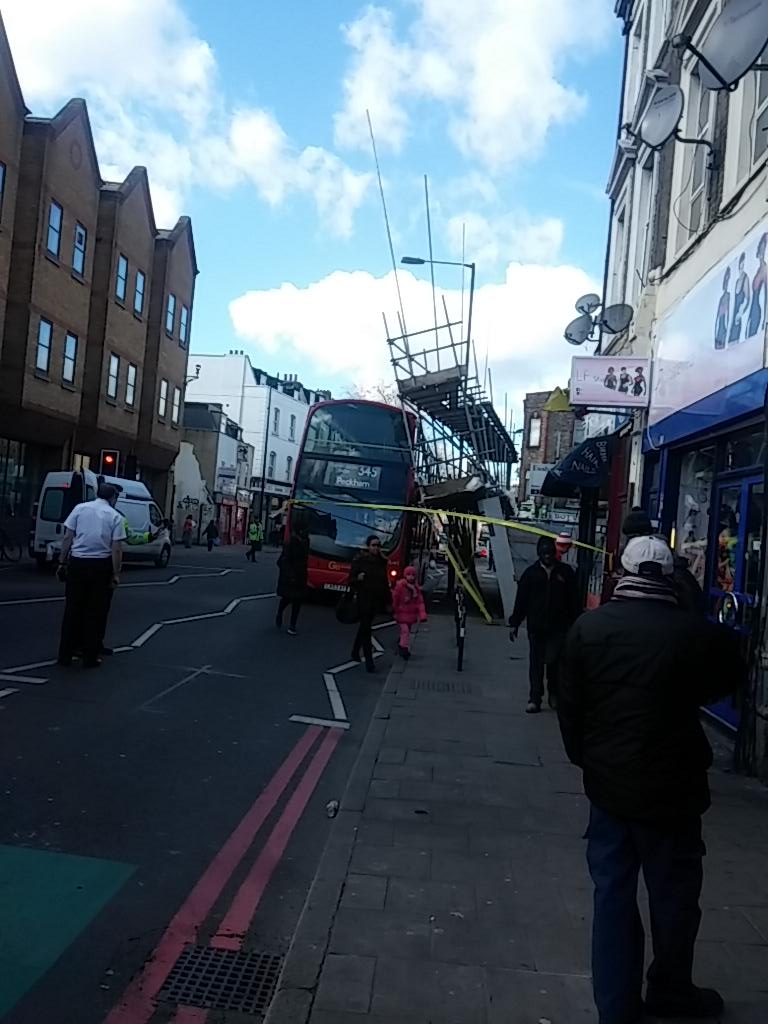 At around 11am this morning some scaffolding collapsed on a route 345 bus as it was driving down Peckham High St, at the junction with Basingcourt.

The bus was in service at the time and there have been no reports of injuries. We will work with the emergency services who will be investigating this incident.
– Transport for London
Advertisement
Police are hunting for a callous motorcyclist who got off his bike after knocking down a pedestrian and shouted at him while unconscious.
The 53-year-old victim was hit by a bike while crossing a road, knocked out and was lying prostrate when the unknown motorcyclist stopped.
Witnesses reported to police that the rider got off his bike and yelled at the unconscious pedestrian - before riding off. The shocking incident happened in the early hours of Saturday morning near Cheam in Surrey. The pedestrian was taken to a south London hospital, but he is not thought to be in a life-threatening condition.
It would have been obvious to the rider of the motorcycle that the pedestrian he had collided with was seriously injured. To act in the way he did, shouting at the unconscious man and riding off from the scene without attempting to seek medical help, was a truly heartless act.
– Inspector Phil Parrett, Sutton Police
A 20-year-old man has been arrested on suspicion of attempted murder, after a police officer was stabbed in the head in south London.
Police were called to Cooks Road, Walworth, shortly after 8pm yesterday, where they had been told a violent man armed with a knife had picked up a baby.
When they arrived, the police tried to speak to the man. He put the child down, but then attacked the officers.
One PC, in his 30s, suffered stab injuries to his head and shoulder. He was taken to hospital for treatment and has since been discharged.
The attacker was arrested and is currently in custody at a south London police station. An investigation into the incident is underway.
A mother and her seven-week-old baby who went missing in south London have been found.
Chantelle Perry and her son Kaiden were last seen at 11pm yesterday getting into a blue Ford Focus in Bromley. Kaiden had recently undergone an operation and needs a high level of medical care.
Advertisement
Two huge knives have been found in bushes close to a school. Met Police believe the blades were hidden by two pupils. Commander John Sutherland tweeted this image.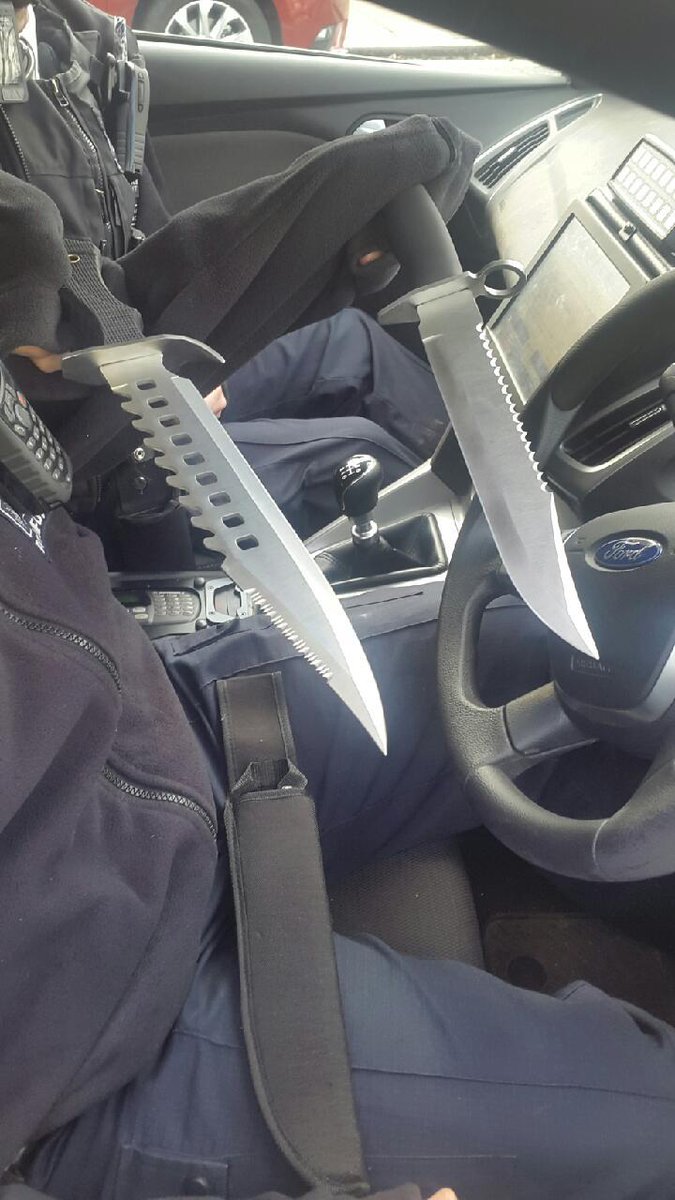 The horrific robbery at the paper shop in Balham, south west London, was captured on the store's CCTV.
Read the full story ›
A man has been jailed for four years after CCTV footage caught him beating a shopkeeper around the head with a fake pistol
Read the full story ›
Police are appealing for witnesses after an assault in Tulse Hill which left a man seriously injured.
Officers were called to the scene in Bannister Close just before 8am this morning, where they discovered a large pool of blood.
After searching the area, a 56-year-old man with multiple head injuries was found nearby.
He was then taken to a south London hospital, where he remains in a critical condition.
No arrests have been made so far.
Anyone with information is being asked to call police on 0208 721 4054 or Crimestoppers anonymously.
Load more updates