Charges have been dropped against three football fans who were facing prosecution for using the word "Yid".
Gary Whybrow, Sam Parsons and Peter Ditchman were all hauled before magistrates after allegedly using the language at Tottenham Hotspur matches last autumn.
Today the Crown Prosecution Service said the words could not legally be counted as "threatening, abusive or insulting" in the circumstances.
"In considering whether a criminal offence could be proved we have to look objectively at the words used, and the context in which they were used.

As part of the review, the context of the use of the words alleged in this case was reconsidered, and we have decided that, although the same words used in other contexts could in theory satisfy the criteria for 'threatening, abusive or insulting', it is unlikely that a court would find that they were in the context of the three particular cases in question."
– Baljit Ubhey, Crown Prosecution Service
Police had previously warned football fans not to use the word, which is used to refer to Tottenham Hotspur fans and is regularly used in football chants.
It involves a forged signature after an attempt to sell the north London club a Dutch striker.
Read the full story ›
Advertisement
This is a great opportunity for Jermain and he feels it is one that he wishes to pursue.

He has played a big part in the club for many years and we all know he will give his best until his last minute in a Spurs shirt.

We have several attacking options within our squad for the remaining dozen or so games of the season after Jermain departs and we shall keep our options under review.

We also have a goal threat from players in other areas of the pitch including having wide players and attacking midfielders who will enable us to vary our shape when required.
– Spurs head coach Tim Sherwood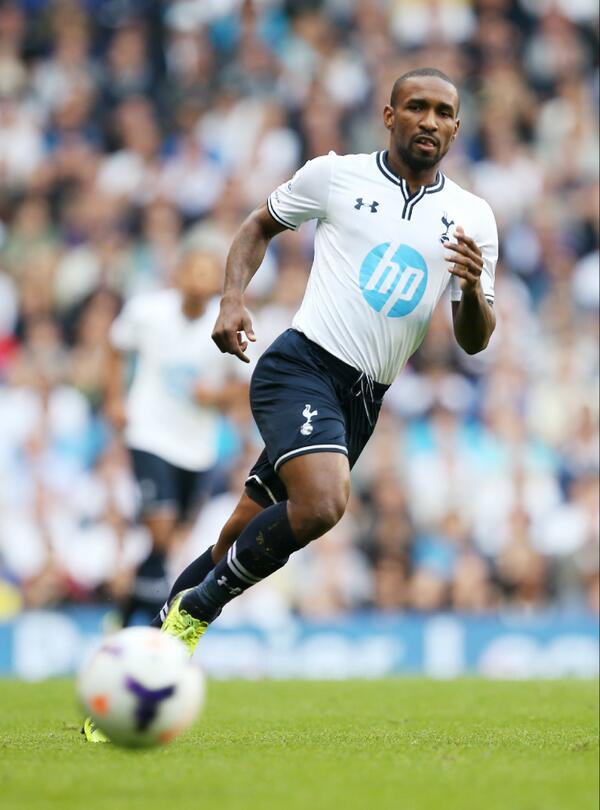 We have reached agreement with Toronto FC for the transfer of Jermain Defoe to the MLS side, with effect from February 28, 2014
Jermain: Everybody knows how much this Club means to me. I will play my heart out for the team and the fans until my last kick for the Club.
Emmanuel Adebayor will lead Tottenham into battle against Arsenaljust 72 hours after he was in so much pain he could not walk.
Hostilities resume between the two biggest clubs in north London as Tottenham travel to the Emirates Stadium for a highly anticipated FA Cup third round tie.
There had been doubts about whether Adebayor would be able to playafter he was carried off on a stretcher in the second half of Tottenham's 2-1win at Manchester United, but he has battled his way back to fitness.
Tottenham Hotspur have insisted medical staff were "totally satisfied" that Hugo Lloris was fit to continue playing against Everton after criticism from Fifa and a leading charity over their decision not to substitute the French goalkeeper.
In a statement, head of medical services Wayne Diesel said: "Once the relevant tests and assessments were carried out we were totally satisfied that he was fit to continue playing."
The Club also confirmed that Lloris underwent a precautionary CT scan and was subsequently given the all-clear.
Advertisement
Fifa's chief medical officer has insisted Tottenham Hotspur goalkeeper Hugo Lloris should have been substituted after being knocked unconscious during Sunday's match against Everton.
Professor Jiri Dvorak said there was a "99 per cent probability" that Lloris would have been concussed after being knocked out when his head made contact with Romelu Lukaku's knee, and should of been replaced under Fifa's guidelines.
"The player should have been substituted. The fact the other player needed ice on his knee means it's obvious the blow was extensive," Professor Dvorak said.
"When he has been knocked unconscious, the player himself may not see the reality. I do not know the details but I know that the Premier League doctors are extremely good and I can imagine that the doctor may have recommended he be replaced."
"We have a slogan: if there is any doubt, keep the player out."
Tottenham Hotspur manager Andre Villas-Boas has defended his decision not to substitute Hugo Lloris after the goalkeeper suffered a head injury during the draw with Everton on Sunday.
The Portuguese manager praised the goalkeeper's "great character" for wanting to continue, and cited a good late save from Gerard Deulofeu as evidence that he was correct to keep Lloris in the pitch.
"He doesn't remember it so he lost consciousness. It was a big knock but he looked composed and ready to continue."
Speaking after the game, he added: "Hugo seemed assertive and determined to continue and showed great character and personality. We decided to keep him on based on that.
"The call always belongs to me. Brad was ready to come in but the person Hugo is, there were enough signs for him to continue."
Tottenham Hotspur's decision to allow goalkeeper Hugo Lloris to play on despite suffering a head injury was "irresponsible", a leading brain injury charity has said.
"We are hugely concerned that a professional football club should take such an irresponsible and cavalier attitude to a player's health," Headway spokesman Luke Griggs told ITV News.
"When a player - or any individual - suffers a blow to the head that is severe enough for them to lose consciousness, it is vital they urgently seek appropriate medical attention.
"A physio or doctor treating a player on the pitch simply cannot accurately gauge the severity of the damage caused to the player's brain in such a setting as there may be delayed presentation of symptoms.
"By continuing to play, the player may have caused greater damage to his brain. He should have been removed from the game immediately and taken to hospital for thorough tests and observation."
Tottenham Hotspur have been criticised by a leading brain injury charity for allowing goalkeeper Hugo Lloris to play on against Everton despite suffering a head injury.
The France international, 26, went down after colliding with Everton striker Romelu Lukaku in the latter stages of the 0-0 draw on Sunday.
Despite a lengthy delay and the keeper appearing to lose consciousness, Spurs Manager Andre Villas-Boas decided not to substitute the goalkeeper.
Brain injury charity Headway said the decision was wrong and that the player may have caused greater damage to his brain by continuing in the game.
Load more updates