Live updates
Protesters chained to pulpit
Four women from the Occupy movement have chained themselves to the pulpit in St Paul's Cathedral.
Vidal Sassoon memorial
Some of the country's most famous hairdressers have spoken of how Vidal Sassoon influenced their own careers.
As they arrived for a memorial service at St Paul's Cathedral today, John Frieda and Nicky Clarke paid tribute to him as a unique individual.
"He was a revolutionary. There is no doubt about it, the people that are around today, including myself, certainly owe a huge debt to him."
– Hairdresser Nicky Clarke
"I don't think there is anyone in our industry that has achieved what he achieved. He was a man that completely revolutionised the industry in a way no one else ever has."
– Hairdresser John Frieda

Vidal Sassoon was a London-born hairdressing pioner, who invented the "bob" hairstyle which epitomised the Swinging Sixties. Some of his most famous clients were designer Mary Quant, the model Jean Shrimpton and film star Terence Stamp.

He also turned his craft into a multi-million pound industry, creating a network of academies and lending his name to various hair products.

He died at his home in Los Angeles in May, aged 84, after a battle with leukaemia
Advertisement
Vidal Sassoon memorial
A host of celebrities turned out today to pay tribute to hairdressing icon Vidal Sassoon at a special memorial service at St Paul's Cathedral.
Among those who attended were actor Sir Michael Caine, designer Zandra Rhodes, singer Toyah Wilcox and hairdressers John Frieda and Nicky Clarke.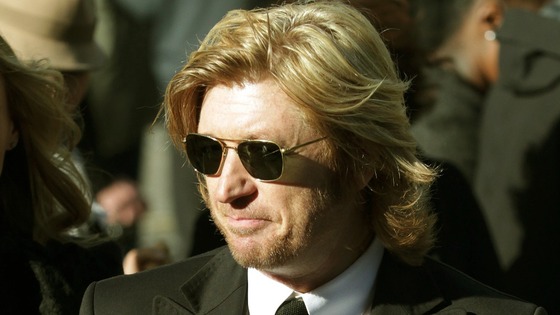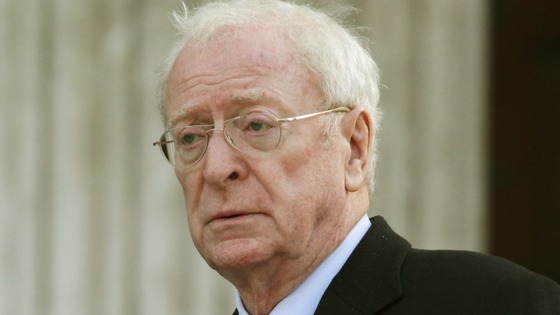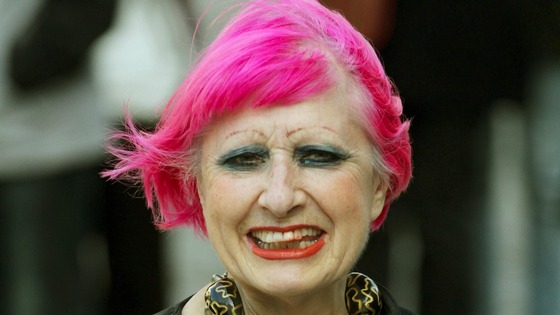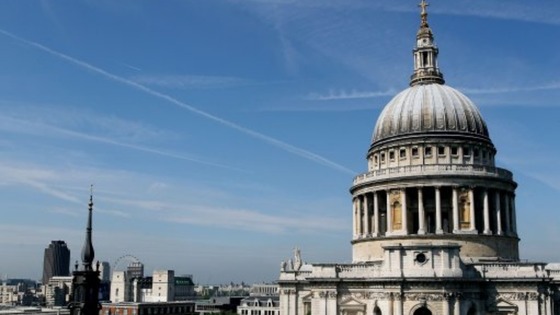 The risk of chemical erosion to the stone facade of St Paul's Cathedral is at a 300-year low.
A recent study has found that the levels of sulphur dioxide - found in acid rain - have fallen by 95% over 30 years.
The drop is largely down to a decline in industry in central London and a move towards cleaner energy production, according to the report by the universities of Portsmouth, Oxford, Sussex and Cambridge.
Cathedral Basketball
London's summer of sport has left us with some lasting images. This morning came another - as the British women's wheelchair basketball team showed off their skills, under the dome of St Paul's.
Lucrezia Millarini was there: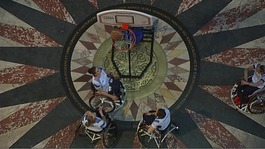 Members of the British women's basketball team practised inside St. Pauls' Cathedral.
Read the full story
Advertisement
Cathedral Basketball
Michael Jordan never got to do this - four of the British women's wheelchair basketball team spent this morning shooting into a hoop inside St. Paul's Cathedral as part of the build-up to the Paralympics.
Olympic victory parade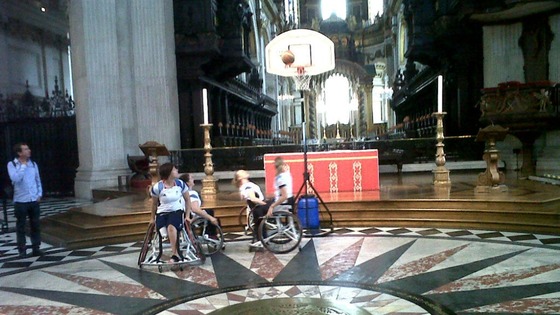 Four members of the British women's wheelchair basketball team showed off their skills inside St. Paul's Cathedral this morning. The team has a practice match against the USA tomorrow and start their Paralympic campaign on Thursday.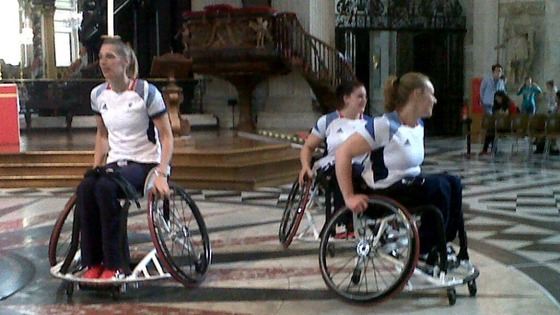 The former canon chancellor of St Paul's Cathedral has found a new position within the Church of England five months after resigning over the handling of an anti-capitalist protest outside the church.
Dr Giles Fraser will be parish priest of inner city St Mary, Newington, in south London, he announced on Twitter. He added that he would be writing about his new post and charting inner city life regularly in The Guardian newspaper.
St Paul's Protesters Evicted
City of London police, who were supported by the Met, said 23 arrests were made during the "largely peaceful" eviction as bailiffs from City of London Corporation removed tents and equipment from outside St Paul's last night.
The action was taken five days after Occupy London was refused permission by the Court of Appeal to challenge orders evicting protesters.
Stuart Fraser, policy chairman of the City of London Corporation, said: "It is regrettable that it had to come to the need for removal but the High Court judgment speaks for itself. The site has now been cleared and the area is undergoing a deep clean."
Load more updates
Back to top