Live updates
New Occupy Protest at St Paul's
Fleet Street is blocked from Ludgate Circus due to a demonstration towards the Strand. Please seek alternative routes.
New Occupy Protest at St Paul's
Anti-capitalism protesters from the Occupy movement have begun a new protest in the City of London as part of a global day of action.
Other protests are underway in cities including Moscow, New York, Athens and Madrid.
Several hundred people have gathered outside St Paul's Cathedral for a rally, before moving on to demonstrate outside the offices of some of the largest firms in the financial heart of London.
Advertisement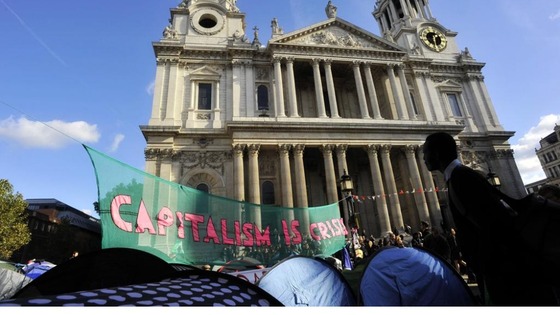 Protesters from the Occupy London movement have said they will return to St Paul's Cathedral today to mark the first anniversary of the Occupy movement.
Demonstrators set up camp outside the Cathedral last year, after failing in a bid to occupy the London Stock Exchange.
They were eventually evicted from the square by bailiffs.
The Occupy protest movement began in Spain a year ago when young jobless people calling themselves the 'indignados' began occupying a square in Madrid.
St Paul's Protesters Evicted
Boris Johnson on St Paul's protesters: "As Mayor of London I cannot just firehose those guys off the streets." @londontonight
Load more updates
Back to top