A man in his 30s is in a critical condition after a stabbing in east London.
Police, ambulance and London's Air Ambulance were called at about 1pm to Water Lane, Stratford.
The victim had to be airlifted to hospital and no arrests have been made.
Water Lane was closed and buses were being diverted.
If follows two 17-year-old boys being stabbed to death during the past three days.
The first was on Thursday in Brockley and the second in Hoxton on Friday.
Sorry, this content isn't available on your device.
Thousands of people took to the streets of Stratford last night for what has been dubbed the 'happiest 5k on the planet'.
The runners had powdered glow-in-the-dark paint thrown over them as they ran the five kilometers.
The Color Run took place in the Olympic Park in Stratford, east London.
Advertisement
The six foot sculpture made out of 40 kilograms of chocolate. It's safe to say, there's not much left.
Read the full story ›
At one point the mayor and other VIP guests including the US ambassador to London sheltered beneath umbrellas held by four women.
Read the full story ›
The designs were unveiled as Boris Johnson claimed the flats and houses would be built six years earlier than planned.
Read the full story ›
Police say a woman has come forward after a video emerged appearing to show a female passenger racially abusing a man on the Jubilee Line
Read the full story ›
Advertisement
The biggest drop in popularity was swimming where almost 250,000 fewer people are taking part in the sport.
Read the full story ›
Olympic Park bosses have agreed to pay contractors an extra £36m to strengthen the roof.
Read the full story ›
The women were originally living at a nearby hostel but forced to move out when funding was cut.
Read the full story ›
Supermarket price wars are fiercely competitive, with price-savvy consumers shopping around like never before. So it's pretty surprising to see a poster in a shop window urging customers to increase their shopping bills.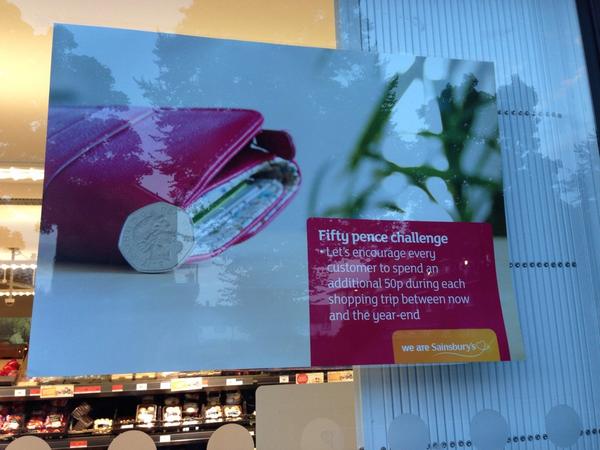 @mynameischrisd Yeah, I don't think so either. Which store was this? I'll give them a call. Ross.
Sainsbury's were pretty surprised too when they were alerted to the poster at a branch of the supermarket in Stratford, east London. It was only meant to be seen by staff and kept out of sight of shoppers. But the motivational poster found its way into a very public place. It read:
Let's encourage every customer to spend an additional 50p during each shopping trip between now and the year end.
– Sainsbury's poster
@mynameischrisd This is clearly a poster meant for staff areas. I'd really like to make sure it gets to where it should be. Ross.
In a statement, Sainsbury's said:
We often use posters to make store targets fun and achievable for our colleagues. They are intended for colleague areas in the store, but this one was mistakenly put on public display.
– Sainsbury's
Not surprisingly, some customers were less than impressed.
Speaking to ITV News Chris Dodd, who found the poster, added:
I was stunned to see the poster in the window of my local store. I can understand why there has been such a backlash against it, the wording is awful.

It's obviously no surprise that supermarkets are trying to encourage more spending, I think the negative reaction to the poster is down to how bluntly Sainsbury's are communicating this message to their staff.

I think the real mistake Sainsbury's have made it to present this to staff as a challenge. As a customer I don't want to feel like I'm being forced or tricked into spending extra by staff who have been challenged to make me do so. Had the poster encouraged better customer service, or more effective promotions I doubt there would have been this kind of reaction.
– Chris Dodd
Load more updates