Michael Broom tore off his shirt and punched Mark Haley to the ground outside Tesco.
Read the full story ›
A lorry slammed into a bridge in Epsom today, leaving the trailer crumpled. Police have closed off West Hill. The bridge will also need to be checked to make sure it has not been damaged.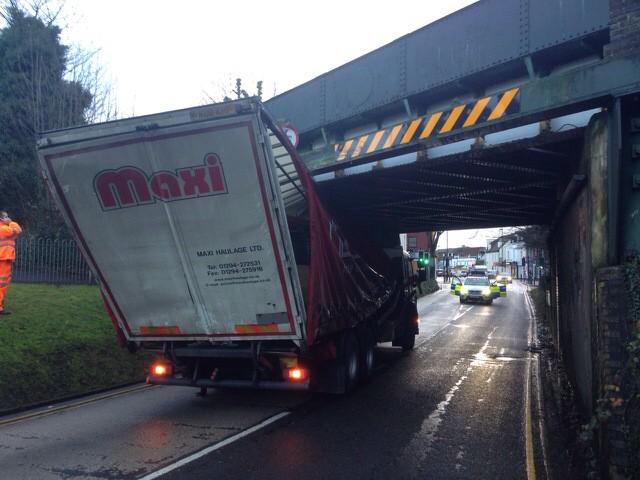 Advertisement
A transition in the weather is underway for Friday and it will turn colder. The weather flip-flops again before next week
Read the full story ›
David Morris drank five double whiskies before launching into a drink-fuelled tirade when he was refused any more drinks.
Read the full story ›
Police in Richmond are appealing for help finding a missing teenage boy from Twickenham .
Sam Jeffries, 15 was last seen at around 8am in his home on 3 December. Since his disappearance he has been in contact with his family and friends. However a few days ago, all communication stopped and he has not been contactable on his phone.
Sam is described as being white, 5 foot 11 inches tall, with a slim build and short brown hair. He also wears braces on his teeth.
It's believed he left home, possibly wearing grey baggy jogging bottoms, a heavy grey hooded sweat top, white trainers and a red Burton ski jacket. The teenager is known to hang around the Richmond and Hounslow area, possibly recently travelling to Waterloo.
Anyone who has seen Sam or know where he may be should call Richmond Police on 101.
Advertisement
Anne Milton, who represents Guildford, posted a series of tweets about being squashed in her seat.
Read the full story ›
Owner Katya Syrad was hit with a huge vet bill, and is trying to track down the owners of the terrier who attacked her treasured pet.
Read the full story ›
Ministers have pledged an additional £60m to increase the capacity of the river near Windsor and Teddington - but not for seven years.
Read the full story ›
Police in Surrey and Sussex will tweet the names of everybody charged for being drunk behind the wheel.
Read the full story ›
Load more updates