CCTV footage apparently showing three British schoolgirls feared to have entered Syria to join Islamic State has been released by Turkish news channel A Haber.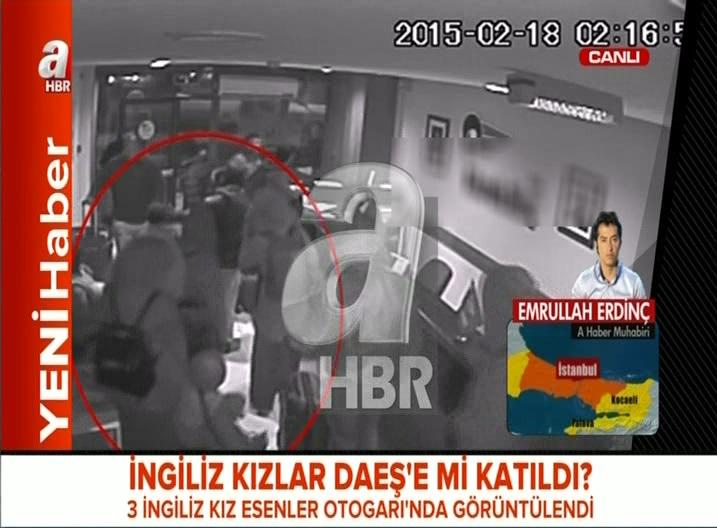 The three girls, believed to be Shamima Begum, 15, Kadiza Sultana, 16, and 15-year-old Amira Abase, are seen at a bus station in Istanbul in the video.
It was reportedly recorded in the early hours of February 18 - the day after the teenagers disappeared from their London homes.
Turkish Airlines says it is assisting an investigation into three British schoolgirls who are feared to have crossed into Syria to join Islamic State.
Amira Abase and Shamima Begum, both 15, and 16-year-old Kadiza Sultana boarded a Turkish Airlines flight from Gatwick to Istanbul on February 17 and police believe the London trio have now crossed the Turkish border into Syria.
A statement from the airline said: "Turkish Airlines is assisting the relevant government bodies in their inquiries but is unable to respond to or comment specifically in relation to the subject matter of ongoing investigations."
Earlier this week, Labour's shadow home secretary Yvette Cooper said Turkish Airlines had "serious questions" to answer over why it allowed the girls unaccompanied on to a flight.
Advertisement
The MP who represents the three London girls believed to have travelled to Syria to join Islamic State has called for an urgent inquiry into how young people can be better protected from radicalisation.
Labour's Rushanara Ali, who represents the Bethnal Green and Bow constituency where the teenagers come from, said families, schools, mosques, youth clubs and internet companies need better guidance on how to protect young people.
During Prime Minister's questions, Ms Ali said:
Last week three young women from my constituency left their homes, travelled to Turkey, and are now thought to have been smuggled into Syria. Their families are devastated.

I know the Prime Minister is making every effort to find them and encourage their return. Will you set up an urgent inquiry into these events to ensure that families, schools, mosques, youth clubs, internet companies and all agencies are guided on how they can better protect our young people?
– Rushanara Ali
Clearly anyone who saw the parents on television talking about the children couldn't help be moved by their plight.

What I have done is ask the Home Secretary to look urgently with the Transport Secretary at all the protocols we have in place about young people and travelling and what airlines do and what we can do.
– David Cameron
David Cameron says "lessons need to be learned" from the case of three British schoolgirls feared to have entered Syria to join Islamic State.
Responding to a question from the Labour MP for Bethnal Green and Bow, where the three teenagers came from, Mr Cameron said the UK needed to "tighten arrangements" at airports and borders.
He also called on schools, parents, universities to help fight the "poisonous ideology" of extremist groups such as Islamic State.
The Prime Minister also dismissed claims by the Turkish deputy prime minister that British authorities took three days to notify Turkey of the girls' movements as "not accurate".
Counteracting the online threat is just one way to prevent young people becoming radicalized, a security expert tells ITV News.
Read the full story ›
The Metropolitan police have said they believe the three schoolgirls missing from east London are no longer in Turkey, and have crossed the border into Syria.
It is believed the girls are attempting to join IS.
Advertisement
Scotland Yard has responded to criticism that it took British authorities too long to alert Turkey that the three teenagers were missing and feared bound for Syria.
Once we established that the girls had travelled to Turkey, police made contact with the foreign liaison officer at the Turkish Embassy in London on Wednesday, 18 February.

Since then we have been working closely with the Turkish authorities who are providing great assistance and support to our investigation.
– Met Police spokesperson
Turkey has criticised British authorities for taking three days to alert the country over the three teenage schoolgirls believed to be on the way to Syria via Istanbul.
Shamima Begum, 15, Kadiza Sultana, 16, and 15-year-old Amira Abase are still missing after they boarded a flight from Gatwick Airport to Istanbul last Tuesday - feared to be intending to join the so-called Islamic State (IS).
Turkish deputy prime minister Bulent Arinc said that British officials would be to blame if the girls cannot be found.
He said: "It is a condemnable act for Britain to let three girls come to Istanbul and then let us know three days later. They haven't taken the necessary measures.
"The search is ongoing. It would be great if we can find them. But if we can't, it is not us who will be responsible, but the British."
The headteacher at the school attended by three teenagers who are feared to be on their way to Syria to join IS rejected any allegations that they may have been radicalised in the classroom.
He also dismissed any link between the girls disappearance and that of another girl from their school in December last year.
Today officers from the Met Police are in Turkey as part of the increasingly urgent search. Luke Hanrahan reports.
The east London academy of three teenage girls thought to have travelled to Syria to join Islamic State said no radicalisation had taken place at the school.
Mark Keary, head teacher at Bethnal Green Academy, said pupils' access to social media is "strictly regulated".
"Police have advised us that there is no evidence that radicalisation of the missing students took place at the academy," Keary said.
He added that it would be "business as usual" at the school as students return from the half-term break today.
Load more updates