Surrey Police has said that a man's body has been found in the River Thames at Hampton. Officers started a search just after 6:45pm after a man was spotted entering the water near Hampton Sailing Club. The body has not yet been formally identified and enquiries are on-going to trace his family.
Surrey Police officers have been carrying out a search of the river Thames at Hampton after a man was seen entering the water. The police were called to the scene near Hampton Sailing Club just after 6.45pm.
Advertisement
"Most of the UK has been basking in glorious sunshine this weekend, and whilst we'd urge people to make the most of it, we'd also remind them of the importance of keeping safe near the water.

In this instance, we really were there in the nick of time, but had it been different, then these four individuals would have ended up in the Thames without life jackets."
– Helmsman Stuart Morrison, Tower RNLI
London lifeboat crew members today saved the lives of a group of four - moments before their speedboat sank to the bottom of the Thames.
The drama unfolded around 2pm this afternoon when the group's boat began taking on water just south of the Millennium Bridge.
Unable to stop taking on water, the group then alerted the Coastguard using their mobile phone, before preparing to abandon ship.
With the four relieved occupants safely aboard the lifeboat, the crew were able to tether their boat, whose bow was still sticking out of the water, so that it did not become a hazard to passing vessels.
Sinking boat with four people on board. As the last person stepped on to the lifeboat @towerrnli the pleasure boat slipped below the water.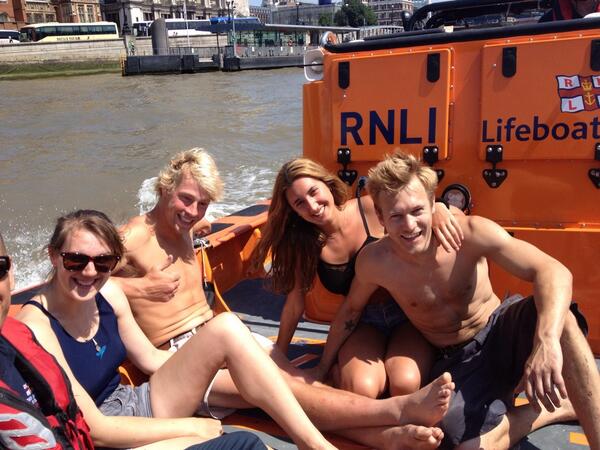 A porpoise has been spotted swimming in the River Thames.
RNLI lifeboat crew members posted this snap on Twitter earlier, after seeing the mammal near Tower Bridge.
Advertisement
A seal has been captured on video playing with a dog on the banks of the Thames.
The footage, shot by owner Nicola White near Greenwich, shows the seal and dog happily interacting for around 5 minutes.
There's also the traditional transport operation to make those crowds of revellers get into and out of London safely.
Piers Hopkirk reports now on the preparations ahead of tonight's festivities.
Despite the bad weather, up a quarter of a million of people are expected to converge on the capital tonight to welcome in 2013.
Many will head for the banks of the Thames to get the best vantage points for the traditional New Year's fireworks display.
Nick Thatcher spoke to Jim Donald from Jack Morton Worldwide in his report.
Tube, DLR, tram and some National Rail services in Greater London will run all night on New Year's Eve.
Read the full story ›
Load more updates