People visiting relatives or hitting the Boxing Day sales will face a "standstill" on the railways due to a "lack of action" , Labour said.
Read the full story ›
A "ghost" station closed a century ago has been uncovered during work on the Thameslink project.
Read the full story ›
Advertisement
A spokesman for train operator Thameslink says more than half a million litres of water have been pumped from a rail tunnel between Farringdon and St Pancras stations.
Travellers faced severe disruption this morning cased by flooding in the tunnel after a watermain burst on Friday.
A normal service is expected to run tomorrow.
Stuart Cheshire, Passenger Service Director for Thameslink, said: "After four days of disruption we're pleased to confirm that we will be able to operate to our normal timetable tomorrow.
"This has been incredibly frustrating for everyone and I would like to thank our passengers for their patience as well as railway staff for all their hard work."
Network Rail have said that the floodwater in a tunnel between Farringdon and St Pancras has been pumped out but normal Thameslink train services will not resume today. Engineers are now checking that the signalling system in the tunnel has not been damaged and the track is still stable.
Network Rail said normal services are expected to restart tomorrow morning but is advising passengers to check before they leave home. The flooding was caused by a burst water main.
The Thameslink operator Govia has said there will be no trains running between Farringdon and St Pancras today because of the burst water main. There will also be reduced services on the other Thameslink routes. Details can be found on their website.
A burst water main in a tunnel is continuing to cause disruption to Thameslink trains three days after it started. Network Rail has been pumping out the water in the tunnel between St Pancras and Farringdon since Friday but they said last night there was still around 50,000 litres to be removed.
The line's operator Govia has said passengers can claim compensation if they are delayed by 30 minutes or more by going to their website. But it also warned that services will be disrupted until the end of today:
Network Rail have informed us that we will be unable to run any trains between Farringdon and London St Pancras International until at least the end of service on Monday 26 January. We have a reduced service elsewhere on Thameslink. Both Network Rail and Thames Water are currently working hard to fix the problem.
– Govia Thameslink Railway
Thames Water has apologised:
We're really sorry to commuters who have had disruptions to their journeys today. And we would also like to apologise to any of our customers who have experienced interruptions to their water supply. We have been working around the clock this weekend, with help from Thameslink, Network Rail and Transport for London, to fix the leak as fast as possible while keeping our customers in supply at the same time.
– Thames Water
Advertisement
Commuters are facing rush hour travel chaos this evening as underground flooding at Farringdon stations causes Thameslink to run only a quarter of it's peak rail services.
Passengers are facing short notice delays and alterations due to the deep flooding from a 16 inch burst water main in a tunnel between Farringdon and St Pancras International . Some trains are managing to pass through while Network Rail pumps out the water, but services are heavily disrupted.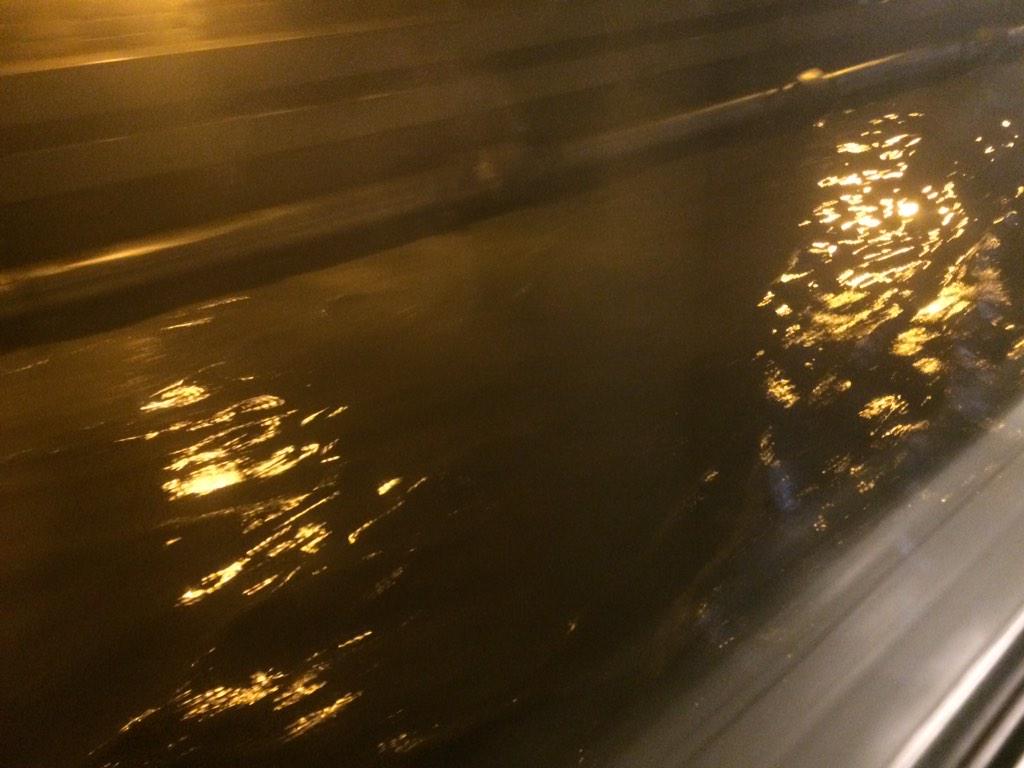 It is understood that water company engineers need to isolate the leak without cutting off essential supplies to a nearby hospital. Even if the leak is repaired soon, there will be a major knock-on impact on this evening's services.
We'll do our very best to get people home tonight as quickly as possible but the burst water main is causing significant disruption. We've brought in buses and extra staff and we're pushing out messages through all available means to encourage people to start home earlier if possible and to leave longer for their journeys.
– Stuart Cheshire, Thameslink's Passenger Service Director
Passengers are being advised to taske an alternate route home if possible. Thameslink plans to run services half hourly between Bedford and Brighton, and hourly services on the Wimbledon branch of the line. Sevenoaks-bound Thameslink services will start and terminate at London Blackfriars
A rail union has hit out at comments by the Govia Thameslink CEO, who said he would make it 'more comfortable to stand' in rush hour
Read the full story ›
The RMT and other transport workers' unions will hold a demonstration at Blackfriars Station protesting the newly merged Thameslink, Southern and Great Northern franchise. They say the contract, awarded to Govia Thameslink, will see cuts to station staff numbers and ticket office closures.
Siemens is building the 1,140 carriages in Germany, up to 2,000 jobs will be created in the UK supply chain.
Read the full story ›
Load more updates