Tottenham MP David Lammy questioned why the decision about a new stadium was taking so long.
Read the full story ›
England captain, Steven Gerrard, believes anyone who dodges international duty is wrong and he called on Redknapp to name the players in question. He said: "I don't know who he means. Is it five years ago? 10 years ago? We need names. If it's the case, it's disgusting."
Advertisement
When I was at Tottenham, when full internationals came around, there were two or three players who did not want to play for England.

They would come to me 10 days before the game and say, 'Gaffer, get me out of that game, I don't want to play in that game'. I'd say, 'you're playing for your country, you should want to play'.

(They would say) 'Nah, my girlfriend is having a baby in four weeks, I don't want to play' and that is the truth, so it makes you wonder.
– Harry Redknapp, speaking to BBC Radio Five Live
Steven Gerrard has called on Harry Redknapp to name and shame the former Tottenham stars who he claims skipped England duty.
Redknapp claimed some English players asked him to pull them out of national games when he was in charge at White Hart Lane.
Don't understand Pochettino's decision - why would he trade down?
Welcome Mauricio Pochettino! I hope I get to see one of his Spurs teams play but I can't get to WHL til November so it's probably 50/50.
Mauricio Pochettino is the new manager of Spurs. Needed to get that tweet out quickly before they fire him.
On a serious note, I like Pochettino's style of play. Could be a really good appointment if he's given time, support and a say in transfers.
Advertisement
This is a Club with tremendous history and prestige and I am honoured to have been given this opportunity to be its Head Coach.

There is an abundance of top-class talent at the Club and I am looking forward to starting work with the squad.

Tottenham Hotspur has a huge following across the world and I have great admiration for the passion the fans show for this team. We are determined to give the supporters the kind of attacking football and success that we are all looking to achieve.
– NEW SPURS HEAD COACH MAURICIO POCHETTINO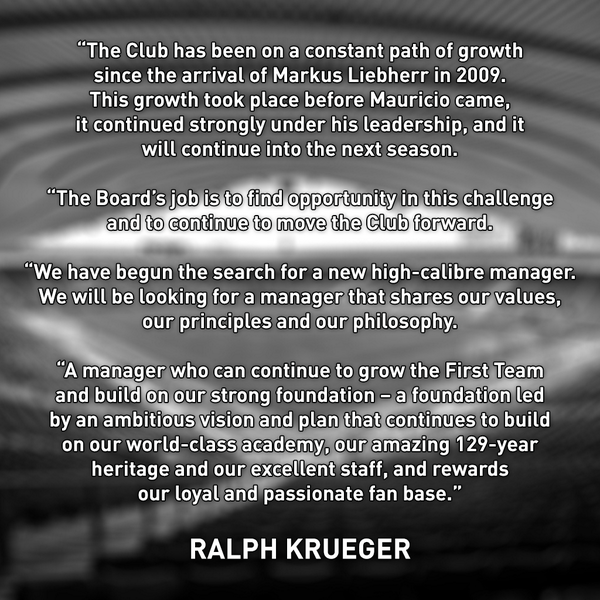 Southampton have accepted that manager Mauricio Pochettino will leave the club to join Premier League rivals Spurs.
Despite the growing rumours about a move to Spurs, Mauricio Pochettino is refusing to be drawn on speculation.
I want to say that I still have one more year on my contract.

It is only normal that these rumours will start cropping up. We know the rules with how these things happen in England.

We (he and Southampton) will sit down and we will talk. This is the end of a five-year project, we have achieved what we wanted from this project and now a new project has to start.

I have said that this club now deserves to be in a new project, the board has to decide how that happens, two years, three years or four years - I just want to sit down and talk and we will see what happens.
– Mauricio Pochettino
Load more updates