London's Tower RNLI crew rescued three people including a young girl after they were trapped by the rising tide.
Read the full story ›
New rules could be introduced at Tower Bridge after a bottle was dropped causing the top layer in the glass walkway to shatter.
The walkway opened to the public for the first time two weeks ago with the manager saying he was "gutted" about it smashing but emphasised the public was never at any risk.
The dizzying walkway allows you to see the river Thames more than 40 meters beneath your feet.
The glass was smashed last night after a bottle was dropped followed by a woman wearing stilettos standing on the crack.
But there are a further five layers of glass underneath.
"We are gutted it's happened in the first couple of weeks when it's been open to the public but it's completely safe.

"We should have said no glass on the glass section of the floor. It was a bit shortsighted of us."
– Chris Earlie, Head of Tower Bridge
The pane has been covered in a mat until it is fixed tomorrow night.
"The floor has five layers of glass with this sacrificial layer on top - it's there so we can replace it if it gets scratched.

"We are still open to the public and if we had any concerns we would have closed."
– Chris Earlie, Head of Tower Bridge
Advertisement
Tower Bridge has unveiled new glass walkways offering a stunning view of life below, from 138 feet above the River Thames.
Read the full story ›
In the 120 years that Tower Bridge has been standing, the globe has seen two world wars, six British monarchs, 22 Prime Ministers, the moon landings and the digital revolution.
To celebrate, it is opening its doors to visitors for £1.20 on the anniversary date.
A special sunset reception will also be held for 120 competition winners on its lofty walkways.
The world famous bridge was officially opened on 30th June 1894 in a special ceremony by the then Prince of Wales who later became King Edward VII.
At the time, The Times Newspaper reported that it was "reckoned among the greatest engineering triumphs of the Victorian age."
The Millennium Diamond boat hit the north side of the famous bridge at around midday.
Read the full story ›
We were called at 11.59 today to an incident involving a boat at St Katherine's Pier.

We sent three ambulance crews, a hazardous area response team and a duty officer to the scene.

Staff treated nine patients. A 64-year-old woman suffered pelvis and head injuries and was taken as a priority to the major trauma centre at Royal London Hospital.
Four women were treated for minor injuries and also taken to the Royal London.

A man and a girl were treated for minor injuries and made their own way to hospital, while two other women were checked at the scene but did not require further treatment in hospital.
– London Ambulance Service
Advertisement
Five women had to be taken to hospital, while a man and a girl made their own way to get medical treatment and two other women were checked at the scene but didn't need any further help.
One of the women was taken as a priority to Royal London Hospital with pelvis and head injuries, while the other injuries sustained were described as minor.
Nine people have been injured after a pleasure boat crashed into Tower Bridge. The Millennium City Cruises vessel collided with the north side of the famous London bridge at around midday.
MPU officers are on scene at Tower Bridge, SE1 after a vessel collided with the bridge. One person injured. No arrests. #London
A river vessel has struck the south pier of Tower Bridge. Everyone on board is fine and there is no damage to boat or bridge.
The Met have confirmed that the leader of the English Defence League has been charged with public order offences after a rally yesterday.
Tommy Robinson, whose real name is Stephen Yaxley-Lennon, tweeted about his charges earlier in the day.
Just been released, charged with inciting a crowd to commit public order? My speech apparently. In court October 22nd.
Bail conditions not to enter tower hamlets,court on 22nd of October at Thames magistrates which is in tower hamlets http://t.co/HaJpi6s80x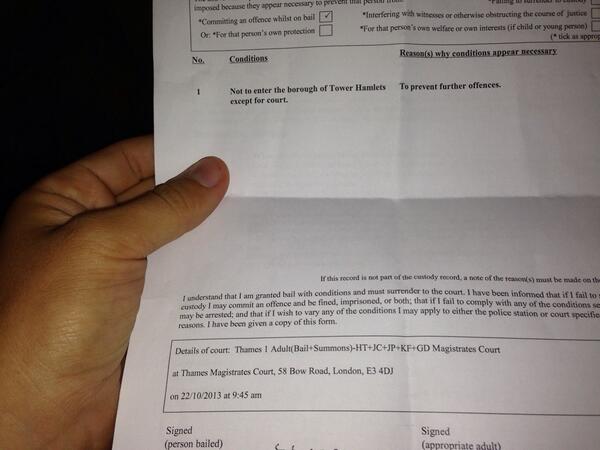 Over 160 people were arrested for a variety of offences after the far-right group's march through central London yesterday.
Most of the arrests were for breaching the conditions police had set down for where the rally could take place, and included people from rival anti-racist and anti-fascist groups who were prohibited from coming in to contact with the EDL's route.
Load more updates