Workers at 14 of London's 18 bus companies are expected to go on strike tomorrow in a dispute over pay.
Read the full story ›
The Labour London Assembly member, Val Shawcross, is calling on Boris Johnson to scrap a 2.5 per cent increase to Transport for London fares.
Ms Shawcross is instead suggesting that the Mayor uses money from unallocated TfL income to reverse the need for an increase.
A study commissioned by the Labour member found that seventy six per cent of Londoners now believe fares are too high.
Advertisement
Commuters are facing journey disruptions for almost a year when Central Line trains cease stopping at one of London's busiest stations. From Saturday, Central Line trains will not stop at Tottenham Court Road until December.
The work is intended to ensure the station in able to deal with the demands of more passengers when Crossrail arrives in 2018. Refurbishments will improve access to platforms, install eight new escalators & five new lifts and improve lighting and CCTV. Transport for London have said the station will be fully accessible by 2016 and the ticket hall will be five times larger than its current size.
The refurbishment is part of London Underground's £10bn programme of modernisation. TfL has advised passengers to change at Oxford Circus or Holborn for alternative routes. Northern Line trains will continue to stop at Tottenham Court Road.
The new driverless trains will have air-conditioning and walk-through carriages for the first time.
Read the full story ›
The RMT union said it is "deeply concerned" about the new driverless tube trains but the mayor has denied the move would lead to job losses.
Read the full story ›
Advertisement
A Lamborghini Countach has been abandoned on Tower Bridge.
The Italian super-car blocked traffic this morning after it was left at the side of the road.
A picture of the car, worth at least £250,000, was shared on Twitter by Transport for London.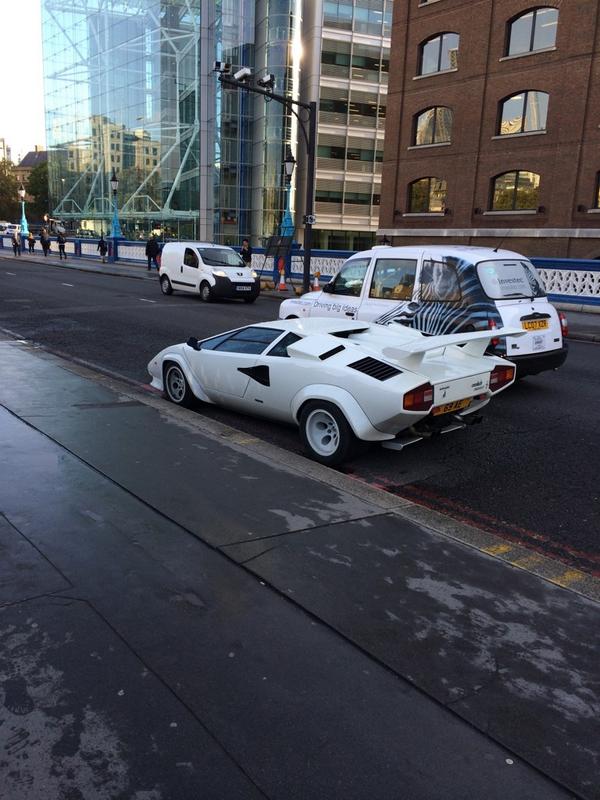 It is not known who the car belongs to but it appeared to have a UK registration plate.
The new tube trains will have air-conditioning and walk-through carriages for the first time on the "deep-level" lines, as well as wider doors and step-free access. London Underground claim the interiors will 'recreate the ambiance of the living room, with new levels of comfort for seats and vestibules, pools of lights and electronic notice boards.'
Paralympian Hannah Cockcroft says wheelchair access on the tube is so bad she has challenged Boris Johnson to spend a day in a wheelchair
Read the full story ›
Darren Johnson AM, London Assembly Member for the Green Party, has hit out at Mayor Boris Johnson over fare increases on London's Transport System.
He was responding to accusations made by Transport for London Commissioner Peter Hendy, who claimed there could be 'social unrest' if transport links are not improved for lower income Londoners living on the outskirts of the capital.
The Mayor recently increased fares for the seventh year in a row. As Sir Peter rightly points out, millions of Londoners are really struggling with stagnant pay and spiralling housing costs. Being forced to pay high fares to use increasingly overcrowded buses and trains is making life even harder.

As more and more low-income Londoners are forced to relocate to outer London boroughs, the Mayor should be reacting by investing in the bus service and delivering safe, appealing cycle routes that people want to use for their commute to work. He should not be pushing road-building projects aimed at encouraging driving, especially when the majority of low-income families in London don't own a car.
– Darren Johnson AM, Green Party London Assembly member
Load more updates