The new driverless trains will have air-conditioning and walk-through carriages for the first time.
Read the full story ›
The RMT union said it is "deeply concerned" about the new driverless tube trains but the mayor has denied the move would lead to job losses.
Read the full story ›
Advertisement
A Lamborghini Countach has been abandoned on Tower Bridge.
The Italian super-car blocked traffic this morning after it was left at the side of the road.
A picture of the car, worth at least £250,000, was shared on Twitter by Transport for London.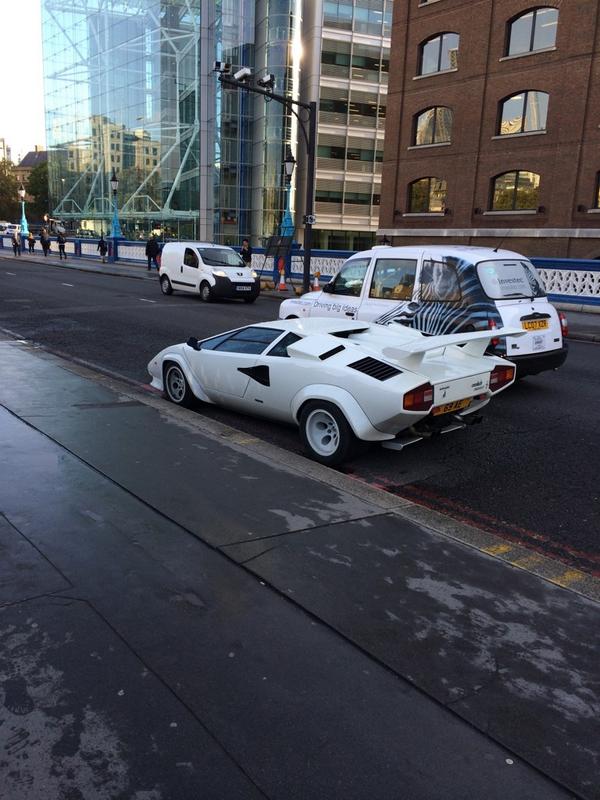 It is not known who the car belongs to but it appeared to have a UK registration plate.
The new tube trains will have air-conditioning and walk-through carriages for the first time on the "deep-level" lines, as well as wider doors and step-free access. London Underground claim the interiors will 'recreate the ambiance of the living room, with new levels of comfort for seats and vestibules, pools of lights and electronic notice boards.'
Paralympian Hannah Cockcroft says wheelchair access on the tube is so bad she has challenged Boris Johnson to spend a day in a wheelchair
Read the full story ›
Darren Johnson AM, London Assembly Member for the Green Party, has hit out at Mayor Boris Johnson over fare increases on London's Transport System.
He was responding to accusations made by Transport for London Commissioner Peter Hendy, who claimed there could be 'social unrest' if transport links are not improved for lower income Londoners living on the outskirts of the capital.
The Mayor recently increased fares for the seventh year in a row. As Sir Peter rightly points out, millions of Londoners are really struggling with stagnant pay and spiralling housing costs. Being forced to pay high fares to use increasingly overcrowded buses and trains is making life even harder.

As more and more low-income Londoners are forced to relocate to outer London boroughs, the Mayor should be reacting by investing in the bus service and delivering safe, appealing cycle routes that people want to use for their commute to work. He should not be pushing road-building projects aimed at encouraging driving, especially when the majority of low-income families in London don't own a car.
– Darren Johnson AM, Green Party London Assembly member
Advertisement
Sir Peter Hendy, the head of Transport for London, says London's transport crisis 'risks sparking riots' if more is not done to improve services on the network.
In an interview with the Guardian, he warned of 'social unrest' if low paid workers living on the outskirts of the capital could not commute more easily into the centre of the city for work.
London's poor don't live in Harrow Road, they live in Enfield and Tolworth and if you can't get them to jobs they want, your city's going to be in a bad way: it's not going to progress and contribute to national economic growth.

The stakes are pretty high. If you're not able to increase transport capacity, and people find accessing work impossible, you risk social unrest. You can expect trouble.
– Sir Peter Hendy, speaking to The Guardian
He also claimed that without new rail lines and major infrastructure projects, such as Crossrail 2 being started immediately, overcrowding in central London could reach "overwhelming" levels. Crossrail 2 is expected to take at least 15 years to complete.
New figures obtained by a London Assembly member have revealed that Transport for London is planning to cut around a fifth of staff working in stations across the network.
The proposals would see staffing cut at 216 stations with around 588 workers due to be cut in total across the network.
London Assembly Labour group transport spokesman Val Shawcross said the impact would vary across the capital but some stations could see as much as a 58% reduction in staff.
Plans by TfL to redevelop 55 Broadway, the home of London Underground, have attracted further criticism from the Green Party today over an apparent lack of affordable housing in the plans.
"Rapidly rising prices and rents, are major reasons why Londoners are feeling priced out of their own city. The Mayor should be using every opportunity he has to increase the amount of social housing in London, as that is the best way of putting a brake on run-a-way prices.

Instead, the Mayor is adding fuel to a rising property market by allowing Transport for London to build and sell luxury flats in central London and Earls Court...

...The Mayor is selling the family silver, whilst leaving Londoners without any long term benefit in terms of housing that will stay affordable.
– Darren Johnson, London Assembly Green Party Member
TfL has announced plans to redevelop 55 Broadway, the historic home of London Underground. But the plans are under fire from Labour.
Read the full story ›
Load more updates