"The project is about freeing up capacity on the city surface and reclaiming space for public parks, pedestrians and cyclists," says TfL.
Read the full story ›
Transport for London staff from three transport unions are on strike this morning.
Backroom staff from the RMT, TSSA and Unite unions are staging a 24 hour walk-out in a dispute over pay and pensions.
Advertisement
The Transport for London commissioner Sir Peter Hendy is appearing on radio station LBC this morning.
His radio appearance comes a day after further strike action by RMT members was averted.
A three day strike had been planned to take place this week.
Staff at Transport for London are ready to fight against plans to freeze wages and cut final salary pensions, the Transport Salaried Staffs Association have said.
Supervisors and managers have voted to go on strike over the plans.
Manuel Cortes, the union's general secretary, said:
We have George Osborne telling us that he has now beaten the cost of living crisis with wages ahead of inflation while the Mayor of London plans to inflict his very own brand of cost of living crisis on our members in TfL.

He not only wants to freeze wages by scrapping annual increases but wants to cut final salary pensions as well. Needless to say, this plan does not apply to senior managers.

This is hypocrisy of the first order. We took action in February to defend our members' jobs in the ticket office closure dispute and we are now ready to do the same at TfL.
Staff at Transport for London have voted to go on strike in a row over pay and pensions.
The Transport Salaried Staffs Association said around 1,000 supervisors and managers voted by 3-1 in protest at a wage freeze and cuts to pensions.
There was a 47 per cent turnout by staff based at TfL's head office.
The TSSA union's general secretary has called for urgent talks to avoid strike action within the next four weeks.
Commuters will no longer be able to pay using cash on London buses from Sunday July 6.
Transport for London (TfL) said the decision follows a drop in the number of people paying their fare in cash, with 99 per cent of customers already using Oyster cards.
Leon Daniels, Managing Director for TfL Surface Transport, said: "As Londoners and visitors change the way they pay for goods and services in the capital I am proud that we at the forefront of that change.
"Customers will not only benefit from a quicker, cheaper and more convenient method of paying their bus fare; it will also enable us to save millions of pounds each year – which will be reinvested in further improvements to the capital's transport network."
Advertisement
TfL have tweeted this picture of what the Elephant and Castle north roundabout redevelopment could look like. The junction is being completely re-designed to try and improve road safety as part of a £4 billion plan.
The northern roundabout at Elephant & Castle will be redeveloped as part of the £4 billion roads programme http://t.co/97pUQ93F9b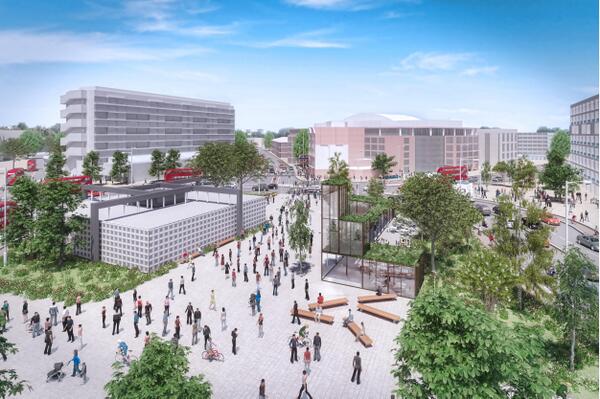 Mayor Boris Johnson claims the redevelopment of the roundabout will create 5,000 new homes and 4,000 new jobs.
More than 40 stations are closed this evening. For full details before you travel, visit Transport for London's website.
Shocking CCTV footage has caught the moment a man fell from the top deck of a London bus, after appearing to be kicked through the window. The footage forms part of a BBC programme which looks at the ways police investigate crime on London's bus network.
During 2013 more than 20,000 crimes were reported on London's buses. Speaking during the programme, Detective Constable Tony Barun said:
"Although we see violence every day, it's our bread and butter, it's still shocking to see something as graphic and violent as this."
The decision to stop accepting cash fares on London buses reflects the changing way that people pay for goods and services in our city, including journeys on the bus network.

Paying with Oyster or a contactless payment card is not only the cheapest option, but also speeds up boarding times at bus stops and reduces delays.

It costs £24 million a year to accept cash on London's buses and by removing this option we will generate significant savings which, like all of our income, will be reinvested in improvements to the transport network.
– Leon Daniels, Transport for London
Load more updates