The following services are expected to be disrupted:
Trains between London Waterloo and Dorking will not be running. Passengers will need to use alternative trains to Epsom and change there for Southern services, or join Southern services from London Victoria / Clapham Junction.
Trains between London Waterloo and Shepperton will run via an alternative route and will not call at stations between Earlsfield and Fulwell.
Trains between London Waterloo and Hampton Court will not be running. Passengers will need to use London Buses.
Trains between London Waterloo and Exeter / Salisbury will only run between Basingstoke and Exeter / Salisbury . Passengers will need to take a train to Basingstoke and change there to complete your journey.
Trains between London Waterloo and Guildford via Cobham will make an additional stop at Berrylands.
London bound trains from Weymouth will all call at Basingstoke, Woking and Clapham Junction.
Trains from London Waterloo to Portsmouth via Basingstoke that leave London Waterloo at 9 minutes past the hour will now depart at 20 minutes past each hour and will not call at Farnborough Main or Fleet. Passengers for Farnborough and Fleet will need to use alternative services towards Basingstoke.
Advertisement
#LondonWaterloo - The signalling problems have been resolved and all lines are now open. 60 minute delays will continue until further notice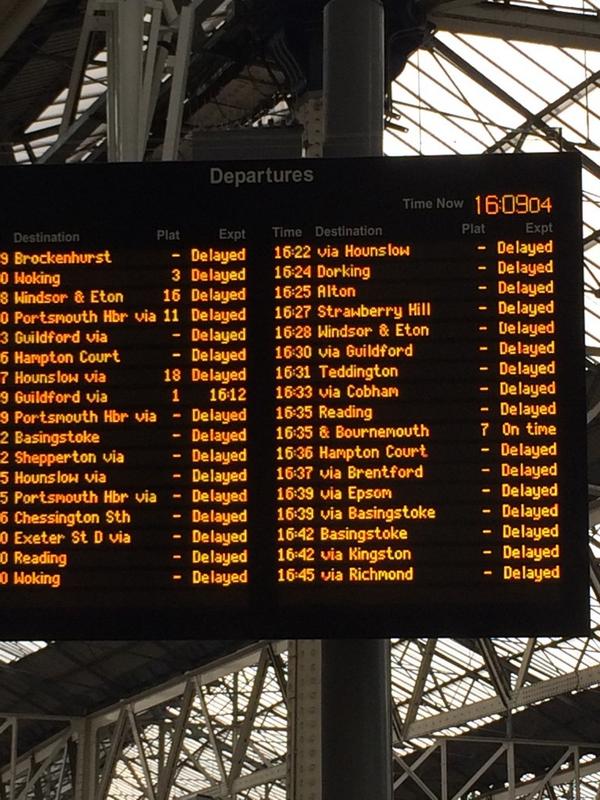 Due to lightning having damaged signalling equipment between Reading & Slough all lines affected. Delays & cancellations may be expected.
Advertisement
Lightening strike - We have lost the signalling between Surbiton and Woking. Major Delays expected to all routes.
Rail passengers are being warned to expect delays after a lightning strike hit a signal box.
#Surbiton update: Lightning has knocked out signalling between Surbiton & Walton on Thames on Country bound lines. More soon....
Transport for London has encouraged tourists to set up contactless payment, rather than obtaining an Oyster card, after it announced that the system would be rolled out on September 16. TfL's director of customer experience said:
Equipping yourself with an oyster card is still a tedious process - if you have the misfortune of arriving at Victoria or King's Cross there are huge queues.

From our perspective and from a consumer perspective, the contactless system is better. We'll be encouraging them to start using it - Oyster is not broken, the point is we have a better system.
– Shashi Verma, Transport for London
London Underground commuters will be able to use their phone to pay for their daily travel, under new plans unveiled by Transport for London. Gerry McQuade, chief marketing officer at EE, said:
As more and more people benefit from the simplicity, convenience and security that mobile contactless payments offer, it's rapidly becoming clear that the days of the physical wallet are fast becoming numbered.
– Gerry McQuade, EE chief marketing officer
Load more updates