Talks are due to resume later today to try and avert a second tube strike planned for August 5th.
Discussions at reconciliation service ACAS between union leaders and tube bosses have so far failed.
All four transport unions are planning to walk out in a row over conditions for staff when the new night tube service begins later this year. Last week's strike was the biggest for 13 years and brought the whole network to a standstill.
The General Secretary of the Fire Brigades Union has posted a picture awarding a posthumous trade union badge to the late RMT leader Bob Crow.
Matt Wrack handed a Trade Union Congress badge to his widow Nicky,
Great honour today to present posthumous TUC long service badge for friend and comrade Bob Crow to his partner Nicky http://t.co/j5HmtQxers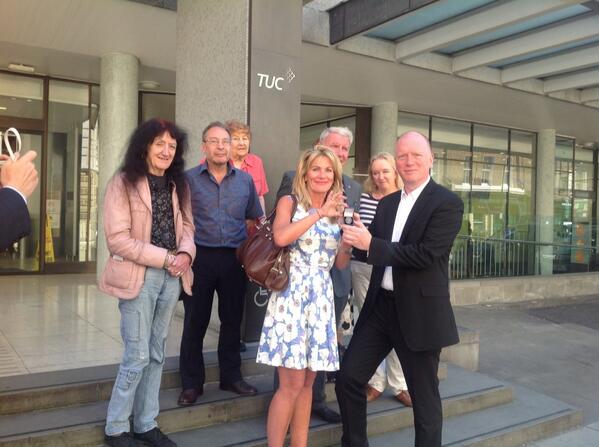 Advertisement
Londoners will be able to vote in American presidential-style primaries to choose Labour's next candidate for mayor.
Party members and people who register as Labour supporters can have their say.
The change announced today by Ed Miliband reduces the impact of trade unions on the selection of candidates.
The details now from our Political Correspondent Simon Harris
Labour's former deputy leader John Prescott has welcomed Ed Miliband's proposals to change the party's relationship with the trade unions.
Mr Prescott compared is proposals to the dramatic moves to introduce "one-member one-vote" (Omov) elections for the party leader under John Smith and end the Clause 4 commitment to nationalisation under Mr Blair.
Great speech from Ed. Change is always controversial, like OMOV was 20 years ago & Clause 4 in 94. But let's have the debate! #BoldLabour
Labour leader Ed Miliband announced he has appointed former Labour general secretary and union official Lord (Ray) Collins of Highbury to lead work on the introduction of a new system, which will consider an open primary process for the London mayoral candidate selection.
Lord Collins will also consider how the proposals could be spread to other parts of the country.
Under Mr Miliband's proposals, any Londoner registering as a Labour supporter will be eligible to vote in the ballot to choose a candidate to replace Boris Johnson in 2016.
A new code of conduct will be drawn up to cover all applicants to be Labour parliamentary candidates.
Wannabe London mayor Christian Wolmar reckons Labour's new candidate selection rules great news for candidates like him. @itvlondon
Advertisement
Ed Miliband has set out a series of reforms designed to reshape Labour's relationship with the trade unions and end the "machine politics" behind the alleged ballot-rigging controversy in Falkirk.
In changes which could provoke a major clash with the union bosses who bankroll his party, Mr Miliband said he would reform the system of affiliating union members to Labour.
He also said he would introduce a code of conduct for would-be election candidates and introduce open primary elections for Labour's next candidate for London Mayor.
US-style primaries prompt 'valuable debate' and make 'great strides in engaging the electorate, the shadow justice secretary said today, as Labour announced a new code of conduct over mayoral candidate selection after the Falkirk row.
Sadiq Khan wrote in the Evening Standard today: "Primaries help make politics exciting: for some time I've backed calls for such a process in London. So I support Ed Miliband's landmark announcement today that Labour will use a primary to pick our candidate for London Mayor in 2016.
" All Londoners of voting age who are either a Labour Party member or have registered as a supporter will have a say in who becomes Labour's candidate".
"We will have a new code of conduct for those seeking parliamentary selection." - EM #betterpolitics
"We will also agree new spending limits for Parliamentary selections to include for the first time spending by outside organisations." - EM
"These changes are about making it possible for us to change Britain for the better." - EM #betterpolitics
Ed Miliband will today unveil his plans to change the link between the trade union movement and the Labour party, and a reform of the process through which party candidates are selected. In a speech this morning in London, he will propose the following:
Labour's next candidate for mayor of London to be picked through a system of US-style primaries.
There is a possibility they could be extended to the selection of parliamentary candidates where the local constituency party is weak.
There will also be spending caps in selection contests for Parliament and the European Parliament covering both would-be candidates and any organisation backing them.
A new code of conduct will be drawn up for those seeking parliamentary selection, with the prospect of disqualification if they breach the rules.
Load more updates