Detectives are appealing for information after two bouncers were stabbed outside Fire nightclub in Vauxhall.
Read the full story ›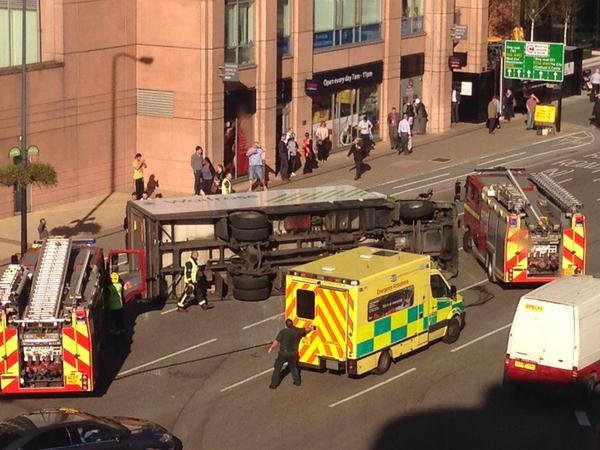 A3036 Wandsworth Rd n/bnd junc Parry St 4 lanes are blocked due to an overturned lorry. E/bnd slow from 9 Elms Lane http://t.co/cnArW2ITPa
Advertisement
Lambeth Council have explained why they have chosen to bring in a dispersal zone in Vauxhall. It started at midday today.
We are acting promptly to tackle this emerging problem at the request of local people. We are seeing groups of people leaving nightclubs and then congregating in the area, around spots that include the Vauxhall Pleasure Gardens.

Many appear to be taking the legal high nitrous oxide, and then have their own little parties around cars with the stereos turned up to play loud music. We are working closely with Lambeth police on discouraging this anti-social behaviour.
– Cllr Jane Edbrooke, Lambeth Council
Police and Lambeth Council have introduced a dispersal zone in Vauxhall, which started at lunchtime, to prevent crime and anti-social behaviour. The zone, which will run for six months, gives police powers to disperse groups where officers believe their presence is causing or is likely to cause harassment, alarm or distress. Anyone who is told to leave the area could be arrested if they return to cause problems within 24 hours.
Posters are being put in and around the zone to warn local people when they are entering it. It has been introduced because people were leaving nightclubs and then playing loud music in the streets. The council also said they were taking the legal high nitrous oxide.
This new power will be a very useful addition to our legal tools in tackling local crime and anti-social behaviour. It is worth noting that during the consultation process there was overwhelming support from residents and businesses for a dispersal zone.
– Inspector Neil Cochlin, Metropolitan Police
Two men from south London faced an embarrassing rescue from their balcony after getting locked out doing the ALS Ice Bucket Challenge
Read the full story ›
A man has been jailed after splashing a noxious fluid over six strangers in a "vile and violent" attack outside a nightclub. Jonathan Lynn, 29, emptied the contents of a plastic bottle over a group of young gay friends in Vauxhall, in London. He previously pleaded guilty at Inner London Crown Court to causing the three men actual bodily harm outside the Lightbox nightclub on June 8th and possessing an offensive weapon, namely a noxious fluid.
Some of the victims were left with ulcers in their eyes and mouths as well as "significant" pyschological problems, the court heard. Sentencing Lynn to two years and four months, Recorder David Etherington QC said: "I make this clear, this was a vile, violent, cowardly and disgraceful attack by you, but I do not find it was motivated by dislike or hate of people of homosexual orientation. "You wrecked a number of people's lives."
Advertisement
Adam Hird died in hospital two days after a confrontation outside the No.65 bar in Vauxhall early on Sunday, June 15.
Read the full story ›
Police have arrested a 31-year-old man in Kent over a suspected homophobic attack in which a clubber was sprayed in the face with bleach.
Police investigating an incident which took place in the early hours of Sunday, 8 June where three men were sprayed with a substance, thought to be ammonia arrested a 31-year-old man yesterday (Thursday, 12 Wednesday, 11 June) in Kent on suspicion of committing grievous bodily harm (GBH). He is currently in custody at a south London police station.
The 23-year-old victim was with a friend who was also sprayed with what police believe was ammonia. A third man was also attacked.
Read the full story ›
Load more updates