British Transport Police have released a CCTV video of a man they want to speak to about damage to a gate at Victoria station in London.
Shortly after 2am on Thursday 20th June, the same day England played Ukraine in the World Cup, a man tried to enter the station, but was told it was closed for cleaning.
After he was refused entry, the man managed to force his way into the station by pulling the gates out of the ground and bending them.

We believe the man shown in the CCTV footage has important information about this incident, and urge anyone who knows who he is to contact us.
– PC Stephen Webster, British Transport Police
The unusual nesting place was picked by the Queen bee, quickly followed by her devoted colony.
Read the full story ›
Advertisement
The colony of bees has now been safely moved across the road to Westminster Cathedral, where it will be looked after by beekeepers on top of the Catholic church's roof.
David Beamont, at the Victoria Business Improvement District said: "In Victoria there are over a dozen experienced beekeepers who have all been on an intense training course that focuses on the theory and practical training of urban beekeeping, successfully managing hives for nearly two years."
Ruth Duston, CEO of Victoria BID, said local businesses kept bees to boost the area's biodiversity, adding: "With a falling national bee population, the bees in Victoria play a key role in showing that London is a healthy, liveable city."
Tony Mann, a project manager at nearby John Lewis, who also happens to be a trained bee keeper, dashed over to the shop to help lead efforts to smoke the European honeybee colony out.
Tony Mann said: "We have either had a virgin Queen or an old Queen, she has left the nest and she has brought the warm and settled on the shop front. We are going to smoke them into a box and encourage them to stay there and we will remove them later today.
"They will go to whoever wants a hive. We need bees in London as much as we need them on the countryside. Bees are a keystone species. These are European honeybees."
Really odd huge swarm of bees outside monsoon / Topshop in Victoria (I didn't get too close) http://t.co/SVpR9Nb4T5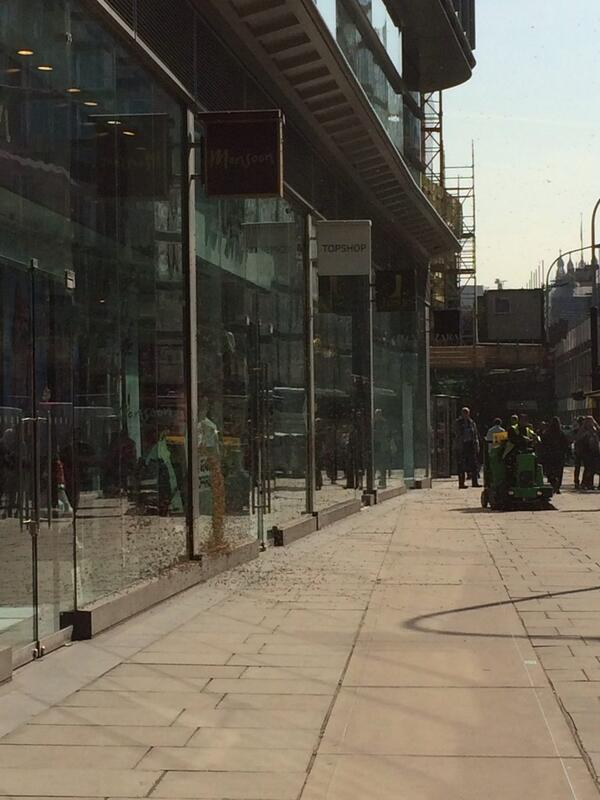 Advertisement
Two men claiming to have a knife robbed a passenger on a London train before marching him to a cashpoint to withdraw a large sum of money.
Read the full story ›
A cyclist has been left seriously injured after colliding with a van near Victoria shortly after this morning's rush hour.
The cyclist, aged in his 20s, was left with serious injuries to his pelvis and legs. His condition is not thought to be life-threatening.
Incident involving a cyclist on vauxhall bridge road. Police, fire and ambulance on the scene http://t.co/F78Y8VJoRl
The air ambulance was called to Vauxhall Bridge Road at around 9.40am.
Victoria, the formerly forgotten area between Buckingham Palace and Westminster, is to be given a 4 billion pound overhaul.
3 million square feet of new space is being redeveloped, and some big companies have signed up to move in. Luke Hanrahan explains.
Load more updates