Police in Waltham Forest are investigating two incidents where Asian women had confrontations with white men in the borough. But they have said their investigation is being complicated because of 'misleading' stories circulating on social media.
Misleading rumours on social media are complicating & distracting resources. This is interfering in the investigation of these incidents.
Police believe the two incidents are not linked. Both happened in the same area near Boundary Road. On the 5th of December, a woman was pushed to the ground by a white male. Five days later, another woman was racially abused by three white men. However, police are concerned that comments on social media could bring people to the area and inflame the situation.
We ask that people from outside the boundary rd area stay away so police can concentrate fully on locating the suspects for these incidents.
No arrests have been made and police say they are working with local community groups to reassure residents.
A murder investigation has now been launched after a woman died following an attack in Walthamstow. Police were called to a property on Hatherley Road on Monday 1st September.
Officers found a 26-year-old woman suffering from stab wounds to her arm and neck. The woman was taken to an East London hospital where she subsequently died earlier this afternoon.
Detecives say her next of kin are aware and a post-mortem examination will be scheduled in due course.
A six-year-old child at the address received treatment at the scene for a minor injury and did not attend hospital.
No arrests have been made. Enquires are ongoing.
Advertisement
A 12-year-old girl has gone missing from Walthamstow.
Hanan Farah disappeared on Tuesday morning.
It is not known what she was wearing at the time she went missing.
Police are appealing for help to find her.
Police are concerned for the welfare of a 13 year old girl who is missing from her home in Walthamstow.
Shaquita Semper was last seen at around 7pm on Wednesday, when she left home saying that she would return that evening.
Police say she has not previously been missing overnight.Shaquita has curly black hair which she often wears in a black bandana. When last seen she was wearing a white t-shirt and black leather jacket with black leggings and grey Nike trainers.
Police are asking anyone who might have seen her to contact them.
Police confirmed today that a woman who died after falling from a bridge on the North Circluar earlier this week was from Haringey. Officers are not naming the 30-year-old at this stage. She died from severe head injuries.
"She then looked to her left and then to her right and I had no idea what she was going to do, I thought maybe she was joking about, but then about 30 seconds later I heard some beeps from the oncoming traffic which could see her.
"And she just waved at the traffic and then fell down onto the road. As soon as I saw it I called the ambulance and police."
Advertisement
A406 NCR W/B / Crooked Billet - remains closed W/B; police incident. Tbacks beyond Redbridge Rbt. E/B re-open, but Tbacks to Finchley Hi Rd.
Police were called to reports of a female believed to have fallen from a bridge on the A406 close to the junction of the Billet Road roundabout, Walthamstow, at 14:27hrs on Monday, 17 February.

London Ambulance Service and London's Air Ambulance attended. The female was pronounced dead at the scene.

Next of kin are yet to be informed.
– Metropolitan Police
A woman was killed this afternoon after falling from a bridge onto the North Circular in east London. The air ambulance was called to the A406 near Walthamstow just before 2:30pm.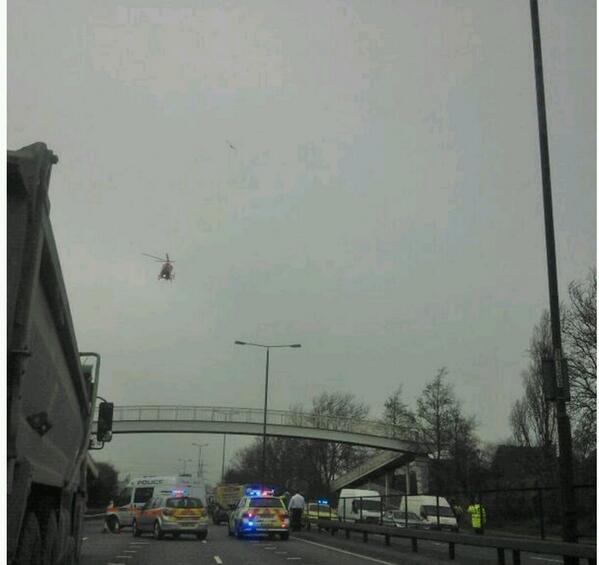 An art gallery in Walthamstow will be the first in the UK to run an exhibition originally commissioned for the Venice Biennale. Jeremy Deller's show 'English Magic' starts tomorrow at the William Morris Gallery and runs until March.
Load more updates