"She then looked to her left and then to her right and I had no idea what she was going to do, I thought maybe she was joking about, but then about 30 seconds later I heard some beeps from the oncoming traffic which could see her.
"And she just waved at the traffic and then fell down onto the road. As soon as I saw it I called the ambulance and police."
A406 NCR W/B / Crooked Billet - remains closed W/B; police incident. Tbacks beyond Redbridge Rbt. E/B re-open, but Tbacks to Finchley Hi Rd.
Advertisement
Police were called to reports of a female believed to have fallen from a bridge on the A406 close to the junction of the Billet Road roundabout, Walthamstow, at 14:27hrs on Monday, 17 February.

London Ambulance Service and London's Air Ambulance attended. The female was pronounced dead at the scene.

Next of kin are yet to be informed.
– Metropolitan Police
A woman was killed this afternoon after falling from a bridge onto the North Circular in east London. The air ambulance was called to the A406 near Walthamstow just before 2:30pm.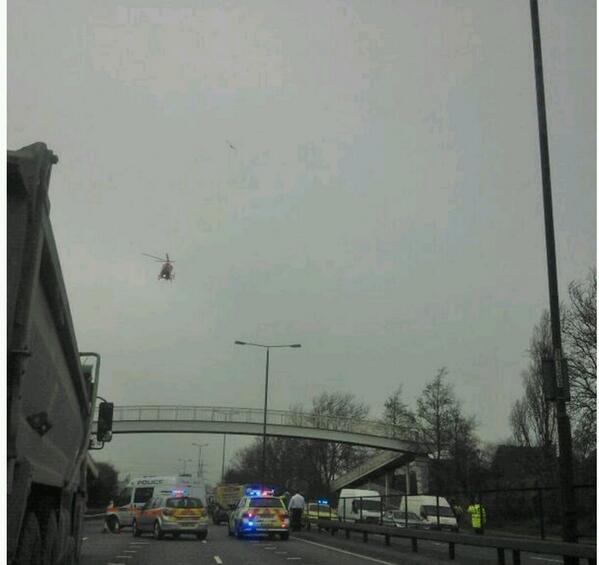 An art gallery in Walthamstow will be the first in the UK to run an exhibition originally commissioned for the Venice Biennale. Jeremy Deller's show 'English Magic' starts tomorrow at the William Morris Gallery and runs until March.
Police are appealing for the public's help after an assault at a branch of McDonalds in Walthamstow on New Year's day. Officers are trying to track down a man seen on CCTV.
1 of 2 Do you recognise this person? We would like to speak to him regarding an incident at McDonalds E17 cont.. http://t.co/n7Q7H66B3m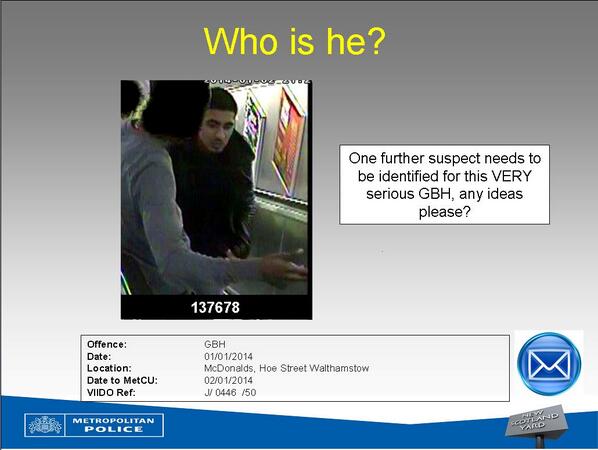 2 of 2 the incident was on New Years Day. Please call 101 or @crimestoppersuk on 0800 555 111, thank you for any help you can give.
Advertisement
Walthamstow Central tube and bus stations are back open after a false alarm.
The area was cordoned off earlier as emergency services dealt with a suspicious package.
All is deemed safe and trains and buses are running again.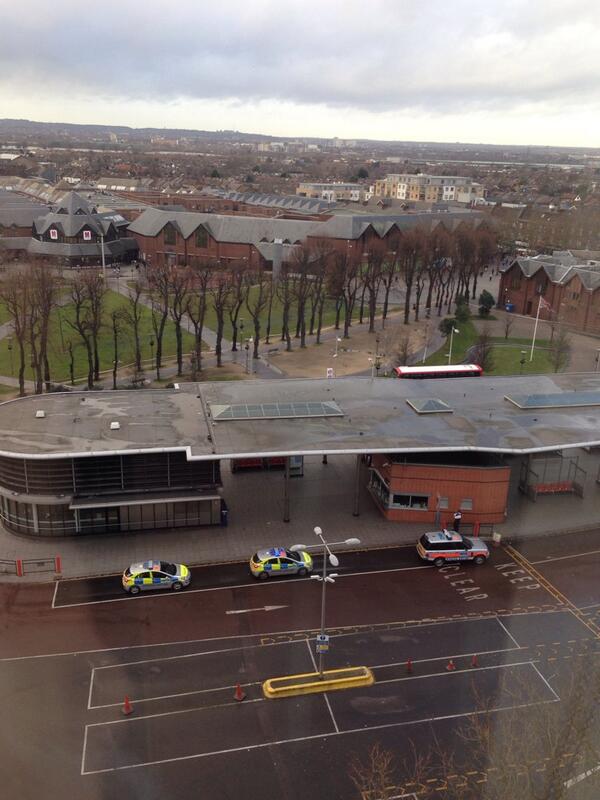 Trains can now call at Walthamstow Central as normal
A gang leader involved in the supply of drugs and gun violence has been sent back to Jamaica after the Met Police proved he posed a danger to the public. 30-year-old Andre O'Neil Grant from Walthamstow had 10 convictions in the UK.
O'Neill Grant was successfully removed from the UK today after police showed he was taking part in gang related criminal activity.
A free HIV testing clinic will open in a London church on Sunday in a bid to tackle the higher rate of infection in the African community.
Living Flames Baptist Church on Fulbourne Road in Walthamstow will open its doors as part of the Take Action Now campaign by the ActionPlus Foundation.
Cases of HIV among Africans in the UK are 30 times higher than the general population, and ActionPlus believes churches have a central role in dealing with the problem.
It hopes training programmes to educate church leaders and testing clinics in churches can replicate a similar campaign in Ghana.
The clinic, which is being operated in collaboration with Positive East, an east London HIV charity, is opening to coincide with HIV testing week, which runs from November 22 to 29.
The Take Action Now campaign was launched at the Mountain Movers Chapel International in Southwark last Sunday.
"The bible does not condemn people with HIV as cursed.

"It shouldn't be taboo to discuss it in churches.

"It's a medical condition and people need medical help. Prayer cannot bring our health back when we ignore medicine."
– Rev Fred Annin, ActionPlus founder
Load more updates