Over 100 police officers have been involved in a crackdown on drug dealing, violence and associated crime in south west London.
Read the full story ›
Detectives have released CCTV footage over teenage boys robbing a newsagents by threatening the shop keeper with a broom.
Read the full story ›
Advertisement
The victim is believed to be aged in his 60s and though next of kin have been informed, formal identification has not yet taken place.
Read the full story ›
A 14-year-old boy has gone missing from hospital in Wandsworth. Joshua Mould was last seen at Springfield Hospital around 4:50pm yesterday.
Joshua is described as white, about 6ft 1in tall of a slim build. He has black hair with a long fringe covering his eyes. He also wears thick black rimmed glasses. The teenager has learning difficulties and may struggle to communicate.
Police say they are 'extremely concerned', and anyone with information should call 999.
A union has said it is worried plans for Wandsworth and Richmond councils to merge may lead to job losses.
Read the full story ›
Wandsworth Council says the Putney Bridge repair project is gathering pace with hundreds of yards of pristine new paving stones laid.
The stones will form a new wider walkway when the bridge reopens in October.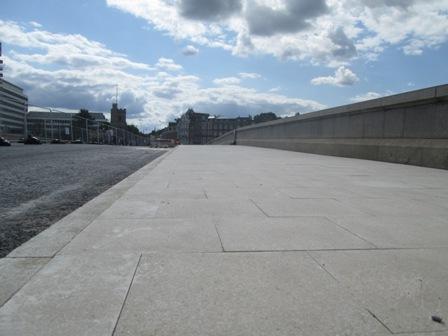 Engineers are also continuing the refurbishment works to the subway at the northern end of the bridge, while work continues off-site to refurbish the bridge's ornate Victorian lamp columns which are being restored by specialist craftsmen.
Advertisement
The driver of the ambulance was left shaken by the crash while another woman had to be taken to hospital after suffering minor injuries.
Read the full story ›
An ambulance crashed into an insurance agent's office in Wandsworth earlier today. The accident happened at 5pm, after the car had hit another vehicle.
One woman suffered minor injuries. The ambulance driver did not need medical treatment.
An London Ambulance Service spokesperson said: "We can confirm that one of our cars was involved in a road traffic collision with another car near Merton Road. Our car was on its way to a serious incident nearby."
Police are appealing for witnesses to a collision in Wandsworth which has left a man in a critical condition in hospital. Police were called yesterday afternoon to a crash between a VW Polo, a Ford Mondeo and a bus on Buckhold Road.
Eight people were initally taken to hospital, and a 21 year old man who was travelling in the Polo is still in a critical condition. The two other passengers from the Polo are still in hospital but their injuries are not believed to be life threatening.
The bus, a route 156, was in service at the time, but nobody on the bus was seriously injured.
A 19-year-old man from Mitcham has been charged with aggravated burglary and the manslaughter of 73-year-old Mashboor Hussain on 11 February in Wandsworth. Kofi Yeboah has been remanded in custody and will appear at Bromley Magistrates court on 24 February.
Aaron Burnett, 20 of no fixed abode has already been charged with the murder of pensioner, Hussain. Burnett has been remanded in custody and will appear at Woolwich Crown Court on 5th March.
Load more updates