A union has said it is worried plans for Wandsworth and Richmond councils to merge may lead to job losses.
Read the full story ›
Wandsworth Council says the Putney Bridge repair project is gathering pace with hundreds of yards of pristine new paving stones laid.
The stones will form a new wider walkway when the bridge reopens in October.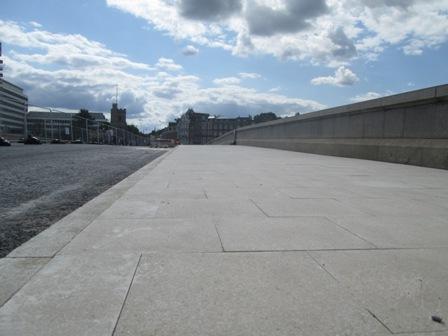 Engineers are also continuing the refurbishment works to the subway at the northern end of the bridge, while work continues off-site to refurbish the bridge's ornate Victorian lamp columns which are being restored by specialist craftsmen.
Advertisement
The driver of the ambulance was left shaken by the crash while another woman had to be taken to hospital after suffering minor injuries.
Read the full story ›
An ambulance crashed into an insurance agent's office in Wandsworth earlier today. The accident happened at 5pm, after the car had hit another vehicle.
One woman suffered minor injuries. The ambulance driver did not need medical treatment.
An London Ambulance Service spokesperson said: "We can confirm that one of our cars was involved in a road traffic collision with another car near Merton Road. Our car was on its way to a serious incident nearby."
Police are appealing for witnesses to a collision in Wandsworth which has left a man in a critical condition in hospital. Police were called yesterday afternoon to a crash between a VW Polo, a Ford Mondeo and a bus on Buckhold Road.
Eight people were initally taken to hospital, and a 21 year old man who was travelling in the Polo is still in a critical condition. The two other passengers from the Polo are still in hospital but their injuries are not believed to be life threatening.
The bus, a route 156, was in service at the time, but nobody on the bus was seriously injured.
A 19-year-old man from Mitcham has been charged with aggravated burglary and the manslaughter of 73-year-old Mashboor Hussain on 11 February in Wandsworth. Kofi Yeboah has been remanded in custody and will appear at Bromley Magistrates court on 24 February.
Aaron Burnett, 20 of no fixed abode has already been charged with the murder of pensioner, Hussain. Burnett has been remanded in custody and will appear at Woolwich Crown Court on 5th March.
Advertisement
Three suspected members of the travelling community who were part of last summer's illegal encampment on Tooting Common have been fined.
Read the full story ›
The gang targeted convenience stores using weapons including an axe, baseball bats, hammers and knives.
Read the full story ›
After years of campaigning, South Londoners are getting the tube extension they've been hoping for.
The Government is expected to announce that a one billion pound extension to the Northern Line has been given the go-ahead today.
The Northern Line Extension will create two new tube stops in Battersea: one near Wandsworth Road and another next to Battersea Power Station.
It forms wider plans to regenerate Vauxhall and Battersea that also sees news homes and commercial buildings being proposed along the riverfront as well as the new American embassy being built in the area.
A post-mortem examination has revealed that a woman, found dead in her house in Wandsworth last week, died from compression of the neck.
The body of Carol French, 73, was found in Stormont Road on the 20th of November, along with that of her husband, Douglas Harry Morton, 61.
The cause of death for Mr Morton was a stab wound to the heart.
Police say that the death of the woman is being treated as suspicious, while the death of the man is being treated as non-suspicious. They are not looking for anyone else in connection with the deaths.
Load more updates