Raheem Sterling's sister Kimberley told us her mum was jumping on the sofa, thinking her son had scored in the first few minutes of England's match against Italy on Saturday.
Paul Lawrence, Raheem's football coach at Copland Community School in Wembley, says Raheem knew he had to do his school work so he didn't miss out on football practice.
Advertisement
Kimberley Sterling, Raheem's younger sister, said she and their mother both thought Raheem had scored - along with the rest of the country - in the first few minutes of England's first match on Saturday night.
She told us that her mother jumped onto the sofa in joy as they watched England's match against Italy at home in London.
England fans leapt in the air, believing the 19 year old's goal shot in the first 2 minutes had hit the back of the net. The BBC coverage flashed up 'GOAL', only to discover seconds later that the ball had only found the side-netting.
Wembley Stadium could potentially be a Euro 2020 venue after the Football Association submitted a bid to host matches at the tournament.
Uefa announced in December that the competition would be held in multiple cities across Europe to mark the championship's 60th anniversary.
The FA expressed an interest in hosting group stage matches as well as the semi-finals and final package.
FA General Secretary Alex Horne said: "With our recent experience of hosting two UEFA Champions League Finals in the last four years we believe that Wembley Stadium and London represent a strong bid for UEFA to consider."
A final decision on the successful bids will be announced on September 19.
Anthony Joshua has become the first fighter to be confirmed on the undercard for the eagerly-anticipated rematch between Carl Froch and George Groves at Wembley Stadium on May 31.
Advertisement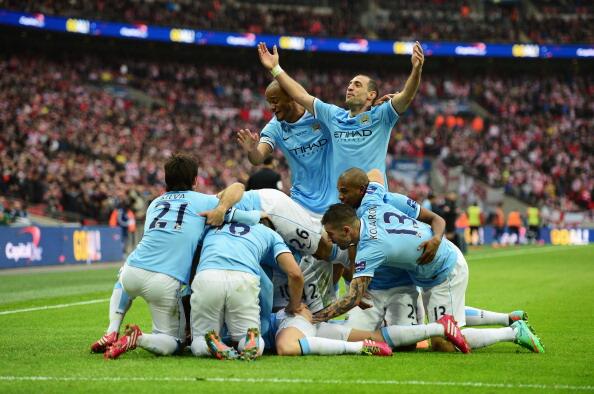 Today's attendance at Wembley for the Capital One Cup final is 84,697.
Sunderland are 1-0 up against Manchester City at half-time in the Capital One Cup final thanks to a Fabio Borini strike.
As the saying goes 'if you can't take it don't dish it out'. Grateful to my new-found Twitter 'fans' for a good old reality check.
Load more updates