More than half a million people are expected to enjoy London's annual free musical theatre festival this weekend.
West End Live, returning for its 11th year, will take place in Trafalgar Square and Leicester Square.
Crowds will be able to enjoy highlights from shows including American Idiot, Beautiful (The Carole King Musical), The Dreamers, Gypsy, Memphis The Musical, Sunny Afternoon and Seven Brides For Seven Brothers.
X Factor winner Matt Cardle has announced he's heading to London's West End, where he'll join the cast of Memphis: The Musical.
Cardle will be taking over from Killian Donnelly to play radio DJ "Huey Calhoun" from 6th July.
He joins a stellar cast that also boasts singer Beverley Knight in the role of Felicia Farrell.
He said: "From the first time I saw the show I felt I had a real connection with the character of Huey. It's no secret that I worked for many years before my breakthrough as a musician.
"I started my first band when I was 12 years old and spent at least 15 years recording albums and sending demos to record companies before finally having my voice heard."
Advertisement
Hollywood actor Bradley Cooper is to swap Broadway for the West End with a transfer of his hit show 'The Elephant Man'.
Read the full story ›
Shoppers have battled crowds across central London in the hunt for late Christmas bargains on a day when £1.2 billion was expected to be spent on Britain's high streets.
Sales on Bond Street, Oxford Street and Regent Street alone was tipped to surpass £150 million during the vast consumer spend, which has been branded "Panic Saturday".
Londoners are expected to spend around £150 million this weekend beginning on 'panic Saturday' as shopping days before Christmas dwindle.
The New West End Company predicted the retail takings, and said that footfall in the West End this morning was up 7.1% year on year.
Andrew Lloyd Webber's 'Cats' returns to the West End today for a limited run at the Palladium.
US singer and former 'X Factor' judge Nicole Scherzinger will make her West End stage debut in the role of Grizabella.
Based on TS Eliot's 'Old Possum's Book of Practical Cats', the musical first opened at the New London Theatre in 1981, where it played for 21 years.
The revamped version has been given a hip-hop flavour with the character of Rum Tum Tugger becoming a rapping street cat.
Advertisement
Ticket holders for tonight's cancelled Back To The Future event have been offered free seats at tonight's performance of Dirty Rotten Scoundrels at the Savoy Theatre in the West End. Rufus Hound, one of the stars of the show, made the announcement on his blog.
You don't have to do anything other than turn up with your Secret Cinema ticket. If you've got a big gang of pals all in London, all excited about going out and now you have nowt to do, well, now you do.
– RUFUS HOUND
A show in London's West End came to a halt after a member of the audience was accused of filming the actors while they were naked on stage.
Read the full story ›
A huge statue of Freddie Mercury which has towered over Tottenham Court Road for more than a decade has been torn down.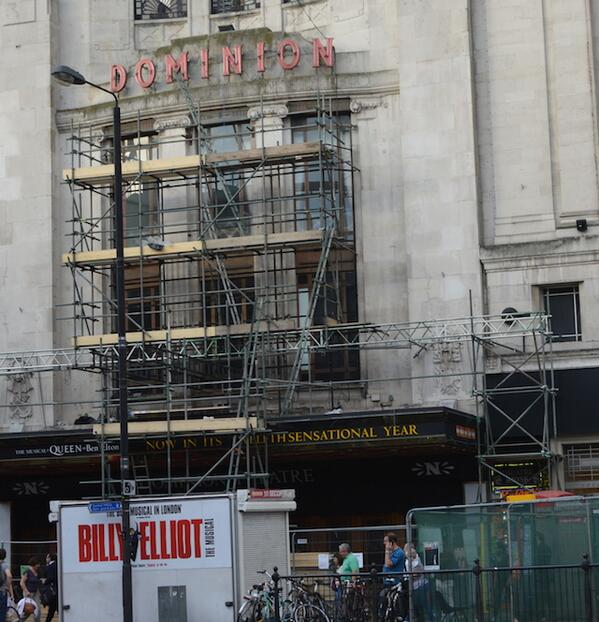 The cast of 'We Will Rock You' performed their final show in May after a 12 year run at the Dominicon Theatre. General Manager David Pearson said it had been a privilege to have hosted the show for the past 12 years, adding:
"To have the show rocking the Dominion and seeing a standing ovation night after night has been quite amazing."
The location of the famous statue is a mystery.
A bus stop made of Lego will appear in London's Regent Street on Sunday. @itvlondon
The bus stop is part of a celebration of almost 200 years of London buses which will see Regent St closed to normal traffic. @itvlondon
Load more updates