A man was pulled from a burning car on the A40 this afternoon. Speaking to the Evening Standard, Sian Griffiths from London Fire Brigade said the driver, who suffers diabetes, suffered from a drop in blood sugar.
His car clipped one car which spun and then rear ended another vehicle and his car burst into flames.

A member of the public saw this happen and dragged him from his car.

The driver was unresponsive when he was pulled out and probably owes his life to the good Samaritan who stopped to save him.
– Sian Griffiths, speaking to the Evening Standard
Passengers have been warned by rail companies not to travel this Easter as closures on main routes could result in 3-hour delays.
Read the full story ›
Advertisement
The Duchess of Cambridge was presented with a cake by Downton Abbey cooks Mrs Patmore and Daisy on her visit to the show's studios today, but the stars admitted they didn't bake it themselves.
"Are you both fantastic cooks?" the Duchess asked actors Lesley Nicol and Sophie McShera on receiving the chocolate cake.
"You wouldn't want it if it was cooked by us," joked Nicol.
The Duchess of Cambridge shared a joke with Downton Abbey's Carson during her visit to the show's set today, asking him if his suit and bow tie were "usual attire".
Carson, played by Jim Carter, responded "this is my relaxing gear", as he showed Kate the costumes trailer for the series.
The Duchess of Cambridge watched filming of a new episode of Downton Abbey as she visited Ealing Studios today.
To mark her visit, the team behind the show left a small tribute on her headphones, by way of a label marked 'HRH'.
The Duchess of Cambridge has been handed a wooden train as a gift for Prince George during her visit to the set of Downton Abbey - given to her by his namesake in the show, Master George Crawley.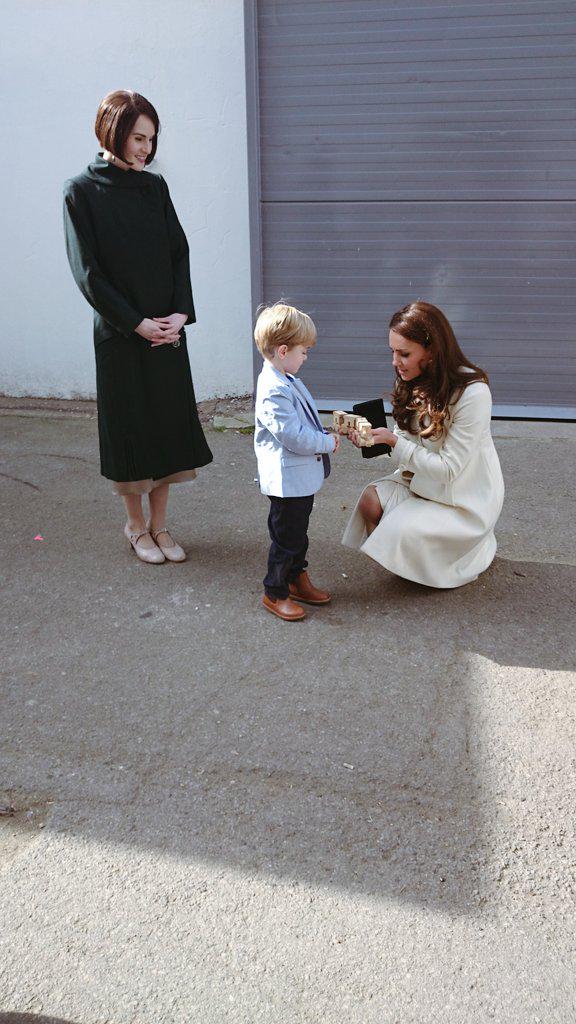 The cast also posed for a portrait with Kate as her visit at Ealing Studios neared its end.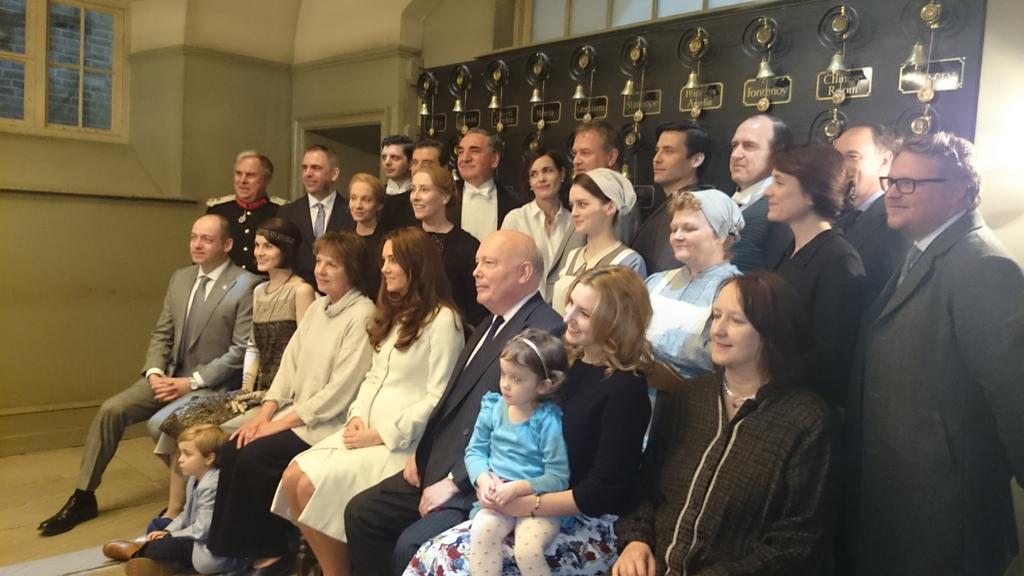 Advertisement
A child actor who plays Master George Crawley in the hit series Downton Abbey turned shy as he handed flowers to the Duchess of Cambridge on her visit to Ealing Studios this morning.
The Duchess, who along with husband William is believed to be a fan of the show, is meeting the show's actors and behind-the-scenes staff today during her visit - which is used for part of the show's filming.
The Duchess of Cambridge has begun her visit to the studios of ITV series Downton Abbey.
Kate was handed flowers shortly before she met Lord Fellowes, the creator of the hit show at Ealing Studios in west London.
The Duchess, whose baby is due next month, wore an outfit from British maternity label Jojo Maman Bebe.
She then met with hair and make-up stylists who were working to prepare some of the show's stars for filming.
Load more updates