Chelsea travel to the Etihad Stadium today to battle it out against Manchester City.
It's highly expected that former Blues player, Frank Lampard will grace the pitch at some stage of the match.
According to ITV Sport they'll be several key battles to look out for during this game.
Police investigating the death of Rakesh Desoura in Uxbridge have charged two men with his manslaughter. Mr Desoura died after he was assaulted on 18 September.
55-year-old Harkitan Singh Tiwana from Uxbridge and 30-year-old Bikram Multani from Southall appeared at Uxbridge Magistrates Court earlier today. They were both remanded in custody and will appear at the Old Bailey on 6 October.
Advertisement
Scotland Yard has confirmed that the hunt for missing schoolgirl Alice Gross is the biggest search operation since the 7/7 bombings in 2005.
The Metropolitan Police has been searching for the 14-year-old since she went missing on 24 August. They've deployed 600 officers from eight forces to search nine square miles of open land and 3.4 miles of canals and rivers.
A second house being searched in connection with the disappearance of schoolgirl Alice Gross is a former home of official suspect Arnis Zalkalns, the owner has said.
Radoslav Andric said he last saw Zalkalns at the rental property in Hanwell, west London, two days before Alice went missing.
He said the Latvian builder moved out of the property more than a year ago, but had returned to see friends.
Mr Andric said he believed Zalkalns had come back because his bike was not working properly.
Channel Five reporter Sally Lockwood says police in forensic suits are searching a house on Boston Road in west London, close to where missing Alice Gross vanished.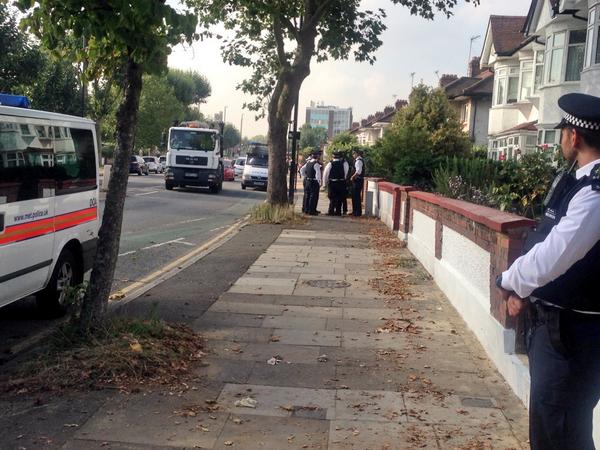 Police have confirmed they are no longer looking for the mountain bike of a convicted murder who's wanted in connection with the disappearance of Alice Gross from Hanwell.
Advertisement
Zalkalns was jailed in his native Latvia for eight years in 1988 after he admitted killing his wife with a piece of electrical equipment.
Read the full story ›
These aerial shots show the forensics team assigned to the Alice Gross disappearance probe examining the west London home of Latvian suspect Arnis Zalkalns today.
Ukip leader Nigel Farage has commented on the Alice Gross disappearance investigation after a Latvian man was named by police as a suspect in the case.
Farage wrote on Twitter that European Union rules mean the UK is unable to prevent people such as Arnis Zalkalns, who has a murder conviction in Latvia, from entering the country.
Convicted Latvian murderer is suspect in disappearance of Alice Gross. EU rules mean we can't stop people like this entering the country.
Latvian police have told ITV News they are working alongside the Metropolitan Police on the investigation into the disappearance of London schoolgirl Alice Gross.
Latvian builder Arnis Zalkalns, 41, has been named as an "official suspect" in the probe.
Load more updates