Commuters are facing rush hour travel chaos this evening as underground flooding at Farringdon stations causes Thameslink to run only a quarter of it's peak rail services.
Passengers are facing short notice delays and alterations due to the deep flooding from a 16 inch burst water main in a tunnel between Farringdon and St Pancras International . Some trains are managing to pass through while Network Rail pumps out the water, but services are heavily disrupted.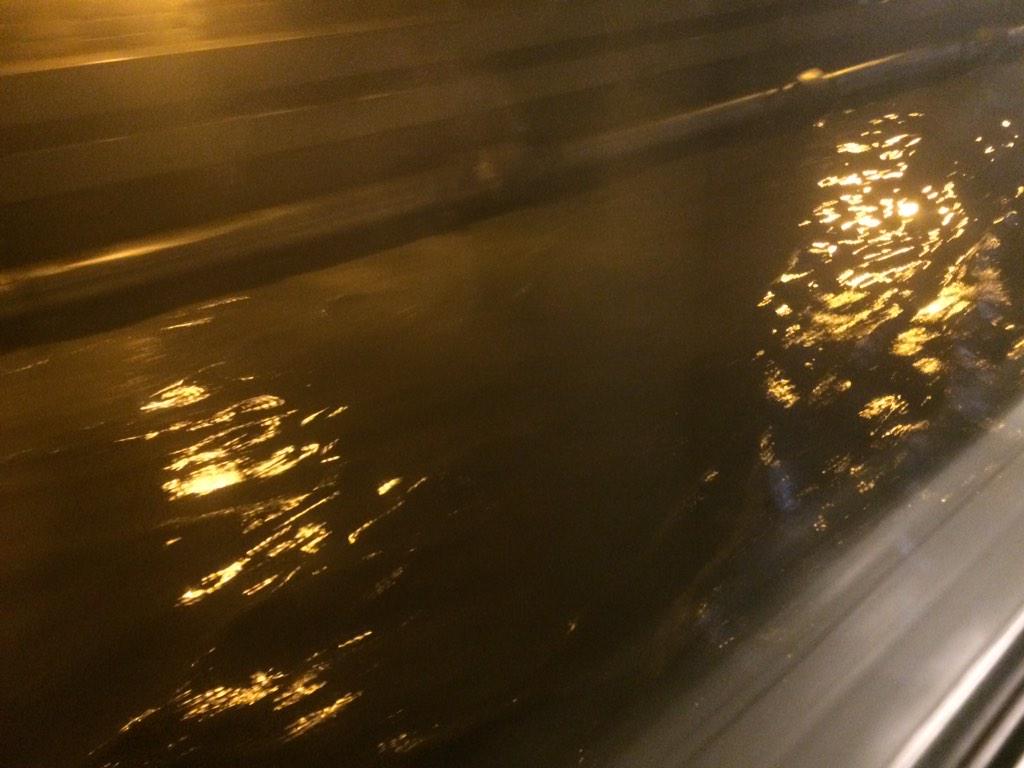 It is understood that water company engineers need to isolate the leak without cutting off essential supplies to a nearby hospital. Even if the leak is repaired soon, there will be a major knock-on impact on this evening's services.
We'll do our very best to get people home tonight as quickly as possible but the burst water main is causing significant disruption. We've brought in buses and extra staff and we're pushing out messages through all available means to encourage people to start home earlier if possible and to leave longer for their journeys.
– Stuart Cheshire, Thameslink's Passenger Service Director
Passengers are being advised to taske an alternate route home if possible. Thameslink plans to run services half hourly between Bedford and Brighton, and hourly services on the Wimbledon branch of the line. Sevenoaks-bound Thameslink services will start and terminate at London Blackfriars
The cost-cutting plan has been bitterly opposed by the tube unions and led to a series of strikes last year.
Read the full story ›
Advertisement
A passenger who falsely claimed there "bombs everywhere" after triggering the emergency alarm on a packed commuter train has been jailed for 16 months.
500 trains along with thousands of passengers were disrupted by the actions of Shiraj Niranjan Jayasuriya near London Bridge in January.
Police say Jayasuriya, from White City, became abusive and while speaking to police falsely claimed he had a bomb. He told officers he wanted 'London destroyed'.
We take all threats seriously and today's sentencing shows that we will prosecute people who threaten our transport network.

There were widespread disruptions to the station and to thousands of passengers on the day and I welcome the sentence handed down.
– Chief Superintendent Paul Brogden, B Division Commander, BTP
Workers on the Docklands Light Railway are set to walk out on strike for 48-hours in a dispute over working conditions.
Services will be affected from 4am on Wednesday 28th January until 03:59am on Friday 30th January.
Following the feedback from well-attended Branch meetings and the ballot result, the Company should be under no illusions about RMT's members determination to fight against detrimental changes to terms and conditions.

These include secondments without members' consent or agreement, new and inferior policies on Maternity & Paternity leave, longer waiting period for entitlement to full sick pay and a failure by the Company to deal with a list of outstanding health & safety issues as well as undermining the efforts of RMT Safety Rep's

RMT has no doubts that our members will stand together and support this strike action as they continue the demonstration of unity and solidarity shown by all in this dispute so far.

As always RMT remains available for talks with the Company to resolve this dispute.
– Mick Cash, RMT
The M25 has been shut for most of the day after a lorry crashed into a van that had broken down. The white van was ripped apart after the heavy goods vehicle collided with it on the anti-clockwise carriageway between junctions five and six in Surrey.
Kent Police said the driver of the van had left the vehicle to call for help when the accident happened, so luckily both drivers were unhurt. The HGV also collided with the central reservation, spilling oi and concrete rubble on to the road.
A police spokeswoman said the accident happened at around 9.50am near Clacket Lane, causing the M25 to be closed completely in the anti-clockwise direction, while two lanes were closed on the clockwise carriageway.
There were delays of more than an hour with traffic queuing back to the M26. Two lanes of the M25 remain closed in both directions.
A council plans to hit residents who own diesel cars with a surcharge of almost £100. The fee will be levied on diesel owners who apply for a parking permit in the London borough of Islington. Residents currently pay between £15.50 and £434 for an annual permit depending on engine size and carbon dioxide emissions. The new £96 surcharge for diesel vehicles is expected to be introduced in April.
The move is an attempt to cut deadly Nitrogen Dioxide (NO2) and diesel particulates. Poor air quality is said to contribute to the deaths of more than 4,000 Londoners every year.
We're committed to improving air quality in Islington, and diesel fumes are a major cause of air pollution. Pollutants in diesel exhausts have been linked to heart and lung diseases, which are major causes of serious and long-term health issues and even death in Islington, and the surcharge will encourage a move away from diesel."
– CLLR CLAUDIA WEBBE, ISLINGTON COUNCIL
Two other London councils levy a diesel surcharge but far lower than the £96 proposed by Islington. Camden residents pay an extra £10.30, while in Kensington and Chelsea, the owners of older diesel vehicles face a charge of £18.
Advertisement
The Eurostar has suspended all its services after smoke was detected in the Channel Tunnel.
A spokesperson on Twitter said services were expected to be suspended until this evening.
Mark Carne, the chief executive of Network Rail, is expected to face stern questions from MPs on the Commons Transport Committee.
Read the full story ›
A fleet of 65 high-speed trains has been ordered for the London commuter line Crossrail. But they don't have any toilets.
Read the full story ›
Load more updates