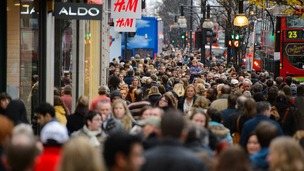 Eight out of the top ten areas in England with the highest proportion of singletons are in London.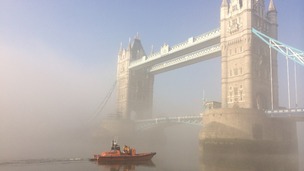 The misty image was retweeted as far afield as Lapland, Barbados and Korea.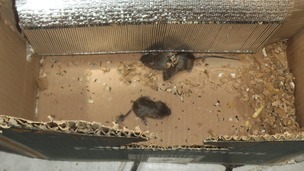 Mice nesting among food boxes and a cockroach found in a takeaway meal. A few of the horrors hygiene inspectors dealt with last month.
Live updates
Euston station reopens after taxi fire evacuation
Owing to a problem currently under investigation all lines in & out of London Euston are blocked, delays of up to 20 mins are expected.
Euston station reopens after taxi fire evacuation
We've put out the black cab that was alight outside Euston Station. Hopefully your travel wasn't affected.
Advertisement
Euston station reopens after taxi fire evacuation
Rail passengers have been evacuated from Euston station after a taxi caught fire on the rank outside.
Commuters tweeted images of the disruption as they were led out of the building.
Four Met dog section vans outside London Euston station. Not sure if related to evacuation of station moments ago. http://t.co/NKF5xbIG0o
National
Complaints from the North Korean embassy against a hair salon's poster poking fun at their leader's unusual hairstyle has reached the corridors of power in Whitehall.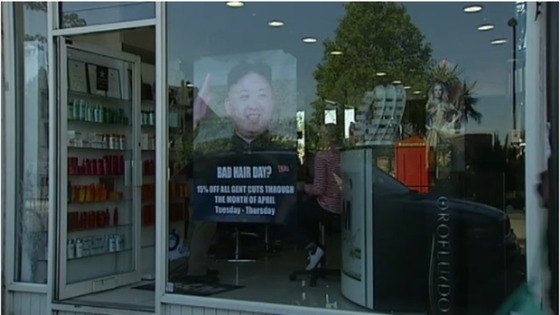 The Foreign Office has confirmed it received a letter this week complaining about the picture of Kim Jong-Un which was displayed in M&M hair Academy's window in South Ealing.
The advert said: "Bad Hair Day? 15% off all gent cuts through the month of April."
Staff at the west London salon were confronted by two men claiming to be North Korean officials over the marketing stunt earlier this month.
Read: Salon manager forced to destroy Kim Jong-un poster after 'scary' confrontation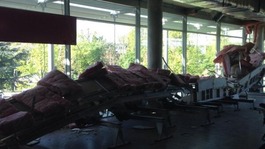 Three people were injured after a ceiling collapsed onto a rowing machine at a Virgin Active gym in west London today.
Read the full story
Girl, 12, becomes one of Britain's youngest mothers
A children's charity has stressed the importance that "Britain's youngest parents" receive a good education to ensure a healthy future for their child.
The 12-year-old girl from north London gave birth to her 13-year-old boyfriend's baby last weekend making them Britain's youngest parents.
Claude Knights, chief executive of Kidscape, told ITV London that effective support structures were now vital to the pair's well being and the future of the child.
"Although they are parents, they are still children that need parenting themselves. Despite them saying how happy they are, their resilience will be quite low and they will be fragile so they will need support," she said.
"Childcare is crucial so they can be reintegrated back into school to give them and their child the best possible chance of a future."
Ms Knights added that the respective schools may have to monitor their welfare in relation to any issues of bullying that may arise.
Advertisement
Two people dead after M26 vehicle pile-up
Two children had to be released from a car involved in a crash on the M26 today.
Seven people have been taken to hospital and six of those casualties are believed to have suffered serious injuries.
South East Ambulance Service said patients have been taken to four hospitals including King's College and St George's in London.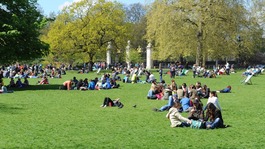 Two people dead after M26 vehicle pile-up
Meridian
APPEAL: Anyone who saw today's #M26 collision, or who saw events leading up to it collision, please call appeal line urgently, 01622 798538
The appeal comes after seven people have been taken to hospital after several vehicles collided on the M26 motorway this morning.
Two people dead after M26 vehicle pile-up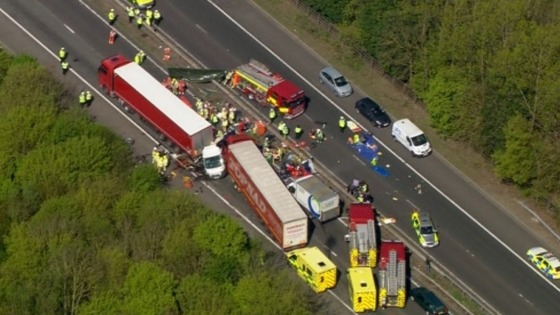 Seven people have been taken to hospital after a vehicle pile-up on the M26.
Two lorries, two cars and a box van were reportedly involved in the collision on the London-bound carriageway just after 9.30am.
Police have warned motorists that the road will remain shut into this evening's rush hour while the clean-up operation continues.
Those injured were taken to hospitals by South East Coast Ambulance Service although their conditions are still unknown.
Load more updates