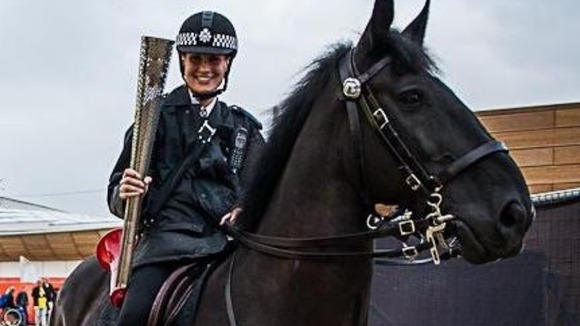 The Metropolitan Police have taken on their latest recruit in the form of former circus horse. Lorcan a black gelding police horse may be busy now fighting crime, but in the past he was more at home performing in country shows.
A Spanish dressage walk, bowing down, side walking with his legs crossed and rearing up with ballet dancers performing on his back was all in a day's work for Irish born Lorcan, who spent four years in the circus and county performances before waltzing into his new career.
Since joining the MPS, Lorcan has helped apprehend a runaway burglary suspect, has been regular escort for the Kings Troop Royal Horse Artillery, and played a vital role in policing key events such as the Diamond Jubilee, The Olympic Games and Notting Hill Carnival.
Lorcan was spotted by a Metropolitan Police scout at a Sussex county fair where his Shire cross Trakehner pedigree stood out as he entertained the crowds with much aplomb. When he became available for sale, there was no hesitation from the Mounted Branch team who quickly snapped him up.
His rider, PC Claire Twigg, says his previous made him perfect job for police work. But she says "as part of his police training we did have to train a lot of the performing moves out of him."