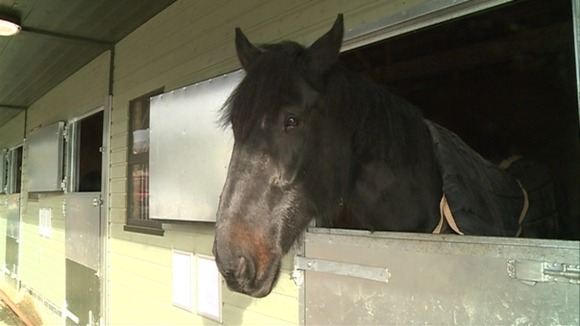 Chiswick spent 12 years tirelessly protecting the people of London. He jumped burning barricades during the student riots in 2010, acted as mounted escort to the Queen's Life Guard, performed Changing of the Guard at Buckingham Palace and took part in the Royal Wedding in 2011.
He also attended the London 2012 Olympics and even featured in the 2002 Bond film Die Another Day'. He recently arrived at The Horse Trust, a Buckinghamshire-based charity, where he will enjoy a hard-earned retirement.
Although Chiswick's days of policing riots and football matches are behind him he is now facing his biggest ever challenge after he suffered a potentially life-threatening infection and had to undergo emergency surgery to help save him.
His grooms raised the alarm when they noticed that the cheeky 17 year old seemed very quiet and had started to rapidly lose weight; he was struggling to eat and kept dropping food from his mouth after a few bites.
CT scans showed that Chiswick had a serious infection in the root of his tooth which had spread to his sinuses and emergency surgery followed. The infection could have been life threatening if it had spread.
It's now hoped that the brave horse will make a full recovery.