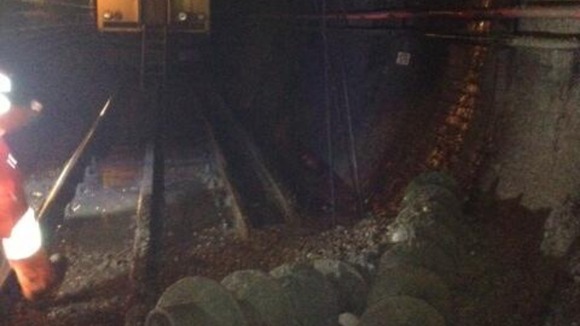 Quick thinking rail staff narrowly averted a major disaster today when two huge construction drills came through a tunnel wall on a major commuter route.
The incident happened after a driver of the 10.02am First Capital Connect train from Moorgate in London to Welwyn Garden City in Hertfordshire saw muddy water pouring on to the roof of his train north of Old Street station.
He reported the incident and all rail services were stopped.
At 11.05am a Network Rail mobile operations manager joined another driver on board a special empty train from Moorgate to investigate the problem.
As the train approached the area at low speed, two large piling drills - used to thump and screw their way in to the ground - came through the skin of the tunnel of the Moorgate to Finsbury Park Northern City line. The train stopped in time but the driver was shaken.
The rail route, used by two million City workers every year, will be closed for the rest of today and possibly longer while the incident is investigated and repairs are carried out.
British Transport Police have visited an office construction site above the line and the Rail Accident Investigation Branch has been notified.