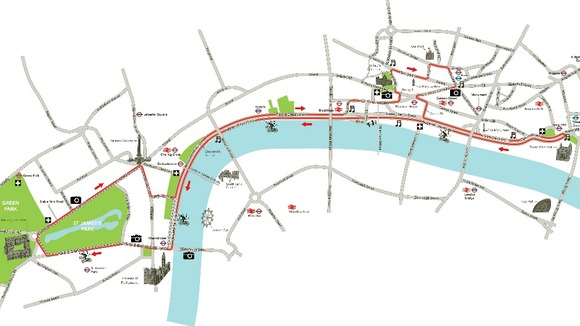 You can enter and exit at any point along the route, do as many laps as you like and come and go as you please.
There's also a shorter two-mile loop that takes in The Mall, Whitehall, Embankment, Parliament Square and Birdcage Walk, if you don't want to venture too far from Green Park.
Cyclists will also be able to stop off en route to enjoy a range of bike-based entertainment and activities.
There will also be a variety of bike-based entertainment for the whole family to enjoy along the route.
There will be three separate Festival Zones at Green Park, St. Paul's Cathedral and Tower Hill. Each Festival Zone will feature live bike-related entertainment including games of bike polo. music, shows, demonstrations and workshops as well as enticing food and drink options and kids activities.
If your bike needs a quick once over or a little TLC, pop along to see one of the CTC bike doctors, who will be located in all three Festival Zones. The CTC bike doctors will also be roaming around the PrudentialRideLondon FreeCycle Route in case you have a breakdown while you're on the move.
There will also be music zones along the route featuring a variety of musical entertainment and noise zones along the route where riders will be encouraged to make some noise by ringing their bike bells and peeping horns.
For all the details click here.