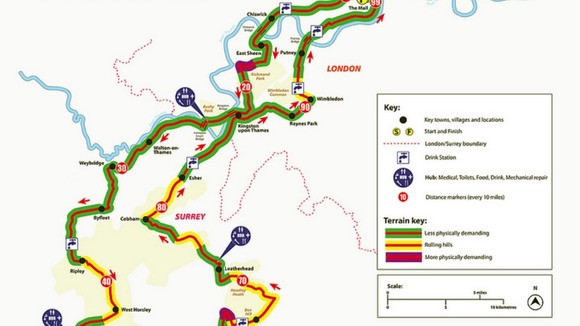 The cycling festival will have a significant impact on London's roads this weekend.
Motorists are being advised to avoid driving in London with hundreds of road closures on a similar scale to last year's Olympics.
11 bridges over the Thames, Hyde Park Corner, Hammersmith flyover and the southbound Blackwall tunnel will all be closed at various times over the weekend.
Richmond, Kingston and Guildford will also see main roads and country lanes closed to traffic. Drivers are also being warned that parked cars will be towed away.
Organisers expect around 50,000 people to take part in the free, eight-mile, family event 'Freecycle' on closed roads through Westminster and the City of London on Saturday.
Transport for London say traffic impacts on Saturday will be fairly light and will be in the central London area. In addition, Southwark and Westminster Bridges will be closed to traffic, but open to pedestrians, between 4am and 6pm on the day.
For full details of Sunday road closures including borough by borough breakdowns of how the route will affect you visit the Transport for London website.