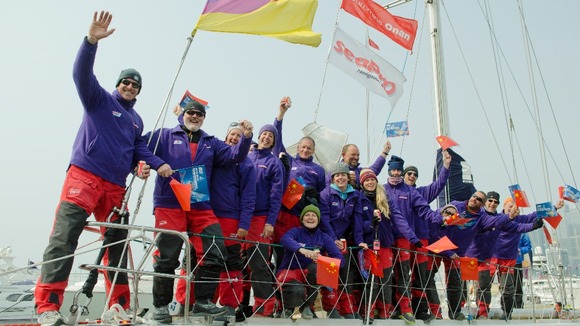 Speaking to his team mates after the rescue, former Park Lane hotel chef and Olympic Park Food manager Andrew said while he was waiting in the ocean he didn't even know if they were looking for him.
"It all happened so quickly, I was literally gone, like that, like nothing, nothing at all. I came up and braced myself waiting for the safety line, next thing I knew I hit the rudder – a flash of purple smack on the rudder. It hurt.
"I didn't know if you were looking for me or not, I didn't know if you'd seen me, I couldn't hear anything.
"Then I saw someone up the mast and initially I thought it was a good thing because you were looking for me and then I realised it might be a bad thing because it meant you didn't know where I was.
"I tried to stay so I could see the boat, I kept moving round, swimming round so I could see the boat thinking you'd be back really quickly but you just got further and further away.
I was holding the spray vest up trying to make myself a bit bigger after a while I thought the wind might be pushing it and pushing me further away so I put it back down again.
"I kept watching the boat and then I saw the side of the boat and thought that was a good thing I thought you were turning round. Then I saw the back of the boat again and that's not a good thing.
Then I just heard a noise and got wiped out by a really big wave that's when the storm started, the storm was bad, that was horrible – hailstones, my hands were so cold."
Read ITV London's Chris Paxton's blog - who is also taking part in the Clipper Round the World Race.