Best of the sunshine in the centre of town mid afternoon but dull and dank for most.
Read the full story ›
Advertisement
A pedestrian in a critical condition after being hit by a falling tree in central London.
The tree was blown down instrong winds near Knightsbridge Barracks at 11am.
As the remnants of Ex-Hurricane Gonzalo pass across the north of the UK London is expected to see strong windy conditions all day, with gusts of up to 50mph.
Wind strengths will peak in London this afternoon or early evening. The direction will turn from SW to NW with gusts up to 50mph.
A3200 Southwark St closed both directions btwn Southwark Br Rd & Great Guildford St - fallen tree http://t.co/b7Wx9sRReI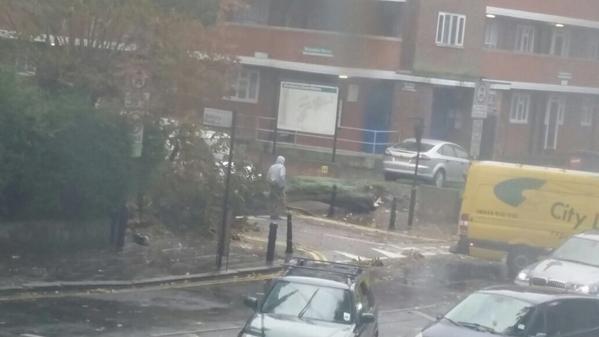 As the wind changes direction today it will bring in fresher and cooler air from the north west. With the wind chill it will feel like just 8 celcius
Advertisement
TODAY
Staying dry with some bright breaks between the cloud.
TONIGHT
Turning wet and windy as the remnants of ex-Hurricane Gonzalo pushes across the north of the UK. It will be windy particularly after midnight with gusts of up to 30mph.
TOMORROW MORNING
Blustery morning with scattered and in places heavy showers. Plenty of sunshine but feeling fresh in the cool north westerly wind.
TOMORROW AFTERNOON
Staying windy with a continued risk of showers. Highs of 14C feeling more like 10C in the wind.
WEDNESDAY
Dry, breezy and largely cloudy day. Highs of 13C.
THURSDAY
Cloudy day with less of a breeze.
FRIDAY
Overcast with outbreaks of rain in the afternoon.
Helen Plint has the early morning forecast for ITV London.
Helen Plint has the evening forecast for London and the surrounding areas.
Load more updates