A government review will look into the connection between three young men who went on to become jihadist fighters after attending a London school.
Former pupil at Quintin Kynaston academy, Mohammed Emwazi, has been revealed to be the man behind the mask of a violent extremist known as Jihadi John, who appeared in a number of propaganda videos in which he murdered Western hostages.
Meanwhile, two other alumni of the school - Choukri Ellekhlifi and Mohammed Sakr - both died in combat in 2013 after joining militant Islamist groups Al Qaeda and al-Shabaab, raising fears the boys may all have been radicalised as teenagers.
Former head at the school, Jo Suter, denied that teachers knew anything about the boys being radicalised, while a Department for Education spokesman said the ability of authorities to monitor possible radicalisation in schools had "advanced hugely" in recent years.
The DfE... [is] working tirelessly to develop our understanding of the problem and to see if and where we can offer help to schools with pupils or former pupils who have since travelled to Syria or other areas of concern.

The Secretary of State has asked them to review those schools where we have evidence of links with pupils who have travelled to Syria. The allegations about Quintin Kynaston may be historic and it is clearly a completely different school today, but I'm sure we will look back at the evidence from the time as part of this review to see if there are any lessons we can learn for the future.
– DfE spokesman
A former Islamic State fighter who met now-notorious British jihadist Mohammed Emwazi in Syria has revealed the violent extremist was "strange" - and said IS leaders were "playing him like a piano".
A defector from the militant group, Abu Ayman told the BBC that Emwazi would actively ignore his fellow Brits who had also travelled to join the fight.
He was cold. He didn't talk much. He wouldn't join us in prayer. He'd only pray with his friends ... the other British brothers prayed with us, but he was strange.

The other British brothers would say 'Hi' when they saw us on the road, but he turned his face away. The British fighters were always hanging out together, but he wouldn't join them.

Some love him. Some joined Isis after watching and admiring him; they take him as an example.

ISIS play him like a piano. He's a celebrity to attract our Muslim brothers in Europe but some think he is showing off; they think he's being used by ISIS.
– Abu Ayman, former Islamic State fighter
Advertisement
Jo Shuter, former headteacher at Quintin Kynaston in Swiss Cottage remembered a "hardworking and aspirational young man".
Read the full story ›
Shadow home secretary Yvette Cooper claimed the security services' hands were tied for nearly five years by Mrs May's "wrong" decision to scrap powers to move terror suspects away from their extremist networks.
Relocation powers have been reintroduced by the coalition this year but Ms Cooper called for the security services to immediately brief the Intelligence and Security Committee on how the loss of the measures might have affected their work.
This would allow MPs to review whether the loss of relocation powers had led to more British jihadists travelling to Syria and Iraq and more radicalisation in the UK.
Ms May told BBC1's Andrew Marr Show:
I think [the security services'] hands have been tied I think by the Government. I think we should have had the control orders in place across this Parliament which we haven't had because they removed some of the powers, and I think that has caused them more problems.

It's taken them five years, five years of us arguing, five years of security experts arguing that this was the wrong approach.

And so I think that the fact that Theresa May could take the decision to remove those relocation powers against all that expert advice, against the arguments that were made in Parliament, I think was the wrong thing to do. We do need to know more about whether that has increased the risk as a result, about what difference it's made to some of these very serious cases.
Theresa May has called the UK's security and intelligence services "true heroes" amid fresh questions over the handling of the Islamic State extremist known as "Jihadi John".
Addressing the Conservative Party's Welsh conference, the Home Secretary issued an impassioned defence of the way they were addressing the danger posed by Islamist extremism and other threats.
"You might not see the work they do. You might not know the risks they take. You might not be told about the plots they stop," May said.
"But these remarkable men and women are true heroes. And they deserve the support and respect of every single one of us."
A British man identified in reports as the Islamic State executioner known as "Jihadi John" feared he was a "dead man walking" after run-ins with security services before fleeing to Syria, email exchanges with a journalist have claimed.
Computer programming graduate Mohammed Emwazi said he considered suicide after coming face to face with what he suspected to be a British spy as he attempted to sell a laptop computer in 2010.
In an email exchange with the Mail on Sunday at the time, Emwazi described how he became suspicious of the buyer after they met.
He told theMail on Sunday's security editor Robert Verkaik he felt harassed by security services, in a series of emails in 2010, three years before he left to join IS, saying, "Sometimes I feel like a dead man walking, not fearing they (MI5) may kill me.
Advertisement
The former head of MI6 has labelled claims that UK security services helped radicalise the terrorist known as Jihadi John as "very false and very transparent".
The militant, who was captured on a number of videos showing the beheading of Islamic State captives, has now been identified as former British student Mohammed Emwazi.
Advocacy group Cage has claimed that Emwazi was driven into extremism after being "harrassed" by intelligence agencies who tried to recruit him.
Sir John Sawers, who was head of MI6 from 2009 to 2014, refused to comment on the specific case, but called the argument "very specious".
These people draw attention to themselves because of their activity, their mixing, participation in extremist and sometimes terrorist circles, so of course they're going to draw attention to themselves and by an approach, if that's what happens, you give an opportunity to the individual to draw back from the terrorist groups that he - it's usually a he, sometimes a she - is about to mix with and you also give them a warning.

But the idea that somehow being spoken to by a member of MI5 is a radicalising act, I think this is very false and very transparent.
– Sir John Sawers, ex-MI6
Newly released emails to a Muslim campaign group reveal Mohammed Emwazi felt "controlled" under the watch of the security services.
Read the full story ›
London-based advocacy and human rights group CAGE said one of their researchers had spoken to the Washington Post about the identity of 'Jihadi John' and had provided some information.
The masked IS killer has been named as Mohammed Emwazi by the Washington Post. In a statement, the group said:
CAGE Research Director, Asim Qureshi met with the journalist, where she inquired about the name Mohammad Emwazi. Qureshi went away with that information and checked CAGE's files, revealing that Emwazi was a case that he had worked on due to security service harassment. The following day, the journalist revealed to Qureshi that she knew from her own sources, that the man known as Jihadi John was Mohammad Emwazi. The journalist showed Qureshi a video of Jihadi John in order to identify him. Qureshi clarified that while there were some striking similarities, that due to the hood, there was no way he could be 100% certain.
– CAGE statement
Muhammad Emwazi had contacted CAGE when he tried to plan a trip home to Kuwait and was apparently prevented from doing so. Cage said he told them at the time:
I never got onto the flight, what was the point, I said to myself; I'll just get rejected. I had a job waiting for me and marriage to get started. But now I feel like a prisoner, only not in a cage, in London. A person imprisoned and controlled by security service men, stopping me from living my new life in my birthplace and my country, Kuwait. I have been trying to find out the reason for my refused Visa issue from my home country Kuwait, and a way to solve the issue. So through my friends in Kuwait, it has been said to me that Kuwait has no problem with me entering, and the reason for my refusal is simply because the UK agents have told them to not let me in!
– Muhammad Emwazi
CCTV footage apparently showing three British schoolgirls feared to have entered Syria to join Islamic State has been released by Turkish news channel A Haber.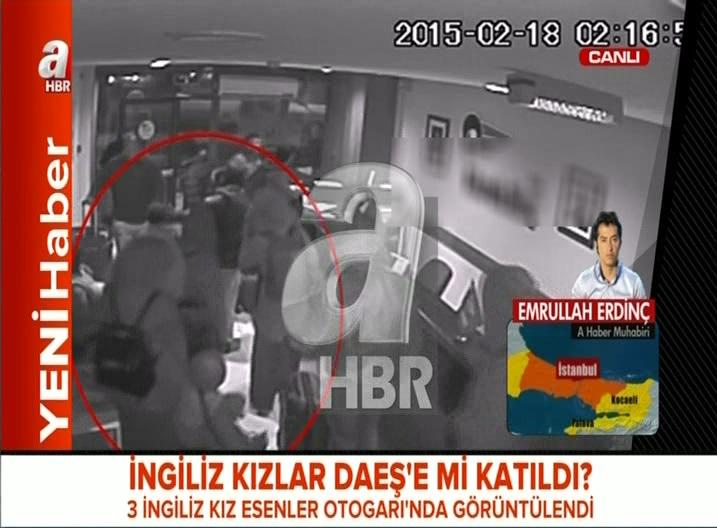 The three girls, believed to be Shamima Begum, 15, Kadiza Sultana, 16, and 15-year-old Amira Abase, are seen at a bus station in Istanbul in the video.
It was reportedly recorded in the early hours of February 18 - the day after the teenagers disappeared from their London homes.
Load more updates