As the African economy soars a conference has been held in Reading to encourage investment in small scale African businesses.
The town has the largest African population outside of London. Organisers say the Continent's entrepreneurs are finally starting to come of age.
A London teenager who sparked a security alert on the Las Vegas strip has been arrested for making a hoax bomb claim.
The 17-year-old from Sutton in south London was held just an hour after making the call to UK police on Monday, claiming that there was a bomb underneath a taxi outside the MGM Grand.
Scotland Yard passed the warning to American police, who went to search the site, while British officers traced the nuisance caller and arrested him.
The teenager has been released on bail until later this month.
Advertisement
A fascinating map of the 2nd most common languages in London boroughs, found on reddit and tweeted by @randomlylondon has shown that in the city, French is the second language.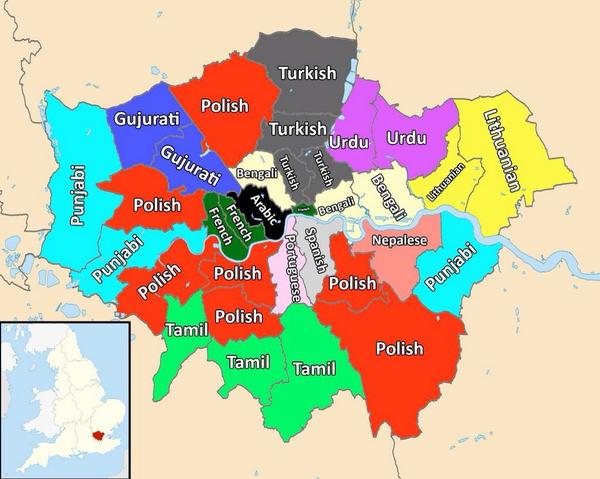 They also break down the boroughs as follows:
Polish: 7 boroughs – (Barnet, Bromley, Ealing, Lewisham, Merton, Richmond, and Wandsworth)

Turkish: 4 boroughs – (Hackney, Islington, Haringey, Enfield)

Bengali: 3 boroughs – (Camden, Newham and Tower Hamlets)

French: 3 boroughs – (The City, Hammersmith & Fulham and Kensington & Chelsea)

Punjabi: 3 boroughs – (Bexley, Hillingdon and Hounslow)

Tamil: 3 boroughs – (Croydon, Kingston and Sutton)

Gujarati: 2 boroughs – (Brent and Harrow)

Urdu: 2 boroughs – (Redbridge and Waltham Forest)

Lithuanian: 2 boroughs – (Barking and Havering)

Arabic: 1 borough (Westminster)

Nepalese: 1 borough (Greenwich)

Portuguese: 1 borough (Lambeth)

Spanish: 1 borough (Southwark)
In total, 14 boroughs have second languages from within the EU, 14 boroughs have second languages from countries in the Indian sub-continent and 5 have speakers from elsewhere.
The Duke and Duchess of Cambridge were accompanied by Prince Harry to view the thousands of ceramic poppies which have been planted around the Tower of London.
The royal trio each planted a ceramic version of the flower in the Blood Swept Lands And Seas Of Red art installation to pay tribute to the British soldiers who fell during World War One.
The Tower's moat currently consists of 120,000 poppies but more will be added over the coming months until there are 888,246 on November 11.
Every poppy planted will mark each British and Colonial death during the war.
Prince William was heard telling the artwork's creator Paul Cummins, that the piece was "spectacular" before they joined him to climb the Middle Tower to view the artwork from up high.
The Duke and Duchess of Cambridge are to visit the Tower of London to see the thousands of ceramic poppies which have been planted in memory of British soldiers who fell in the First World War.
The royal couple will be accompanied by Prince Harry in an official opening of the Blood Swept Lands and Seas of Red art installation- to mark 100 years since the conflict began.
Volunteers from across the country have so far placed 120,000 ceramic flowers in the moat of the Tower.
By November 11, 888,246 poppies are expected to be planted around the historic landmark.
Take a look at the pictures as London plunged into darkness last night, to pay tribute to those who lost their lives in World War One.
Read the full story ›
Advertisement
The case of a woman from London has prompted calls for the United Arab Emirates to revise its domestic violence laws. Afsana Lachaux was convicted earlier this year of kidnapping her son after trying to escape what she says was an abusive marriage. Human Rights Watch say domestic violence isn't recognised as a crime there.
Lights across Britain have been switched off for an hour tonight in a tribute to the 17 million killed in the First World War.
Landmarks including the Houses of Parliament, Tower Bridge and St Paul's Cathedral all went dark from 10pm.
Prime Minister David Cameron had asked Britons to switch off all but a single light in their homes for an hour.
A single candle has been placed outside Number 10 ahead of the Lights Out campaign.
The 14-18 NOW Lights Out campaign hopes people will leave a single light on between 10 and 11pm to mark the exact hour when Britain declared war on Germany.
Load more updates