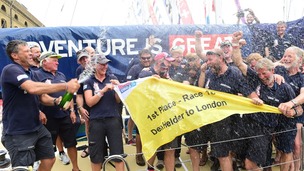 The Clipper Round the World Yacht Race, one of the toughest ocean challenges, ended at St Katherine Docks today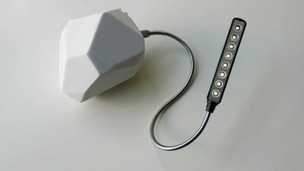 Sudha Kheterpal's 'shaker' uses a system of magnets that generate power as it's being played.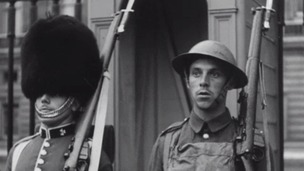 An online film archive gives a rare glimpse at life in wartime Britain.
Live updates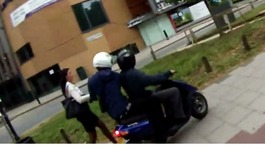 The violent snatch and grab robbers struck 46 times in just 11 days last year in South London.
Read the full story
Advertisement
London Underground carries record 1.26bn passengers
It is amazing that the Underground is carrying a third more customers now than it did only ten years ago, and customer demand shows no signs of letting up.

We know that London will see a rise in its population of more than a million people by 2031 - that's the equivalent to a city the size of Birmingham.
– Mike Brown, Managing Director of London Underground
London Underground carries record 1.26bn passengers
An extra 36 million Tube journeys were made in 2013-14
Journeys on London Underground are up by 33 per cent since 2004
Piccadilly and Jubilee line services saw the biggest increases
Source: TfL
London Underground carries record 1.26bn passengers
London Underground carried more customers than ever before over the last year. Official figures show 1.265 billion people travelled by Tube in 2013-14, compared with 1.229 billion the previous year.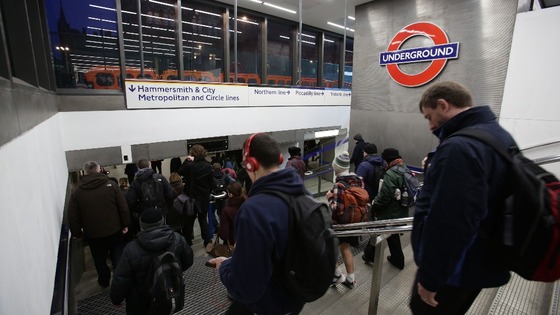 National
A pair of brothers from east London have pleaded guilty to conspiring to attend a terror training camp in Syria.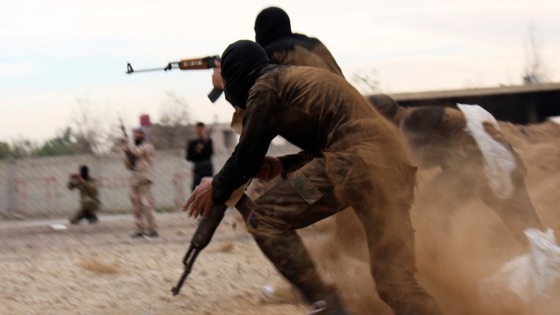 Hamza Nawaz, 24, and Mohommod Nawaz, 30, were stopped by police in September last year as they arrived at the port of Dover from Calais.
Officers who searched their car allegedly found a balaclava, some ''heavy-duty clothing'', six mobile phones, a Sim card inside a Koran and five rounds of ammunition for an automatic weapon.
It was claimed the pair had driven from their home in Stratford to Calais, and then flown from Lyon to Turkey. From there they allegedly travelled into Syria.
At a brief hearing at the Old Bailey both men pleaded guilty to conspiring to attend a place used for terrorist training between January 1 2012 and September 16 2013.
More: Al Nusra: UK has 'nothing to fear' from western Jihadis
Advertisement
Missing yacht found by US Navy
The family of missing yachtsman Andrew Bridge, from Farnham, Surry, says it is shocked and saddened by news that the the yacht's life raft was found on board the capsized vessel.
We are obviously shocked and deeply saddened by the news.

Andrew will be dearly missed by everyone who knew him. Our thoughts and condolences go out to the families of the rest of the crew on the Cheeki Rafiki.

We have been overwhelmed and strengthened by the public support we have received and would like to thank the media for their support and treating us in a respectful and dignified way."
– Mr Bridge's family
Missing yacht found by US Navy
The US Navy has found the hull of the yacht Cheeki Rafiki which went missing a week ago with four British sailors on board, the Foreign Office has confirmed tonight.
Officials said there is still no sign of the missing yachtsmen.
Missing yacht found by US Navy
The hull of the missing yacht Cheeki Rafiki which went missing a week ago with four British sailors on board has been found by the US Navy, according to reports.
Missing yacht found by US Navy
Meridian
The Foreign Office has released this statement on behalf of the families of the missing sailors:
The families of James Male, Andrew Bridge, Paul Goslin and Steve Warren still hold out much hope that their loved ones will be found soon. They have received so much support from the public and the yachting community, hearing endless stories of people that have survived many weeks and months in different circumstances at sea and have drawn much strength from this. They were obviously saddened to hear that the US Coast Guard will be suspending the search. But, they were prepared for the fact that this would have to happen.
They are meeting with the Foreign Office later on today, to talk about UK involvement and any other avenues that can be explored. Having spent the week getting to know each other better, along with hearing the endless accounts of survivors, the families are reassured that their men would work as an efficient and cohesive team. This gives them additional hope that they will still be found, as the US Coast Guard have found no evidence to the contrary.
– Families of the missing sailors on behalf of the Foreign Office
Load more updates