Alfie Gray played for Crawley Town Boys football club in West Sussex. He died in hospital.
Read the full story ›
A major counter-terrorism exercise is being carried out in London for a second day to ensure emergency services are prepared.
A mock terrorist firearms attack is being staged in the capital to test the response to a Tunisian-style mass shooting.
Officers, emergency services, soldiers and intelligence officials are taking part in the operation.
Advertisement
Armed gunmen stalked the streets of central London today firing blank bullets as part of a police training exercise.
More than 1,000 police took place in the exercise - where gunmen simulated attacking commuters in the London Underground - and more than 12 other agencies and emergency workers.
Rags Martel reports.
The family of Janet John Stocker, two of the British people killed in the Sousse terror attack in Tunisia last Friday, have paid tribute to the south London couple.
John Stocker, 74, was born in Peckham, whilst Janet Stocker, 63, was born in Fulham. They are survived by their five children and 10 grandchildren.
Mum and dad were the happiest, most loving couple who enjoyed life's simple pleasures as well as the pleasures and love of their extensive family and their many friends, but most of all they were still very much in love with each other.

They were both young at heart and enjoyed all that life could offer, and especially enjoyed travelling to new places, exploring and appreciating local cultures, and they died together doing what they enjoyed most; sunbathing side by side.

They made a huge impact on our lives, and touched the hearts of so many people and they will both be sorely missed and never forgotten by the family and all that knew and loved them for all the reasons that made them so special as a couple, and as the two most honest and genuine people that they were.
– Stocker family statement
Chris Dyer has been named as another of the British victims killed in the Sousse atack.
He was on holiday with his wife Gina Van Dort when he was gunned down. His wife was seriously injured in the attack, but clung on to her dead husband's hand as paramedics tried to get her to safety, according to reports.
Mr Dyer, an engineer from Watford in north London, suffered from reactive arthritis, but was a sports fan and member of the Watford Gracie Jiu-Jitsu.
The club released a montage video of Mr Dyer, believed to be 32, on their Facebook page, and wrote: "It is with great sorrow that we announce the tragic death of our teammate Chris Dyer as a result of the Tunisia shootings. Our hearts go out to his family. May he rest in peace."
Sorry, this content isn't available on your device.
Armed gunmen were seen stalking through the streets of central London today as part of the biggest ever police training exercise for a terrorist attack.
The masked men were seen firing guns in the air and throwing what appeared to be grenade-like devices inside the disused Aldwych station.
Preparations for the exercise began around six months ago and events such as the Charlie Hebdo attack in Paris and the hostage siege in Sydney influenced the test, police said, stressing it was not connected to the Tunisia attacks.
The two-day exercise will see a test of the emergency service response to an attack at the disused Tube station at Aldwych. The vast majority of police officers involved have no idea about the venues or what is planned.
Only around 12 people knew specific details of what was going to happen in advance.
Among those taking part are all of London's emergency services, Greater London Authority, Transport for London, Home Office, Cabinet Office, Ministry of Defence, the Department of Health and NHS England.
Advertisement
Rapid gunfire has been reported around the Strand, where police are in the midst of a major training exercise.
Sitting outside at Ibm southbank - can hear sounds like rapid gun fire across the river near aldwych direction !!
Earlier police said the exercise is to test the response by emergency services to the threat of a "marauding terrorist firearms attack in London."
Met Police chief Sir Bernard Hogan-Howe said that one of the objectives of today's terror training exercise in London is to "learn from the mistakes we're bound to make."
"Best we make them today in an environment which we don't have terrorists that make them when we do," he said.
Emergency services from over 14 London agencies are taking part in a major training exercise across the city.
There have been reports of rapid gun fire in the simulated terror attack from passers by in the Aldwych area.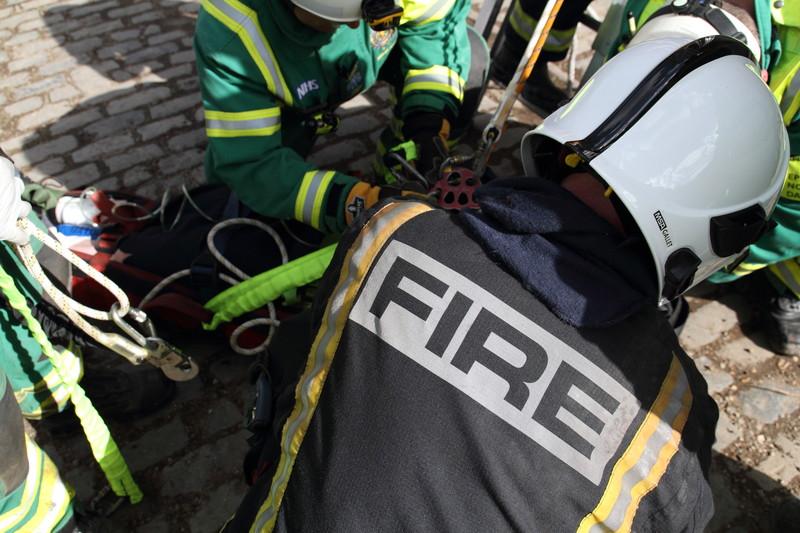 Police have warned there will be some disruption across the city today as they hold a major terror training exercise.
More than 14 different organisations and agencies are taking part in the exercise, which will take place around the disused Aldwych underground station in Surrey Street, WC2.
Load more updates