A rapist who subjected his victim to a terrifying knifepoint ordeal and threatened to kill her if she told anyone has been jailed for 13 years.
Berhe Berhane, 22, from Willesborough in Ashford was sentenced to 16 years in total; 13 years in prison and a further three on licence, when he appeared at Canterbury Crown Court on Monday 24 November. He was found guilty of carrying out four charges of rape in Canterbury by a jury on Wednesday 15 October.
On one occasion in July 2012 he first tried to attack her after they had been out for the evening where he pushed her to the ground and tried to get on top of her, but she escaped.
Then in April 2014 she was staying at her boyfriend's house and was woken by the noise the other housemates were making. Berhane then came into her room with a knife. He told the victim he was going to stab her if she didn't do what he asked. He then forced her toperform a sex act on him and then forced her to have sex with him twice. He even told her she wasn't showing enough enthusiasm.
After he had finished he got up and thanked his victim, threatened to kill her if she told anyone, and then walked out of the room. The victim said she felt scared to tell anyone in case he carried out his threat then got dressed and went to work. The victim did confide in a friend and reported the attacks. Berhane was arrested by Kent Police and charged on 21 April 2014.
Dorset Police holds a training day for officers to ensure the force knows more about how to deal with incidents of rural crime.
Advertisement
The home of a Premier League footballer has been burgled while he was away with his club for a match. Thieves broke into the home of Southampton midfielder Victor Wanyama when his club was away for the game at Aston Villa on Monday night. When he returned he found his Range Rover Sport, electrical items and jewellery had been stolen from his home in Winchester. The vehicle was later found in Iver, Buckinghamshire.
A man who raped a woman in her home after hitting her head repeatedly against a wall has been jailed for 11 years.
Ross Gee, 27, from Northfleet, also threw a mobile telephone at his victim's face and threatened her with a knife, on Thursday10 April 2014.
He denied carrying out the attack but was sentenced at Maidstone Crown Court on Monday 24 November after being found guilty following a trial.
The court heard how Gee assaulted his victim after refusing to leave her house, first backing her into a corner before grabbing her by the throat.
He then dragged the woman to a different room, where he repeatedly hit her head against a wall before throwing a mobile telephone at her face.
Gee then went into the kitchen and returned with a knife,which he held against his victim's face.
A short while later he forced the woman to perform a sex act on him before raping her.
Max Pearson died following a road traffic collision on Grand Avenue, a private road in Savernake Forest on Sunday 23rd November 2014. His family have released the following tribute:
A man has been sentenced to a two year suspended prison sentence after being convicted of causing death by dangerous driving.
72 year-old Michael Challis, of Lister Road, London, was found guilty of the offence by a jury following a trial at Reading Crown Court on 10 October.
He was sentenced yesterday at Reading Crown Court to a five year disqualification from driving, he must complete an extended driving test to re-obtain his driving licence and was ordered to pay a £100 victim surcharge in addition to the suspended sentence, which was suspended for two years.
At around 3.50pm on 26 February 2013 Challis was travelling in a blue Suzuki Vitara from Hermitage towards Chieveley on Priors Court Road, when it entered the path of a silver Nissan Micra travelling in the opposite direction and the vehicles were involved in a head-on collision.
A third car, a black Mercedes, then collided with the car containing Challis. The driver of the car Katherine Howard, known to her family and friends as Katy, who was aged 32, died at the scene. Challis was reported for causing death by dangerous driving on 16 August 2013.
Advertisement
Approval has been given to a four hundred million pounds redevelopment of the Westgate shopping centre in Oxford. It will see cafes, restaurants, a cinema and a department store built.
Major failings at Medway Maritime Hospital have been highlighted in a report by the Care Quality Commission published today.
The hospital has been branded "the worst in the country" after an unannounced inspection at its A&E department.
It is believed that some patients have to wait as long as twenty four hours for emergency treatment.
ITV Meridian spoke to Phillip Barnes from the Medway Foundation Trust.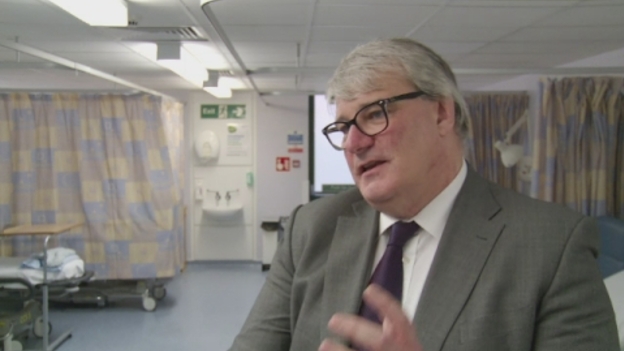 Thames Valley Police is appealing for the public's help in tracing a teenage boy missing from his home in Aylesbury, but who may also be in Reading.
Tommy Lewis, aged, 14, was last seen at Aylesbury Railway Station at around 3pm on Monday when he said he was going to visit a friend in Reading. He was due back at home in Weedon at 9pm the same day but failed to return.
Tommy is described as white, slim, 5ft 3ins. He was wearing a large blue Puffa-style jacket, blue tracksuit bottoms, a white Polo Ralph Lauren T-shirt and Nike Air Max trainers in blue, white and black.
Officers are increasingly concerned for Tommy as he has been missing for more than 24 hours. It is believed he is as likely to be in Reading as Aylesbury and would urge anyone who knows him or his whereabouts to contact Thames Valley police via 101 as a matter of urgency.
Anyone with information is asked to call 101 and quote URN1581 24/11.
Two lanes closed and heavy traffic due to multi-vehicle accident on M20 London bound between J5 A20 (Aylesford) and J4 A228 (Leybourne / Snodland), congestion on M20 to J7 A249 (Maidstone/detling Hill).
Load more updates
Back to top