Six women have been diagnosed with breast cancer after a review of assessments made in Oxfordshire.
Thirty women were recalled following concerns over screenings for the disease made by the same radiologist. They were identified by Oxford University Hospitals NHS Trust after a review of the 626 women seen between 2011 and 2014.
A formal investigation has been carried out by Public Health England, the NHS Breast Screening Programme and the Trust. A statement confirmed that a radiologist had not undertaken assessments since the outset of investigation.
A firm of solicitors is holding an open day on 8 January for women who may be concerned and seeking legal support.
The Heathrow skyline changed forever when one of its most iconic features – the orange and white radar next to Terminal 1 – was removed. NATS installed the radar in the early 1980s. It then remained operational and untouched until 1999 when the antenna was replaced. The radar provided en route and airport radar services until it was finally decommissioned two years ago and replaced by the new radar station in Bovingdon.
Advertisement
The latest addition to the Condor Ferries fleet – Condor 102 – will arrive in the UK today, completing her maiden voyage into her new base of Poole.
Escorted by a tug, Condor 102 will sail past the Sandbanks peninsula and alongside Brownsea Island, before berthing at Poole Port at approximately 1000.
Her arrival will conclude her 10,500 nautical mile journey from Cebu in the Philippines. The sleek new state-of-the-art 102m trimaran represents £50m of investment in the route to the Channel Islands.
The best vantage point will be from the Sandbanks peninsula, along Poole Harbour or from Baiter Park.
After sea trials, Condor 102 will come into service in late March, sailing from Poole to Guernsey and Jersey.
Christmas for Royal Navy Officer Lewis Jones will be a different affair this year as he spends it away from family and friends on operations in the blustery long summer days of the South Atlantic.
Sub Lieutenant Jones, aged 20, from Wimborne in Dorset, is serving on board Royal Navy Ice Patrol Ship, HMS Protector, in the South Atlantic this Christmas.
Lewis says this is his favourite deployment as its his first, although he will miss his family and girlfriend back in Dorset.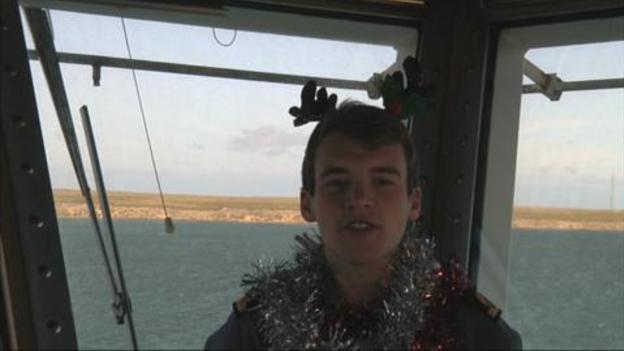 All the preparations are in place and the presents are wrapped - but what would you do if the boiler stops working and you were left without heating and hot water over Christmas?
The Association of Plumbing and Heating Contractors (APHC) have some advice on how to reduce serious damage to property and how to find an emergency plumber to fix the problem.
Plumbers are in high demand during the Christmas season, especially if the weather turns colder and finding a reputable plumber at short notice at Christmas can be challenging.
To avoid frantic calling around and relying on unreliable website searches take some time to prepare emergency contact numbers, but if you choose a rogue tradesman it could leave to more problems and unexpected costs.
For major water leaks – turn of the water supply at either the main stop tap, usually located in the kitchen or the boundary stop tap, provided by the water company at the boundary of the property often next to the water meter. Some older taps could also affect your neighbours as well!
Smaller internal leaks – these can be stopped using isolation valves next to the relevant appliance and can quickly stop a problem without turning the entire water supply off. Either turn the lever or use a screwdriver to stop the water supply.
Hot water systems – to stop water entering the hot water system on a hot water cylinder find the gate valve (usually in the airing cupboard), turn this off and turn on any hot taps to empty the cylinder of water. On a combi boiler the lever operated isolation valve will be located under the boiler.
Gas leak – of everything piped into a home, nothing is more dangerous than natural gas. If you think there is a gas leak: Turn the gas off at the meter using the emergency control valveOpen doors and windows and ventilate the areaDo not smoke or use naked flamesDo not operate any electrical switches or appliances (turning them on or of can cause a spark) Call emergency services to report the leak on 0800 111 999 (24 hours) Oil Leaks – oil is highly flammable and can be isolated via the tank isolation valve on the outlet of the tank or appliance isolation valve on the boiler or range as the pipeline enters the property.
A 22-year-old sailor from Waterlooville is spending her first Christmas away from home.
Hannah Watson has been deployed on HMS Kent to the Gulf where she'll be serving on board Royal Navy frigate.
While her mum and dad will be tucking into Christmas dinner in Hampshire, Hannah will be out on her first deployment until May.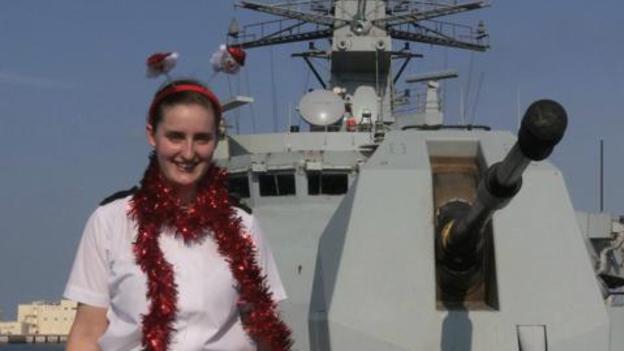 Advertisement
Work continues on the rail network over the festive period, with 11,000 staff working on track and signals. Among the key projects in the south are:
London Bridge - Over 1,000 staff are laying new track, signals and working on the station redevelopment that will ease capacity. It is part of the £6.5 billion Thameslink Project. It will lead to improvements to rail services from Sussex, Surrey and Kent to London. Work continues until January 5th.
Reading - A new flyover is being completed to ease congestion outside the station costing £45 million. It is one of the final phases of the £900 million station upgrade. The new flyover opens on January 4th.
South West Trains - Hundreds of staff are working on the lines into Waterloo to renew points. Work continues during weekends in January and February.
West Coast - At Watford major work is being carried out to improve services through Buckinghamshire to the north and Scotland.
Solent NHS Trust has managed to keep its services for a sexual assault referral centre across the South.
The Trust has been selected to continue running Treetops in Hampshire and the Isle of Wight's sexual assault referral centre.
Hampshire Police and rape crisis services work with the Trust to ensure the centre provides a supportive environment - and victims of rape or serious sexual assault can receive expert care and support following their involvement.
Specially trained doctors and crisis workers, who saw 461 men and women at the centre during 2013/14, offer medical and emotional support, practical help and information.
Royal Fleet Auxiliary sailor, Jonathan Roberts, will be spending Christmas thousands of miles away from his family in Havant, Hampshire, this year.
He's serving on board tanker ship RFA Gold Rover in the South Atlantic, while his wife and children, Callum,21, Dylan, 18 and Mackenzie,5.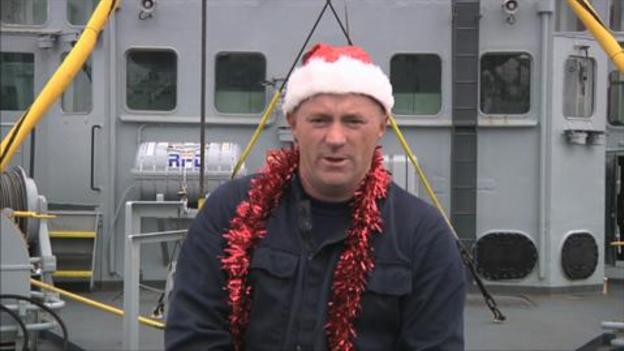 A 22-year-old woman from Christchurch in Dorset has been jailed for supplying drugs to people on the streets of Boscombe.
Kelly Cooper received a 40 month sentence for dealing heroin and crack cocaine.
She was sentenced on Monday 22nd December at Bournemouth Crown Court.
Load more updates
Back to top