Advertisement
The huge haul of guns - including rounds of live amnunition - is now being examined by police. In most cases the guns will be licensed - but officers believe some may have been used in crimes. Sally Simmonds reports.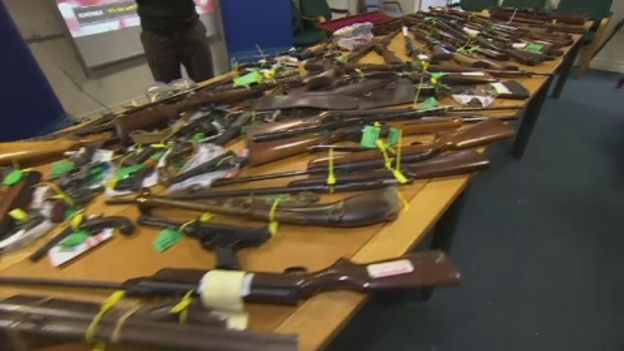 Basanta Thapa, of Taunton, was handed a five-year prison term at Dorchester Crown Court today, Thursday 27 November 2014, for causing death by dangerous driving. He was also sentenced to two years imprisonment for two counts of causing serious injury by dangerous driving to run concurrently.
The 29-year-old was disqualified from driving for 10 years and told he would have to take an extended test before being allowed to drive again.
Thapa pleaded guilty to the charges on Friday 7 November 2014 at the same court.
The court heard the collision happened at 5.56pm on Monday 24 March 2014 on the A31 at Winterborne Zelston near Redpost.
Thapa, who was driving a Subaru Impreza, was overtaking a lorry on a solid white line at the brow of a hill when he crashed into an oncoming Skoda Fabia, being driven by Mike Brown and an oncoming Mercedes.
Mr Brown, 43 of Wimborne, suffered fatal injuries and sadly died at the scene.
His wife Claire Hooper-Brown and their daughter Josie, now aged eight, suffered serious injuries and were taken to hospital for treatment.
The Mercedes driver was uninjured.
Judge Peter Johnson paid tribute to Claire for finding the strength to give a victim impact statement and to the witnesses who stopped at the scene of the collision to help the casualties.
A suspect wanted in connection with a double murder was "not known" to police in his native country of Lithuania, officers in the country have said.
Viktoras Bruzas, a 38-year-old builder, is a suspect in the killings of Gillian and Patrick Kettyle, who were found with stab wounds at their home in Fetcham, Surrey, in the early hours of this morning.
Lithuanian Police said that based on investigations so far, officers do not believe Bruzas had a criminal record in the country.
Advertisement
Police in East Sussex are searching for 27-year old George Lee Austin who they want to interview about a serious assault on a 22-year old woman known to him at an address in Hughenden Road, Hastings, on Monday 24th November.
The woman received hospital treatment for facial injuries believed to have been caused by kicking and punching and was discharged later the same day.
Austin is white, 5'10", slim, with mousey coloured hair and blue eyes.
A Sittingbourne couple who stored almost £50,000 worth of drugs in a fridge-freezer have been jailed.
Daniel Fleming, 30, and Alyx Costa, 23, both formerly of White Hart Mews, Milton Regis, stored a significant quantity of amphetamine and cannabis at their home, discovered by police following a raid on Thursday 5 June 2014.
Fleming pleaded guilty to two counts of possession with intent to supply and was jailed for three years and eight months.
Costa admitted one count and was sentenced to three years' imprisonment.
Maidstone Crown Court heard how police found two bags of cannabis and a fridge freezer full of plastic tubs containing amphetamine after executing a warrant at a flat rented in Costa's name.
She was arrested at the scene while Fleming handed himself into Medway police station six days later.
The amphetamine has been valued at £47,000 but the total price could potentially have risen to hundreds of thousands of pounds by the time it reached the street.
A former heroin addict who's been forced to have a limb amputated, has issued a stark warning to young people not to get hooked. Jamie Connor from Folkestone had been using the drug for ten years when an overdose left him fighting for his life. He was so ill, surgeons had to remove his left leg. He spoke to ITV Meridian from his hospital bed and pleaded with others not to repeat his mistakes. You may find some of the images in Malcolm Shaw's report distressing.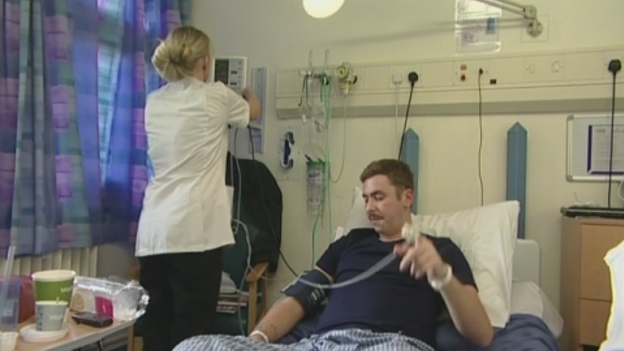 If you have concerns about drugs, follow these links to drugs charities in the south east that can help:
Hampshire Constabulary has recovered more than 100 firearms during the force's 12-day firearms and ammunition surrender.
Between November 10 and November 21 members of the public were encouraged to hand in any firearms that weren't properly licensed and may have been held illegally.
The campaign led to 126 firearms and a large amount of ammunition being surrendered including pistols, replicas, BB guns and a World War 2 submachine gun.
Load more updates
Back to top