Relatives of eleven people killed in a shipwreck near Weymouth have been remembered in a ceremony - seventy years on.
Nine Royal Naval personnel and two coastguards were killed when a landing craft was swept on to Chesil Beach in rough seas.
We spoke to researcher Philip Chappell who explains why those who lost their lives should not be forgotten.
Binmen across Brighton and Hove will go on strike today over pay.
The ongoing dispute between the bin lorry drivers and the councils will mean thousands of homes won't have their rubbish collected.
There will be a further 3 full days of strike action for Brighton & Hove Cityclean drivers after council officials failed to resolve the current stalemate.
Advertisement
It's being reported that Sunderland's players will look to reimburse the 2,456 supporters who travelled to Southampton to watch them get thrashed 8-0
Sunderland goalkeeper Vito Mannone said he would ask his team-mates to agree to the gesture.
According to The Chronicle Mannone thinks the team owes the fans.
He said: "We should do it because we didn't put our foot (down), we didn't work hard."
A lane is closed on the M4 London bound in Berkshire due to a spillage of chemicals between junctions 14 and 13.
An elderly woman is lucky to be alive after she was pulled from a ditch by emergency crews having become stranded and exhausted in remote countryside.
The woman, in her 70s, was discovered submerged in mud and water by a passing dog walker near Oakley Lane in Mottisfont at around 11 am yesterday. It's thought she had been stuck for several hours.
It's believed the woman's car had become stuck in mud down a track and her efforts to release the car had left her exhausted and immersed in the mud herself.
Specialist off-road vehicles were needed to reach her. She was taken to Southampton General Hospital suffering from the effects of hypothermia.
Crew Manager Pete McClemont, from Romsey fire station, said "This woman was incredibly lucky she was found and she was able to receive medical treatment before her condition deteriorated...The weather has been... quite wet in the last week, so people should be aware the ground could be boggier than they might expect. It is always worth checking weather forecasts and planning routes before setting off."
Fire investigation officers are due to visit Didcot B Power Station later following a major blaze overnight.
More than 25 fire appliances raced to the Didcot B power station last night as flames ripped through a cooling tower. Firefighters from neighbouring services 30 miles away had to be drafted in and officers remain at the scene this morning.
A spokeswoman at Oxfordshire Fire Service confirmed investigating officers will visit the scene this morning, and said they are likely to remain there throughout the day.
Natural gas powered Didcot B, which opened in 1997, generates up to 1,360 MWe of electricity - enough to power a million homes. Officials have said they are confident the fire will not dent electricity supplies.
Around 12 fire crews attended the facility at around 9pm, but that number doubled as the flames took hold. The fire service said officials at the RWE Npower owned site managed to shut down the site quickly to stop the incident turning into an inferno.
It is not clear how the fire started, but officials have ruled out arson or terrorism.
A spokesman for RWE npower said, "We can confirm that no one is injured which is clearly the most important thing and also that the fire is now under control. Obviously the plant has been shut down."
Advertisement
It's been reported a man from Brighton who was presumed missing following avalanches in the Himalayas has been in contact with his family. Peter Roddis was on the official missing persons list. At least thirty nine people are known to have died following blizzards in Nepal.
Police are appealing for help in tracing two teenage sisters who have gone missing from their foster home in Goring-by-Sea in Worthing.
Sixteen year-old Elesha Joseph and fifteen year-old Olivia Joseph were last seen when they had supper at about 6pm last Wednesday. When the bedroom they shared was checked later that evening, the girls had gone.
Both are British Jamaicans whose father died in 2003 and their mother in July this year. They had been living in the Caribbean but returned to the United Kingdom and entered foster care three weeks ago.
Neither girl is thought to have had money or mobile phones with them when they left.
Detective Inspector Rob Walker, of Worthing CID, said, "Clearly we are keen to find both girls as soon as possible. They have relatives elsewhere in the UK and it may be that they have set off to try to join them."
Thames Valley Police has released images of several men it would like to speak to in relation to an incident of grievous bodily harm in Bicester. The incident occurred on the forecourt of the Gulf petrol station in Buckingham Road, Bicester, at about 3.20am on the 30th August.
The victim was at the petrol station when he became involved in an altercation. He was hit with a golf club and sustained a fractured eye socket and broken jaw.
Investigating officer, Det Con Joe Stevenson said, "We are releasing images of men who may hold information that can assist our investigation. If you are one of, or recognise any of, the men from the images, please come forward as we would like to speak to you."
Simon Furlong Oxfordshire Fire and Rescue Service says quick action by firefighters and staff at the power station stopped the fire spreading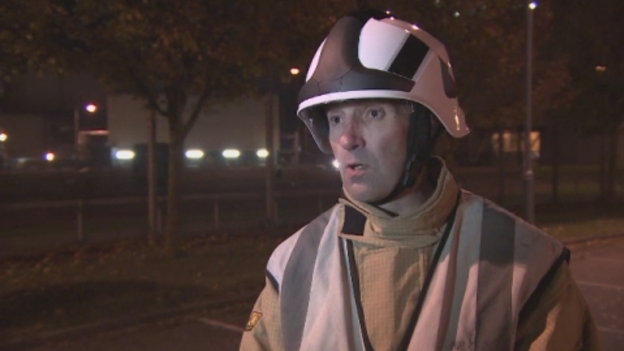 Load more updates
Back to top