The compound at Gardening Services in Kings Lane was broken into sometime between 9pm and 10pm on the evening of Wednesday 29 October.
The suspects managed to get into a locked container housing equipment and gardening tools.
They were disturbed and nothing was taken.
The suspects were not seen but their voices were heard and are said to be men.
A similar incident occurred at the site on the evening of Tuesday, October 14. Likewise, suspects gained entry to the site but nothing was taken.
Police would like to hear from anyone who saw or heard anyone or anything suspicious in the area of Enham Alamein around the above times.
Anyone with information is asked to contact PC Lisa Wearn at Andover police station on 101 or the anonymous Crimestoppers charity on 0800 555 111.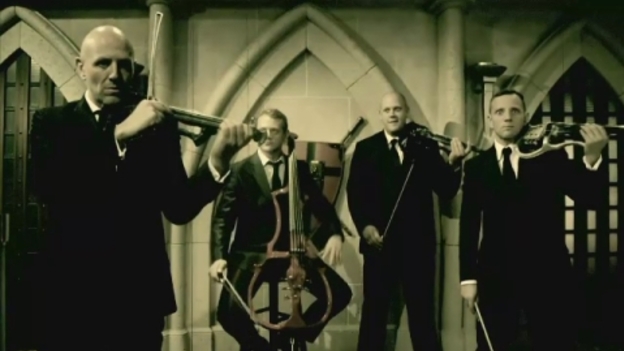 Kent band Stringfever have put together a Spooky Movie Medley ahead of their performance at the Canterbury Music Festival tonight. It has been recorded by the band using just their violectras and cello and a bit of beat boxing.
Advertisement
Ian Jennings, 47, from Gale Moor Avenue, Gosport, Hampshire, was arrested at Norwich Airport yesterday afternoon after landing a private plane.
He has been charged with performing an aviation function when the alcohol in his breath was over the prescribed limited, Norfolk Police said. Jennings was released on bail to appear at Norwich Magistrates' Court on November 13 where he will face the allegation under the Railways and Transport Safety Act 2003.
The plane is believed to have been a Canadair CL601-3A Challenger owned by charter company Hangar 8. The charge comes after a Flybe pilot was released on bail after being arrested on suspicion of drink-driving on Tuesday.
The 48-year-old pilot had been due to fly from Newquay Airport in Cornwall to London Gatwick when he was held. The flight was cancelled and passengers faced delays, with some missing connections.
A spokesman said: "Flybe can confirm that one of its pilots volunteered to help the police with their inquiries at Newquay Airport yesterday.
"The airline is not able to comment further while the police investigation is taking place."
For pilots, air crew and air traffic controllers the alcohol limit is 20mg per 100ml of blood. The drink-drive limit for motorists is 80mg.
As many as 1200 jobs could be created in Kent. That could lead to hundreds of acres of reclaimed land, a new marina, refurbished heritage quarter and even a freight railway.
The proposals will be discussed with the public over the next few weeks in the hope that redevelopment could take place in phases over the next few years.
The development would take place in Sheerness, on the Isle of Sheppey, which has one of the highest areas of unemployment in the south east.
Firefighters are to go on strike, from this evening, for four days in a bitter ongoing row with the Government over pensions.
They're set to walk out from six o'clock this Hallowe'en evening, until next Tuesday. Contingency plans are in place. Managers say they've hired in contract staff to cover but this is one of the busiest weekends of the year with bonfires and firework displays.
A man found guilty of murdering his partner and her daughter is due to be sentenced today.
John Lowe, who's eighty two, denied the murders and a firearms charge, claiming the deaths of Christine and Lucy Lee at his puppy farm in Tilford near Farnham were a "terrible accident".
But jurors at Guildford Crown Court heard he wanted the women "put down".
Advertisement
We're in for a treat today .... and the warmest Hallowe'en on record. Temperatures are expected to reach twenty one degrees today - eight degrees higher than average.
The Met Office says the last time the temperature was this high - at this time of year - was in Dartford, in Kent, in 1968. That was 20 degrees then.
Load more updates
Back to top