Essex Police have issued the following numbers for anyone who is concerned about the revelation that indecent images have been found at the home of dead teacher Martin Goldberg.
The force says it fully acknowledges that there will be significant concerns within the local community about Mr Goldberg's offending
It warns that none of the children must be identified and says it strongly cautions against any use of social media that could identify any of the children involved.
The priority for the police now is to support those affected and we are continuing to work with the school, Southend Borough Council, Essex County Council and others to provide that support and ensure that all appropriate action is taken.
Essex Police: 0800 056 0944, or +44 207 158 0010 if outside the UK.
Southend Council Children's Services: 01702 534506
Essex Social Services: adults - 0845 603 7630
Children's Services - 0845 603 7634
Childline: 0800 11 11 Web: www.childline.org.uk
NSPCC: 0808 800 5000 Web: www.nspcc.org.uk Email: help@nspcc.org.uk
Advertisement
Police are concerned for the welfare of two missing 13-year-old boys.
Brandon Gale, from Worthing, and Joe McFarlane-Hills, from Sompting. were last seen around 1pm yesterday when they left Provident House School in Grafton Road, Worthing.
Brandon is described as mixed race, 5' 10" and of stocky build with short black afro hair.
He was last seen wearing a white T-shirt, dark jeans and grey and blue Nike trainers with a black coat and a beige fisherman's hat.
Joe is described as white, 5' and of medium build with short straight light brown hair. He was last seen wearing a grey tracksuit top with grey tracksuit bottoms with grey and blue Nike trainers and a black and red Chicago Bulls hat
PC Heather Mackay said: "We believe the boys are together and could be in London.
"We are concerned for their welfare and ask anyone with any information to contact us."
Anyone who sees the boys or knows of their whereabouts is asked to email 101@sussex.pnn.police.uk or call 101 quoting serial 672 of 29/09.
Essex Police says it currently has no evidence to suggest a former deputy headteacher - who stored hundreds of indecent images of pupils - made "inappropriate physical contact" with any child.
The headteacher of an Essex school where a former deputy head is alleged to have taken indecent images of pupils says everyone at the school feels "angry and betrayed" by the claims.
In a statement to ITV News, Andrew Hampton said Martin Goldberg - who was found dead nearly three weeks ago - had an "exemplary record" during his 23 years at Thorpe Hall School.
Police are appealing for witnesses after a man was reported to have looked under a public toilet cubicle as it was being used.
The incident occurred within the women's toilets in the Royal Victoria Place shopping centre, Tunbridge Wells, on Monday last week.
The victim said she was using the facility, located near the centre's food court, when she noticed a man looking at her from underneath.
Anyone who noticed any suspicious behaviour between the times of around 4.30pm and 5pm is asked to contact police on 01892 502020, quoting reference YY/019406/14. Alternatively call Crimestoppers, anonymously, on 0800 555111.
A 25 year-old man from Tunbridge Wells has been arrested in connection with the incident and bailed, pending further enquiries, until November 3.
Advertisement
Art lovers are descending on the seaside town of Folkestone after a mural by street artist Banksy appeared on a wall.
The piece, called Art Buff, depicts an older woman staring at an empty plinth while wearing headphones with her hands clasped behind her back.
Clear plastic sheeting has been placed over the artwork by Banksy, who is renowned internationally for his stencil-style "guerrilla" art in public spaces.
The local authority, Shepway District Council, said it was working with the owner of the building to ensure it remains undamaged.
Visitors to Banksy's website are greeted with pictures of the wall before and after the artwork appeared at Payers Park.
As users click through the three pictures featured, they are faced with the words Part Of The Folkestone Triennial. Kind Of at the bottom of the last image.
The triennial is a two-month long showcase of art in the resort, which has attracted the likes of Yoko Ono, widow of the late Beatle John Lennon.
The event gained headlines at this year's launch when Berlin-based artist Michael Sailstorfer sparked a stampede when he hid 30 bars of 24-carat gold, worth £10,000, on Folkestone beach.
The emergence overnight of an original Banksy artwork is another publicity coup for organisers of the event, which runs until November 2.
Shepway councillor Jenny Hollingbee said: "This is a tremendous opportunity for the people of Folkestone to see a Banksy original.
"It is another reason to be proud of Folkestone."
Nearly 600 images found on the computer of a deputy head of an Essex school are believed to be of boys aged from nine to 12.
Essex Police believe the images - which were reportedly taken from 2000 onwards - were taken on a camera hidden inside a bag belonging to Martin Goldberg.
Seventy-five images were taken in Thorpe Hall's male changing rooms, with 465 others taken in a local swimming pool and 38 from two other locations.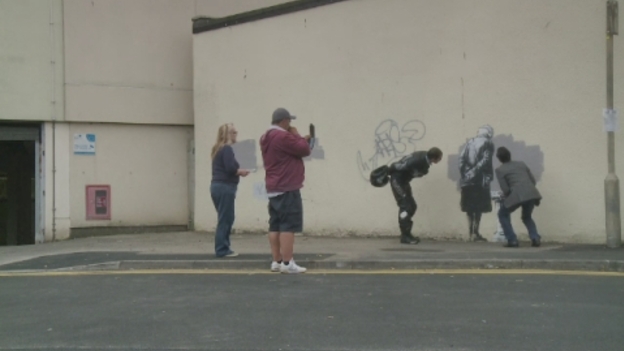 A picture by the world-famous graffiti artist Banksy that appeared in Folkestone has now been covered with a protective sheet of clear plastic.
It's after Banksy confirmed the picture of an elderly woman WAS one of his.
It appeared in Folkestone as the town celebrates its Triennial arts festival.
Load more updates
Back to top