The Deputy Prime Minister Nick Clegg, has announced a £214 million funding package for eight cities, including Oxford, to make cycling safer and more popular.
Advertisement
A taxi driver who entered a man's home to attack him while he took a shower has been jailed for seven years.
Justin Burr, 44, formerly of High Street, Chatham, lunged at his victim with a knife while two other men joined in the beating.
He denied causing grievous bodily harm but was convicted following a trial at Maidstone Crown Court and sentenced on Tuesday 18 November.
The court heard how Burr's victim was taking a shower at his home in Gillingham when Burr burst into his bathroom in a dispute over money, on New Year's Day 2013.
He then attacked the man by repeatedly hitting him in the head while also drawing a knife on him, which was knocked out of his hand.
Burr's victim managed to escape before leaving the house, where a friend of his was working on his car.
The friend was chased down the road and had pint glasses thrown at him after attempting to fight the men off, while the attack on Burr's victim continued.
Burr and the other men only left when the victim's friend returned holding a brick.
The Mayor of Reading has officially opened the council's brand new extra care housing scheme in Whitley this morning.
Cedar Court residents and staff were also joined by Councillors Jo Lovelock, Leader of the Council, Richard Davies, Lead Member for Housing, and Rachel Eden, Lead Member for Adult Social Care, at the celebratory event.
Cedar Court provides high quality accommodation and wider facilities for older people living in the local area. The 40-unit scheme has been built on the site of the former Avenue School. It comprises 27 one-bedroom flats and 13 two-bedroom flats, all for social rent.
This scheme was jointly funded by the Homes and Communities Agency (HCA) and Reading Borough Council. The HCA has contributed more than £3million in funding support toward the building of the new homes. The building has full lift access to all floors and is designed to be fully accessible to wheelchair-users. There is a café/restaurant, an outside patio deck and hairdressers, which residents and older people in the neighbourhood are welcome to use. Other facilities include a treatment suite,hobby rooms, a small shop, a roof terrace and a garden for residents. Some of the hobby activities available to Cedar Court residents will be demonstrated during the morning of the opening event.
The four-storey scheme, built by developers Willmott Dixon Construction Limited, has been designed to enable older people to live at home longer with support. It will also meet high renewable energy standards, through the use of biomass boilers and recycling and composting facilities. Extra care housing increases the quality and choice of accommodation with care for older people. It offers an alternative to residential care with 24-hour flexible care and on-site support. It offers greater independence at a lower cost for many frail elderly people and some older people with dementia.
Advertisement
British Transport Police (BTP) is appealing for information and witnesses following an incident which is alleged to have taken place on board a train as it travelled between Leamington Spa and Banbury stations. Officers are investigating an assault on a train manager which took place on Saturday, 22 November 2014.
Anyone with information is asked to contact British Transport Police on Freefone 0800 40 50 40, or text 61016.Alternatively you can call the independent charity Crimestopperson 0800555 111.
In all calls, please quote incidentreference MSUB/B8 of 27/11/14.
A new way of measuring precise distances to galaxies tens of millions of light years away has been developed by scientists from the University of Southampton. Dr Sebastian Hoenig has created the method which is similar to what land surveyors use on earth, by measuring the physical and angular, or "apparent", size of a standard ruler in the galaxy, to calibrate the distance from this information. The research,which is published in the journal Nature, was used to identify the accurate distance of the nearby NGC 4151 galaxy, which wasn't previously available. The galaxy NGC 4151, which is dubbed the Eye of Sauron by astronomers for its similarity to the film depiction of the eye of the character in The Lord Of The Rings, is important for accurately measuring black hole masses. Recently reported distances range from 4 to 29 megaparsecs, but using this new method the researchers calculated the distance of 19 megaparsecs to the supermassive black hole.
A university spokesman explained that the method involves measuring the dust rings that form around supermassive black holes. The hot dust forms a ring around the supermassive black hole and emits infrared radiation, which the researchers used as the ruler. However, the apparent size of this ring is so small that the observations were carried out using infrared interferometry to combine WM Keck Observatory's twin 10m telescopes, to achieve the resolution power of an 85m telescope. To measure the physical size of the dusty ring, the researchers measured the time delay between the emission of light from very close to the black hole and the infrared emission. This delay is the distance the light has to travel (at the speed-of-light) from close to the black hole out to the hot dust. By combining this physical size of the dust ring with the apparent size measured with the data from the Keck interferometer, the researchers were able to determine a distance to the galaxy NGC 4151. Dr Hoenig, together with colleagues in Denmark and Japan, is currently setting up a new programme to extend their work to establish precise distances to a dozen galaxies in this new way and use them to constrain cosmological parameters to within a few per cent. In combination with other measurements, this will provide a better understanding of the history of expansion of our universe.
Thames Valley Police is appealing for witnesses to a fatal road traffic collision in Abingdon.
At about 5pm on 26 November, a Ford Focus and a pedestrian were in collision on the A4183 Oxoford Road, Lodge Hill, Abingdon.
The pedestrian, an 81-year-old woman was pronounced dead at the scene. The road was closed to Lodge Hill roundabout until about 8.30pm
If you have any information about the collision then please contact investigating officer, Sgt Sharon Scarffe via the Thames Valley Police Enquiry Centre on 101.
If you don't want to speak directly to the police you can contact the independent charity Crimestoppers anonymously on 0800 555 111 or online at www.crimestoppers-uk.org. No personal details are taken, information is not traced or recorded and you will not go to court.
A Southampton student who arrived back to his room to find his friends had filled it with 5000 balloons says he has just about cleared up.
Max Rennie's flatmates decided to teach him not to make the rookie mistake of leaving his room open when he goes home for the weekend.
They filmed the prank and posted it online. Max says he's glad to have his room back: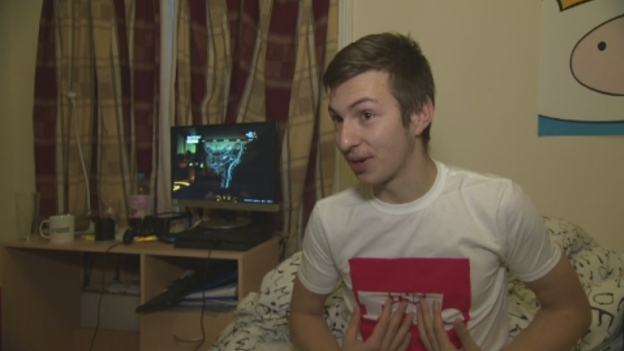 Load more updates
Back to top