A Royal Navy medic who saved the lives of four colleagues despite being seriously injured in a grenade attack has been awarded the Military Cross for Bravery. Medical Assistant Liam O'Grady sustained injuries to his face and legs while on patrol in Afghanistan.
Despite his injuries he ran across open ground while grenades exploded around him to reach his injured patrol sergeant. His commander had serve wounds in his chest and abdomen. 21-year-old Liam dragged him to safety and gave lifesaving treatment.
"When came under attack from the grenades I was on the radio and immediately shouted to them that we had an emergency. I sprinted out to get my first aid pack when I saw that the patrol sergeant was lying on the ground and in real trouble. He was struggling to breathe and there was a significant amount of blood loss. The shrapnel had penetrated his chest and lung and I knew I had to try and get some fluids and morphine into him - it's to his credit that he was a strong man, he was really fighting for his life. I knew my leg was bleeding and it hurt to put any weight on it but it was my job to help these guys and I think that instinct just took over."
– Medical Assistant Liam O'Grady, Royal Navy

The patrol were occupying a key checkpoint in the Upper Gereshk Valley in Afghanistan when they were attacked by insurgents. As the groups second in command organised the remainder of the team to return fire, Liam gave lifesaving treatment to 4 other colleagues. After the patrol sergeant was picked up by a helicopter, he helped to carry 3 injured men uphill over 800 meters of hostile terrain.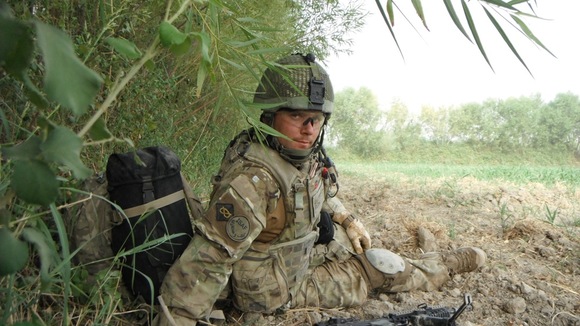 Liam is based with HMS Sultan in Gosport, Hampshire. Three weeks after receiving treatment for his wounds in the UK he insisted upon returning to Afghanistan.
Exemplary gallantry, selflessness and devotion to duty. His 'instinctive bravery and total disregard for his own safety, followed by exceptional handling of a mass-casualty situation as a lone medic while wounded and under threat of further attack
– Citation for Military Cross for Bravery