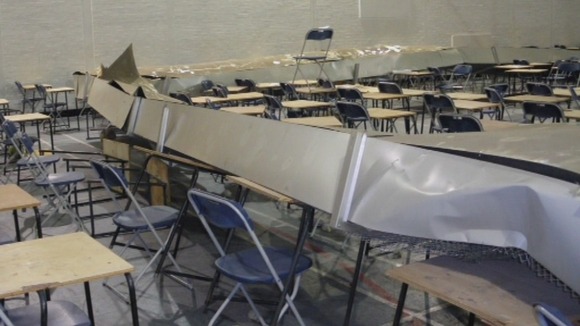 A Head Teacher at a Kent school has told ITV Meridian that it was a miracle that no-one was killed when a heating duct collapsed on top of 150 children who were sitting exams at the Minster College on the Isle of Sheppey (now the Isle of Sheppey Academy).
Alan Klee said he nearly had a 'national tragedy' on his hands when the accident happened in 2009, injuring 14 pupils.
When I looked under the ducting I thought we might see a number of students badly damaged, if not dead to be honest with you. It was the worst day of my life I think.
– Alan Klee, Head Teacher

Three years on, a health and safety investigation has finally been completed but the findings are not being released to the public.

But Meridian Tonight has gained exclusive access to a summary of the report, which reveals serious failings by the heating firms which installed the ducts.

In a letter, sent by the Health and Safety Executive to Alan Klee, the findings were summarised:
The ducting collapsed because the wires supporting the ducting failed.....the wires used to support the ducting had a load rating of half that specified....chains were supplied but not used"
– HM Inspector of Health & Safety

However, the letter also concludes that no further action is to be taken by the HSE. The companies who fitted the equipment have since gone into administration.