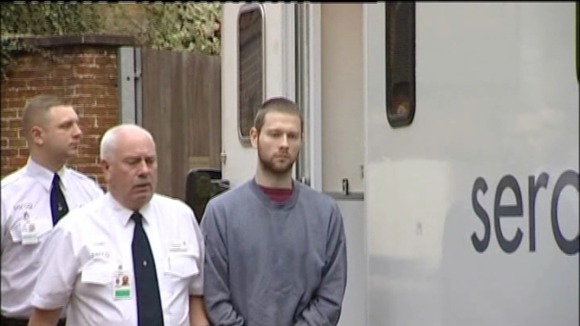 28-year-old Christopher Hunnisett from Hastings has been jailed for life with a minimum term of 18 years at Woolwich Crown Court after being found guilty of murdering supermarket worker Peter Bick. Peter's sister condemned his killer as a "horrid, evil animal" outside court after the verdict.
A man from East Sussex has been found guilty of murdering a supermarket worker he believed to be a paedophile.
Christopher Hunnisett, 28, leapt over the dock in an attempt to escape and shouted "Every word I said was true" as the foreman gave his verdict.
He had to be restrained by eight people and could be heard sobbing as they tried to calm him down in the dock.
Hunnisett killed 57-year-old Peter Bick with five severe blows to the head with a hammer before strangling him with a shoelace.
Mr Justice Saunders adjourned the case for sentencing at Woolwich Crown Court, London, on May 22
Malcolm Shaw has been looking at the background to this extraordinary case.
On behalf of my parents Eileen and Bernard, we as a family would like to say that we are glad that the whole ordeal is now over and we can now be left to grieve for the loss of my brother. He will be sorely missed by a large number of friends and family. The one thing he didn't deserve was to have such violent and horrendous death, so therefore I hope that Mr Hunnisett will never have the opportunity to commit a similar crime."
– Yvonne Cowling, Peter Bick's sister
This was a terrible crime, and the jury were clearly unconvinced by Hunnisett's claims about his motives for carrying out such a cruel and deliberate killing. Peter Bick's sister, together with her husband, has been present at court throughout the trial and they have had to listen to Christopher Hunnisett deliver utterly unfounded personal attacks about the character of her brother. They have endured this with great dignity and this is testimony to how they have conducted themselves since Peter was murdered."
– Detective Chief Inspector Nick Sloan, Surrey and Sussex Major Crime Team