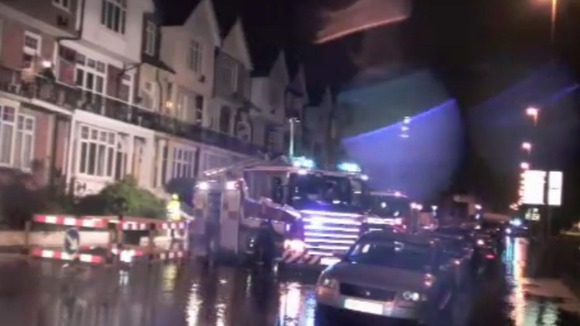 Heavy rain overnight has left many areas flooded. West Sussex has been badly hit - the local fire service received around 150 calls.
Staff at Worthing Hospital had to pump out water from the basement. And although it did not have to evacuate, emergency cases are being diverted to Brighton and Chichester. Elsewhere people have reported flood water reaching up to a metre in height.
"All the in-patients remained safe, warm and dry. Parts of the hospital, including the postgraduate medical centre and parts of our north wing were flooded in the basement areas. We are looking at flooding of up to 30cm, just under a foot.

"In terms of times, the hospital was first affected around 10pm last night when the heavensopened, as a result we diverted emergencies to Chichester and Brighton as a precaution. There was no need to evacuate anyone. The Fire Service and Southern Water have been here pumping water out with our own estates teams. As of 4.50am, it was pretty clear and we're trying to get the last of it out. We are still working on it. The hospital isopen, it's just emergencies that have been diverted."
– Worthing Hospital spokesperson

Littlehampton, Bognor Regis, Angmering and Rustington are the worst affected areas.

A rescue centre was set up in the Sportsdome at Littlehampton Swimming Centre for some families who had to leave their homes because of the flooding. The centre is being run by Arun District Council with support from the Red Cross Fire & Emergency Support Service.

The fire service reported that the biggest impact was on Littlehampton seafront where a number of basement flats were flooded to a depth of up to four feet.

There are no reports of any injuries, but people are being urged to stay out of floodwater due to the dangers of lifted manhole covers and water contaminated with sewage.

The Environment Agency, Police and Southern Water are helping to deal with the flooding operation.