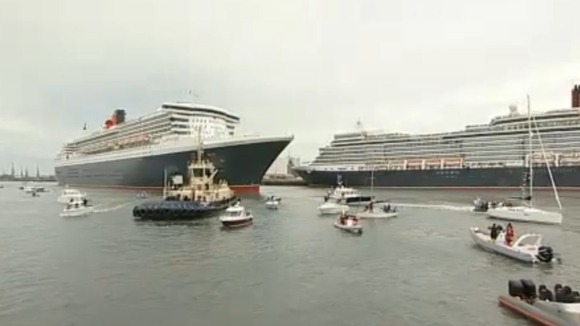 SOUTHAMPTON CRUISE TERMINAL ROW - IS LIVERPOOL BREAKING THE LAW?
Exclusive report by Mike Pearse, Transport Correspondent
It may only be a cruise ship with 800 passengers docking in Liverpool today, but it's at the centre of a massive new row between the port and rival Southampton. It is the latest development in the bitter dispute between the ports over a new cruise terminal.
It's claimed Liverpool has begun using its new facility to start and end holidays in breach of European rules and possibly the law. Today, for the second time in as many weeks, a cruise ship will arrive and unload its passengers. But according to some, the south could lose hundreds of jobs and tens of millions of pounds worth of trade because of the so-called 'unauthorised use of the new Liverpool terminal.'
In another new development today the EU has started an investigation into the saga, and documents seen by Meridian reveal that if Liverpool has broken the rules it could face massive fines.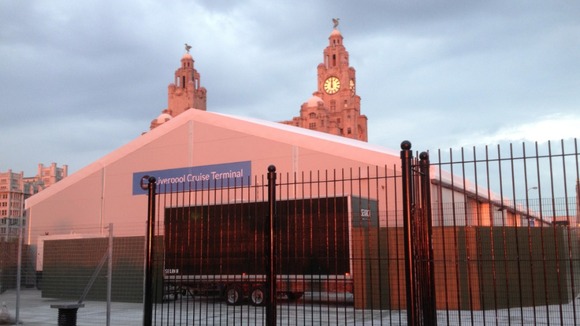 COMPLEX ROW
It is a complex dispute and centres on Liverpool being given £18 million by the UK and EU Governments to build a cruise terminal. But the money was given on the condition that ships only made sight-seeing visits and the port did not become what is called a 'turnaround port' where ships start and end holidays.
This is significant because other turnaround ports in the UK have been paid for by private investment, and if Liverpool became one it would have been subsidised by public money - giving it an unfair financial advantage.
But now that is what Liverpool wants to be - a full turnaround port, and the site has started hosting cruise ships. The City has agreed to pay back £9 million in subsidy it received from the UK Government and Ministers have agreed that as long as agreement can be reached with Europe they see "no reason" why Liverpool should not be given turnaround status.
CARRY ON REGARDLESS
So now Liverpool is starting and ending cruise holidays, and the critics claim while they negotiate with Europe the move is illegal. Compared with ports in the south facilities are poor. As the Liverpool terminal was never built to turnaround ships it has no check-in facilities, so a massive marquee has been erected. But it is now expected it will build a full-sized facility and managers are talking to a number of cruise companies about using the port to expand its cruise business. Our ports say they have no issue with Liverpool becoming a rival, but only if the facility pays back the £9 million grant it got from the EU as well.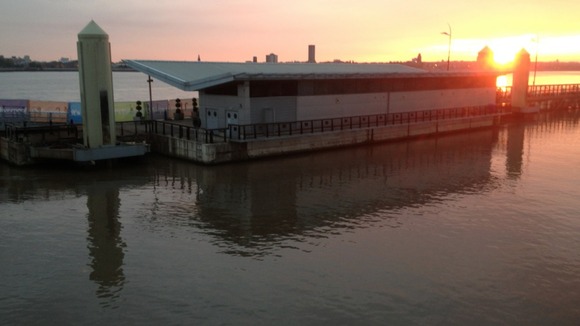 UNFAIR SAY SOUTHAMPTON PORT
"It is simply not fair. Liverpool is operating as a turnaround port with the use of millions of pounds of public subsidy. We have put millions of private money into Southampton, not got a penny from the public purse, and they have a financial advantage on us. They should pay back the Euro money and compete on an equal footing. We do not fear Liverpool and competition, but it is simply not right."
– Doug Morrison, Port Director of Southampton

ARE THEY BREACHING RULES? SAY LOCAL MPS

Southampton Itchen Labour MP John Denham said "Ministers must urgently look into this. I am not a legal expert but it does look like Liverpool is breaching the rules."

Local MEP's agree and have raised the matter with the EU who are investigating. Ports in our region have much to lose if Liverpool grows. Each ship which docks is worth £2.5 million to the local economy and it is claimed we could lose more than 1,000 jobs.

GOOD FOR BUSINESS SAY CRUISE FIRMS

Cruise companies say the use of Liverpool will expand the market and mean people in the north will not have to travel as far to start holidays. Most come to Southampton, Portsmouth, Dover and Tilbury. The first company to use Liverpool is Kent-based Cruise & Maritime Voyages. They say it is not their place to comment on funding issues relating to the development of ports in the UK in offering turnaround options to the cruise industry.
"The cornerstone of our distribution policy is the development of regional cruise departures and to 'bring cruising closer to home' to as many British cruise passengers as possible. In 2012 and again in 2013 we are pleased to be offering a wide choice of cruises from six British Ports including Liverpool where we have the biggest programme of 11 sailings".
– Chris Coates, Commercial Director, Cruise & Maritime Voyages

NOT BREAKING RULES SAY LIVERPOOL

Meanwhile Liverpool City Council said:
"The focus in Liverpool is now on delivering a successful turnaround facility. The debate with Southampton has gone on for some time now, and now that Liverpool has achieved turnaround, the city is keen to move forward and no longer get involved in debating the whys and wherefores of this issue.

"We welcome the announcement from the Department for Transport in relation to the independent arbiter's ruling on UK funding, which now enables us to move forward. The European funding was not conditional upon the terminal solely being used as a call-in facility."
– Liverpool City Council