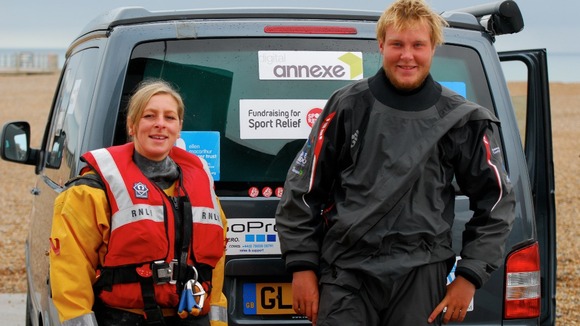 Ludo Bennett-Jones had set off from Cowes at the end of April sailing clockwise around Britain. He was on the final push of this epic challenge when a broken rudder meant he needed to call on the services of the RNLI.
Supported by various companies, he was raising money for Sport Relief and the Ellen MacArthur Cancer Turst.
The Hastings lifeboat was launched and found the stricken dinghy approx three nautical miles south-east of the lifeboat station.
It was quickly established that both people on board were well; all they needed was a tow to shore. The tow was established and they arrived at Hastings beach some thirty minutes later. The lifeboat crew assisted in the safe recovery of Ludo's boat and provided suitable refreshments for him and his team.
The next day a replacement rudder arrived from Portsmouth and the lifeboat crew helped Ludo launch the boat so that he could continue on his journey.
After losing my rudder, leaving me without any steerage, I got towed in. It was done professionally and responsibly by great members of the community who go out in the harshest conditions to save lives. Although I was not medically in trouble I would have struggled to make shore without the commitment and dedication shown by the members of the RNLI Hastings. Ordinary members of the community doing an extraordinary job - Thank you."
– Ludo Bennett-Jones

Ludo should hopefully complete his voyage on 12th July, his progress can be tracked online at www.loveludo.com.

The RNLI said the rescue was a unique incident where they were called to help not only a sailor in difficulty, but by doing so helped two other charities in their fundraising efforts.