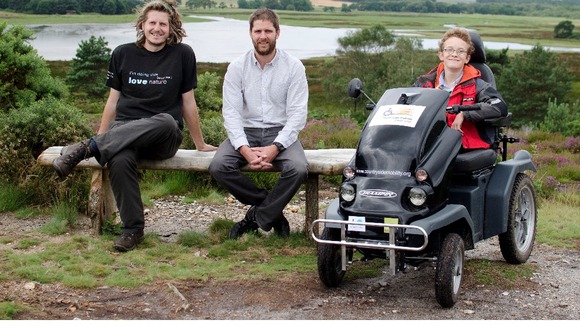 AN all-terrain mobility scooter that can go 'off road' has been launched at the RSPB's Arne Reserve near Wareham in Dorset for people who have difficulty walking.
The Tramper scooter has been provided by the Exeter-based charity Living Options Devon as part of a scheme to open up nature to people with disabilities. Called Countryside Mobility South West, the project has introduced Trampers to more than 26 sites across the region. It's proving extremely popular with people of all ages who want to get out and enjoy the countryside.
For fourteen year-old Charlie Williams (pictured above) and his family from Wimborne, the Tramper has been an enormous help.
His mother says it's a brilliant scheme.
'Charlie has cerebral palsy and cannot walk without a walking frame or using a wheelchair. He only has a manual one, which is awkward to push, especially on rough and sloping ground. However, despite his disability, he loves getting out and about. With the Tramper he can go where ever he wants and we don't have to push him. The ground at Arne is quite soft and sandy, so it's hard work pushing a chair – the Tramper is just the best-ever thing for us. It's opened up a new world of possibilities, where we can go out as a family without struggling to push Charlie around. Everyone benefits, especially Charlie, and he absolutely loves being in control, able to travel long distances with either being exhausted or made to feel like a young child.
– Lynette Williams, Charlie's mother

And Charlie said:
'It gives me a lot more independence....I can go for longer walks and really explore places.
– Charlie Williams, scooter user

Rob Farrington, RSPB Dorset Visitor Manager, said it was a great development.
'We have been working hard over the past few years to make Arne as accessible as possible, but this has been difficult due to the very special wild nature of the place. The Tramper is a real breakthrough and means that people who have difficulty walking can explore so much more.
– Rob Farrington, RSPB

The scheme is now up and running at RSPB Arne.

Trampers can go up and down slopes, over bumps and tree roots, through shallow puddles, mud and soft ground. With a top speed of four miles an hour they can keep pace with the briskest walking companion.

They are for use by anyone aged fourteen or over who has a permanent or temporary condition that affects their ability to walk.

James Maben from Countryside Mobility said: 'Trampers are for everyone who wants to enjoy the countryside but can't manage much walking. You do not have to be registered as a disabled person, or have a Blue Badge. Many people have found that Trampers have given them back their freedom.'

The scheme operates on similar principles to Shopmobility. People become members of Countryside Mobility, are trained to use the Tramper and can then hire one from any site where they are available.

The initiative has been supported with a grant from Natural England as part of its Access to Nature programme, funded from the Big Lottery's Changing Spaces programme.

Full details about Countryside Mobility, how to hire a Tramper and where they are available can be found on the website