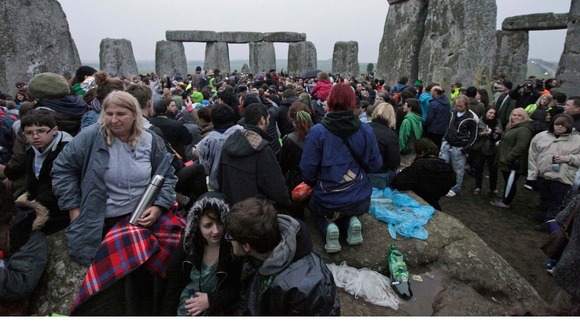 Work to realise the vision to return Stonehenge to a more tranquil setting and improve its visitor facilities has officially started on site today.
Successful fundraising also means that virtually all of the total project cost has now been secured with half a million pounds left to raise, English Heritage has announced.
Contractors have moved on to the site at Airman's Corner, one and a half miles to the west of the stones, to start construction of the new exhibition and visitor building out of sight of the stone circle.
In September, the Highways Agency will start work to upgrade Longbarrow Roundabout prior to the closure of the A344 in April 2013.
The twenty seven million pound project is financed almost entirely by Heritage Lottery Fund money, commercial income and philanthropic donations including significant gifts from the Garfield Weston Foundation, Linbury Trust and the Wolfson Foundation.
Dr Simon Thurley, Chief Executive of English Heritage, has welcomed the new start:
"A new dawn at Stonehenge is truly upon us. Though the stones themselves have never failed to awe visitors their setting has been a national embarrassment and disgrace. After nearly 30 years English Heritage finally has a scheme that will transform the setting of the stones and our visitor's experience of them. The restoration of the landscape together with a major new exhibition on site will finally give our greatest and most famous monument the treatment it deserves. Stonehenge is a national icon and this project will finally make it worthy of that status.
– Dr Simon Thurley, English Heritage

The project, developed with the support of the National Trust, Wiltshire Council, the Highways Agency, and Natural England, will transform the setting of Stonehenge.

The existing outdated facilities, car park, fences and clutter near the monument will be removed.

The Stonehenge project will be completed in two phases:
In autumn 2013, the new visitor facilities and galleries will open and the A344 will be closed to traffic. (The section of the A344 adjacent to the stones will already have been closed earlier in 2013.) Visitors will be taken to near the stones on a low-impact shuttle, with the option to disembark mid-way at a landscape viewpoint and walk to the stones from there.
By summer 2014, the existing car park, toilets, shop and fencing near the stones will have been removed and restoration of the landscape will be well underway. Visitors will be able to walk and enjoy the wider landscape and other outstanding prehistoric monuments.
Throughout the construction, Stonehenge will continue to welcome visitors as normal at its existing facilities.