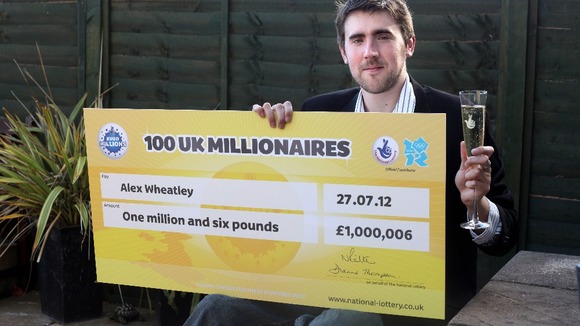 Alex Wheatley, who is 26 and lives with his parents and sister in Portslade, won £1m in the EuroMillions after buying three lucky dip tickets on 27th July. He also won back his £6 stake with another ticket.
Alex, who plays Lotto regularly online, only dips into EuroMillions when the jackpot has started to roll. Friday night's estimated top prize was £118m so Alex played, using the £6 he already had in his online National Lottery account. Buying three Lucky Dip tickets, he then forgot about it and went about his busy life.
Computer programmer Alex, who works for a local IT company in Shoreham, is still in shock at the win but remains down to earth, even going to work as usual on Monday.
Because I always play online, I tend to play and forget about it so it wasn't until Sunday night that I checked my emails on my tablet and saw there was a message from National Lottery about a win. I thought it was going to be another tenner or £2.60 – which seems to come up a lot – but then starring me in the face was £1,000,006. I quickly logged on with my laptop because I was sure there must be some mistake because it was such an odd number for a top prize. I then walked into the living room where mum and dad were watching Sunday night TV, and said 'I don't want to jump the gun but I think I'm a millionaire!"
– Alex Wheatley, lottery winner

He added: "It was amazing to tell people about the win and I was astounded at the responses, everyone was so happy for me. One of my closest friends even shed a tear, which then set my sister off and I was not far behind. We definitely needed the tissues to hand on Sunday night!"

Despite the win, he still went to work on Monday morning although he admits his concentration levels weren't what they should have been. He knows how lucky he is to be set-up for life although he has no plans to leave his current job.

A large chunk will be invsted as a nest-egg for the future but top of his shopping list will be a new house. The biggest priority will be a really good garage to keep his current, and future, cars in.

Friends and family will also be benefitting from the win. He said: "I always said if I won, I'd pay off my parents mortgage. They've done so much for me so it will be great to do that for them. My sister, Hannah, has already decided she will be moving in with me to the new house but it will be nice to take her on a shopping spree too."