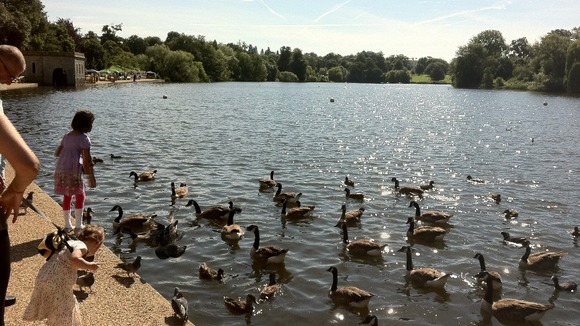 Temperatures are set to continue to soar today, following the hottest day of the year yesterday.
Most of the UK enjoyed temperatures in the high 20s on Saturday.
At Cavendish, in Suffolk, the mercury reached a high of 32.4C (90.32F), eclipsing the previous high of 31.4C (88.5F) recorded at London's Olympic Park on July 25.
Much of East Anglia and the South East saw the hottest temperatures, and the baking heat looks set to continue today.
Yesterday's sweltering conditions saw thousands packing out seaside towns and an increase in sales of barbecue foods and drinks as sun lovers enjoyed the Mediterranean conditions.
Much of the UK was hotter than popular European holiday destinations such as Lanzarote in the Canary Islands, where tourists enjoyed top temperatures of 29.8C (85.64F).
The Caribbean islands are currently experiencing temperatures of between 30C (86F) and 32C (89.6F).
Large parts of Europe were savouring the weather too but it was remarkably hot in parts of France and Italy, with Paris experiencing highs of almost 39C (102.2F) and Florence 38C (100.4F).
Gareth Harvey, a forecaster with MeteoGroup, said today could see the temperatures in the South East rising further. He said: "East Anglia and the South East might see 32C (89.6F) in the afternoon.
"There will be lots of sunny spells but during the afternoon we might see cloud building up and there is a chance of a thundery shower breaking out but that's the exception rather than the rule."