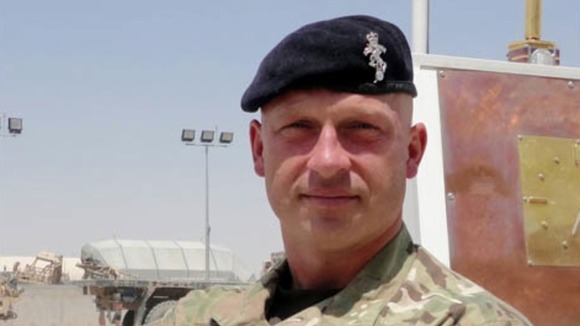 Sergeant Kups died in Camp Bastion, Helmand Province, Southern Afghanistan on Friday, 21st September 2012.
His family said: "Jonathan was a wonderful husband and loving father to three children. He was a loyal man with a wide circle of friends, a devoted son, son-in-law, grandson and brother."
His three children described him as the best Dad, who was their hero and would always be in their hearts. His wife said: "I love you now, forever and always and evermore."
Sergeant Kups was from Nuneaton, Warwickshire. He was born on 28 October 1973 and joined the Royal Electrical and Mechanical Engineers in June 1992 where he trained as an electronics technician.
In 2011 Sergeant Kups moved to 104 Force Support Battalion REME, based at Tidworth before being attached to 4 Close Support Battalion REME for its deployment on Operation HERRICK 16.
The MOD said he was a man of considerable military experience and well-respected by his section and by the unit as a whole.
"Sergeant Jonathan Kups, or 'Koops' as he was known, arrived at the Battalion in 2011. A real character, his dry and quick witted sense of humour made him a pleasure to work with and he was extremely popular across all the ranks.

A man of real substance, Sergeant Kups' maturity and considerable experience enabled him to quickly become a vital member of the Electronics Platoon. Without delay he made an immediate impact within his Company, developing and training his soldiers and ensuring that they were all fully competent and able to deliver essential electronics support in Afghanistan and back in the UK; his clear and dynamic leadership guaranteed success.

He immersed himself in all aspects of Battalion and Company life and I swiftly recognised him as one of my 'go to' Senior Non-Commissioned Officers when a task needed completing quickly, efficiently and to the highest standard.

His loss will be felt across the entire Battalion and our thoughts are with his family at this most difficult time."
– Lieutenant Colonel Mark Smyth, Commanding Officer, 104 Force Support Battalion REME,

An investigation into the death is currently underway.