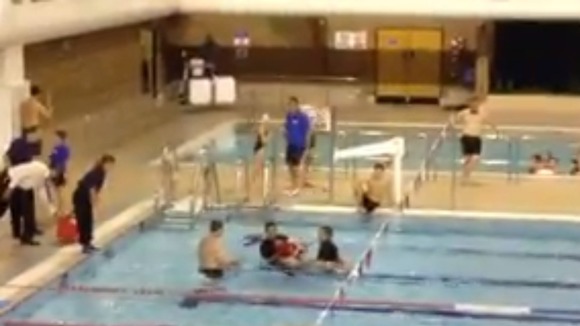 Police have denied that they overreacted when two officers waded into a swimming pool fully clothed to reprimand a swimmer.
The officers from the Dorset force were called to the Littledown Leisure centre in Bournemouth after reports that a man was shouting and swearing at a group of children.
The incident which was described as 'ridiculous' by one onlooker was caught on camera
Dorset Police say they were called to Littledown Leisure Centre in Bournemouth following reports of a disturbance.
"Dorset Police responded to a report of an aggressive man shouting and swearing in a public place. There were concerns for the safety of members of the public as this incident was taking place in a public swimming pool. The officers in attendance were faced with a potentially high risk environment to work in, where positive action was essential to prevent a breach of the peace. The officers took swift action to ensure the incident was dealt with dynamically and proportionately by removing the man in his fifties from the pool. "Following enquires no further action was taken as it was not deemed in the public interest and the man was taken home."
– Chief Inspector Chris Weeks, Bournemouth Police